Zero Gravity Chair Large Patio Lounge Recliners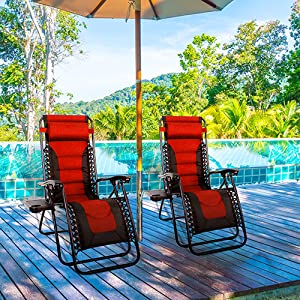 These Zero Gravity Chair Large Patio Lounge Recliners are perfect for people that want really comfortable patio furniture. I'm a big fan of zero gravity lounge recliners, as a bigger guy, because they distribute your weight evenly across the chair.
It sucks to sit in a chair and feel all of your body weight resting on a support beam. I use to dread lounge chairs due to how uncomfortable they were. These state of the art recliners can change everything people feel about sitting outside. They just make life more enjoyable on the back porch. 
Who doesn't want to kick back, raise their legs up, and enjoy a soothing floating sensation? Sign me up all day every day for that!
These chairs are also on our list of best gift ideas for the man-cave too!
The recliners have an ergonomic design with nice padded seats, detachable pillows, and an extra large armrest to provide maximum comfort. They also have a removable side cup holder tray.
You can use chairs camping, chilling poolside, on the beach, or just drinking out on the porch. The seat is 21″ and the width between the left-right armrest is 26″.
Open dimension: 35″ L x 26″ W x 45″ H. Height of the chair back is 32″ to 45″. Folded dimension: 26″ L x 6″ W x 37″ H. Product weight: 18.3lbs. MAX capacity 300lbs. It folds up easy for storage and transportion.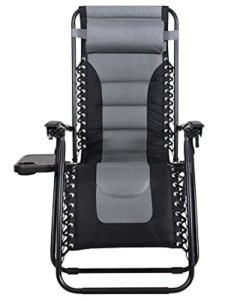 Padded Zero Gravity Recliner
This heavy-duty zero gravity chair features a triangular support structure, which offers excellent stability for safe load-bearing.
Solid steel tube frame with powder coating for rust resistant, strong bungee cords and durable oxford fabric ensure the chair sturdy enough for long time use.
Ergonomic design with full padded seating, detachable pillow and extra large armrest provide extreme comfort and relieve stress.
NO Assembly Required

Open dimension: 35″ L x 26″ W x 45″ H

Folded dimension: 26″ L x 6″ W x 37″ H

Product weight: 18.3lbs

Weight capacity: 300lbs
Here is a little bit of info about SPN