Why Brands Prefer Airport Advertising in India
Airports provide an environment like no other. Thus, brands prefer airport advertising and are willing to invest huge amounts of money in it. An airport is a place which is always bustling with activities, and air travellers always pay heed to those activities and advertisements around the airports. This is a type of offline marketing but a great idea to make your brand remarkable and memorable in the eyes of people. Airport advertising is now trending as an advertising medium in India. On the behalf of the advertisers, those static and bold digital displays deliver strong messages to the customers. This doesn't only work as brand promotion but also helps in spreading awareness related to the brand, event, product or service launch. Moreover, airport advertising is known as one of the most popular revenue-generating techniques for brands. Advertising your business in and around an aerodrome is highly profitable for every business, whether it is a large-scale organisation or a small-scale one. An airport advertising company takes the responsibility of choosing the right location and right size of the display ads for your organization.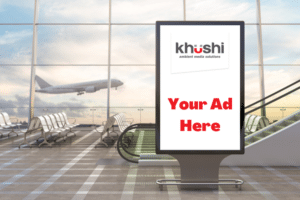 Some Reasons Why Brands Prefer Airport Advertising
Air travelers are more excited and receptive:  It has been noticed that air travelers are always excited to see new things and messages from business perspectives. They pay attention to every billboard and hoarding on the way to the airport and determine how this advertisement can benefit them. If you also want airport advertising for your brand's products and services and want to enhance your overall brand image and value, then you must contact Khushi Ambient Media Solution. They have a team of advertising media experts that will guide you through each and every aspect of advertising and its benefits.
Delivers the message with minimum wastage:  The large part of air travelers belongs to the business travelers category and they see shopping and new products as a part of their daily activities. They do their shopping even at the airport while waiting for the flight to board. Hence, using airport advertising for your products and services can be beneficial for your company as it will have a remarkable impact on the eyes of the people.
High stay time:  On average, one traveler spends at least 70 to 80 minutes at the airport during the whole arrival and departure process. According to reports, the active time of advertising exposure is one hour, and during this time, more than 80% of travelers shopped at food and beverage stores, and 50% shopped for travel accessories and technology based on advertisements. This shows that the number of people who notice ads and billboards at the airport is higher as compared to any other traditional advertising medium or place.
Delivers a message to decision makers:  People who pay huge amounts of money for travel are always good decision makers in their business, home, and professional lives. They are also aware of what is good for them and where to spend their hard-earned money. Airport advertising assists in targeting decision makers, and response to ads is 25% higher than any other OOH advertising. People pay attention to airport advertisements just to learn about new businesses and their message. Thus, airports always have high sales.
Unmissable:  Air travelers always spend some time at the airport before boarding their flights. In such cases, 80% of them are in a relaxed mood and ready to receive the new business information and offers. Therefore, there are very few chances that they will miss the information and message that the brand is trying to deliver.
Maximum returns:  Investments in airport advertising can be the best decisions ever made by brands and companies, as it ensures higher returns and profits. This can be even more than 100% during the festive and wedding season.
You can talk to airport advertising agencies in India to find out about their cost of marketing and mediums. If you are looking for an airport advertising agency in India , then get in touch with Khushi Ambient Media Solution . They have owned advertising ports in multiple cinemas and multiple PVRs around the nation.