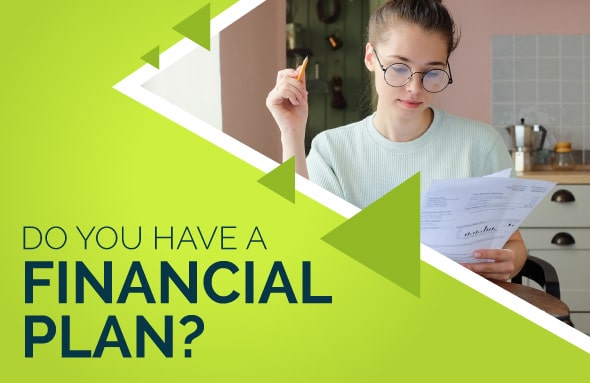 Most Americans who have a financial plan aren't confident about the plan they have, and one-third of Americans don't have any plan at all.
There are many reasons why having a financial plan is important—first and foremost, because you work hard for your money and should feel confident about what's happening with it in the short-term AND long-term.
But there's more! Here are eight of the most powerful reasons for you to have a plan in place:
1. INCOME – Manage the money you bring into your home in the most responsible way by creating a budget. This will help you plan for tax payments, monthly bills, and savings.
2. CASH FLOW – By monitoring your spending patterns and expenses, you'll end up keeping more of your cash instead of losing track of it.
3. CAPITAL – Once you have a better idea of how you're spending the cash you're bringing in, you'll have more money left over for investments and savings.
4. FAMILY SECURITY – A big part of providing for your family is making sure to have proper insurance coverage and policies.
5. INVESTMENT – If you're interested in investing, you'll need to consider your personal circumstances, objectives, and risk tolerance. Your choices should reflect your personality.
6. STANDARD OF LIVING – Your savings account is also your "worst-case scenario" fund. Keep this in mind as you're spending money and consider what your financial situation would look like should you (or the primary breadwinner in your family) become unable to work.
7. FINANCIAL UNDERSTANDING – One of the best benefits of having a financial plan in place, in my opinion, is the confidence that comes with understanding where your money is and what's happening to it. There's nothing better than the peace of mind that comes with knowing that you and your loved ones will be taken care of in the future because of the measures you've taken in the present.
8. ONGOING ADVICE – Don't be afraid to speak up and seek advice. Circumstances change, new factors play into your life plan, and in turn, your financial plan will change. Find a financial advisor or someone with a trustworthy background in business/accounting/finance/tax law who can help advise you when the going gets tough.
Get the most out of every dollar by getting a jump on your financial plan, it's never too late!
Here's what you'll have to map out:
1. Determine your financial situation – how much are you bringing in (paycheck), and how much are you sending out (bills)?
2. Develop your financial goals – Do you want to buy a house? Live a certain type of life after retirement? Have children? Figure it out and write it down!
3. Identify alternative courses of action – Now that you've written down your goals, what are your alternative goals? If you can't retire to a beach house in Florida, what's your plan B?
4. Evaluate alternatives – For plan B, what would these costs look like? Are they reasonable? Are there risks involved? What are they?
5. Create an action plan – If you need $____ to achieve your goal, how are you going to get there? If you're bringing in $____ each month, and you'll need $____ five years from now, how much will you need to save out of each paycheck? How are you going to do that?
Be prepared to reevaluate and revise. Plans change and so will your needs. Keep your plans flexible and check back with this draft often in order to update your affairs and keep them in order.