What You Should Know About Google Word Coach?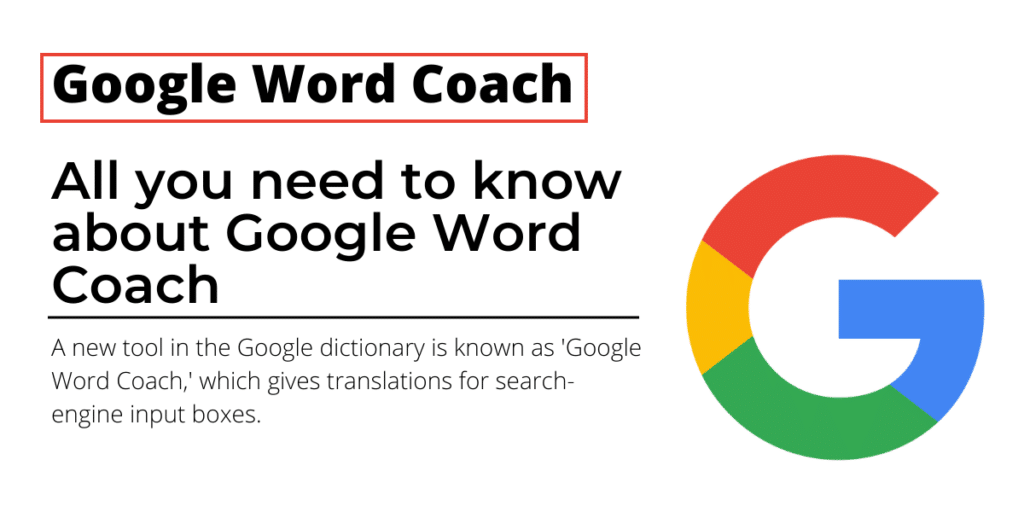 Google is regarded as one of the most user-friendly platforms available on the internet. Aside from the search engine, Google has a wide range of products, including Gmail, Google Analytics, Translator, and Word Coach.
Google has products for everyone: end users, developers, freelancers, business owners, marketers, and so on. The best part is that the products are completely free. Most of us stick with the free versions, ignoring the paid versions for businesses and enterprises. Google Word Coach is an example of an online product designed for end users and made available for free. It assists people in expanding their vocabulary and learning English words and their meanings. Let's learn more about this useful Google tool. Should we?
What exactly is Google Word Coach?
The Google Word Coach game was first released in February 2018 to assist non-native English speakers in learning words and their meanings in English. Citizens from many countries, including India and Africa, read, write, and speak English even though it is not their first or second language.
We used to rely on dictionaries to learn and use the correct meaning of a word. With the advancement of technology, it is now easier to search online rather than flip through the pages of a dictionary. The simplest way to look up a word online is to use Google. Enter the first few letters, and the word will appear in the suggestions.
As the first search result, Google will display the word's meaning along with an example and synonyms. You can expand the result to learn more about the word, such as its origin and history, and translate it into other languages.
We can consider Google Word Coach to be an extension of this. It is a game designed to help users learn and test their knowledge of the correct meaning of a word.
Whether you are a beginner or an expert in the language makes no difference. The game is playable by anyone. Some people do it for fun. Some people play the game to put themselves to the test. Some people also play the word coach game to increase their vocabulary by learning new words. You must admit that it's a fun way to learn, especially since no teacher expects you to spell the word fifty times. It's liberating! You make mistakes and learn by trial and error.
What is Google Word Coach?
It is simple to use Google Word Coach. Before we get into it, let's look at how to open Google Word Coach and access this intriguing game.
The game will appear on your screen in various ways. It is also dependent on the device. For example, the word coach game may appear when you search for the definition of a word on your mobile phone. It will appear as a small dialogue box in the center of your phone's screen. You can immediately begin playing the game.
Google Word Coach is now available for mobile browsers. During a mobile search, it also appears under the 'dictionary and translation boxes.' The game is not accessible via desktop or laptop browsers (though there are browsers with similar features that allow you to play the word coach for free).
Enter the keyword 'Google word coach' into your mobile phone's chrome browser. The game will be displayed as a search result and will begin immediately. You'll see a question with two answers, one of which is correct. It would help if you tapped on the option that you believe is the correct answer to the question.
If you answer correctly, the next question will be displayed. If your answer is incorrect, Google will display the correct answer and explain why it is the best option. You can keep playing the game and learning for as long as possible.
High Score, Levels, and Question Types
Google word coach is a never-ending game. There is no time limit or limit to how many questions you can answer. There are several rounds, each with five questions. You will receive points for each correct answer. The final score will be displayed when you choose to end the game.
Word coach Google has only two levels. After answering the five questions in the first round, you are eligible to move on to level 2. There is no endpoint once you begin level 2. As you progress through the game, the questions become more difficult, and you earn more points for each correct answer.
You also have the option of skipping a question. If you don't know the answer or don't want to take the risk of selecting the incorrect option, tap skip.
What if you want to learn more about the topic? You can do it as well! Each question has a small drop-down arrow. To learn more about the question, click on the arrow. This will assist you in comprehending and selecting the correct answer.
After each round, make sure to end the game. This allows you to share your game score with other platforms such as Facebook, Twitter, WhatsApp, and email.
A word of caution: The game will be erased if you close the browser at any point. It will help if you restart from the beginning.
Don't close the mobile browser while playing the game if you want a high score. Keep it open and play whenever you get the chance. Turning off your phone may result in the game being erased. To play the game, you must also have an active internet connection. Sign in to your Google account before you begin playing the game. This allows you to save the word game's score in your account for a limited time and resume where you left off. The score, however, does not last forever. It will be deleted after a while.
In Google Word Coach, there are three types of questions:
Synonyms (similar)
Antonyms (opposites)
Description of the image (the word that best suits the image)
You don't have to be concerned about incorrect answers because they are an opportunity to learn and have no negative consequences. You can play the game regardless of whether your answers are correct or incorrect. Google does not hold you accountable for it. Using red as an indicator will only show you that the answer is incorrect. Green marks indicate correct answers.
Google Word Coach is currently only available in English. The search engine also intends to make similar quiz games available in other languages.
Shortcuts and the Google Word Coach App
Is a Google Word Coach app that can be downloaded on a mobile phone? Unfortunately, no. Although word coach is a type of app, it cannot be downloaded. It is only available on mobile browsers. It is not available in the Google Play Store or anywhere else.
It may not always appear with the translator box. Because Word Coach is not available in every country, some of you may be unable to access the game.
However, there is a workaround for adding Google Word Coach to your phone's shortcuts. You may notice a tiny symbol in the bottom left corner when you open and play the game. It should look like a phone with a curved arrow. This symbol will create a shortcut button on your home screen that will direct you to the game the next time you open it. This option may not always be available. It is determined by the make and model of your Android phone.
Improve your English vocabulary by using Google Word Coach. To summarize, Word Coach is a simple quiz game created by Google to help users learn and improve their English vocabulary. The game is currently limited to mobile phone browsers. It can be played whenever the phone is connected to the internet.