What is ON-PAGE SEO AND WHY IS IT IMPORTANT?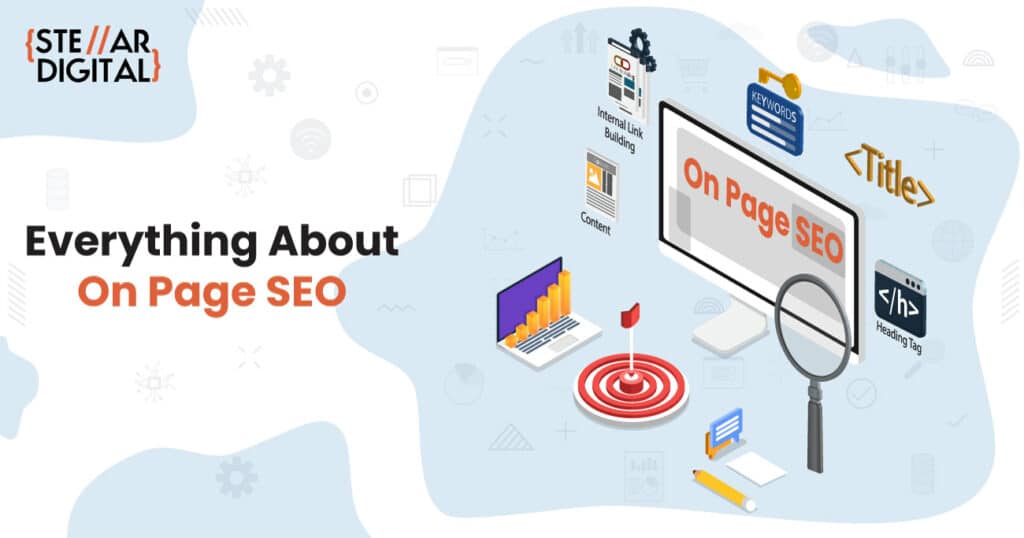 Search engines and on-page SEO both aid in the analysis of your website and the data included inside. This establishes whether a user's search is relevant to your website. Google constantly tweaks its algorithm to better understand a searcher's intent and deliver search results that satisfy their needs. The Google algorithm should be followed while making changes to your website.
It is essential that your website's optimization and content follow the most recent search engine trends. This encompasses what individuals can see (such as media, content, images, etc.), as well as what search engines can see (i.e. meta data, HTML, etc.). All of this enables search engines to choose how to rank your website in the end.
No matter how big or little your business may be, optimizing the on-page SEO of your website is crucial. Due to its steady Return on Investment, SEO is one of the most popular digital marketing strategies. In reality, on-page SEO offers the highest return on investment (ROI) of almost any digital marketing strategy due to its low cost and long-term benefits that may help websites grow and attract passive visitors for years.
Search engine traffic accounts for about 40% of all online revenue since it accounts for half of all website visits. More than 32% of keyword traffic on Google goes to the top result, and up to 91.5% of traffic goes to the first page of search results.
COMPONENTS OF ON-PAGE SEO
On-page SEO includes a few fundamental components which are-
For every content that you load on your webpages, there is a specific phrase you highlight or emphasize on; this becomes your keyword. Keywords are essential for better ranking.
The title tag of the content is what a viewer sees initially in search results. The user can end up choosing your website or one of your competitors, thus this is where the significance and relevance of your title are evaluated.
One should always write their own meta-description. One may always separate out from their competition by using unique meta-descriptions. Your natural click-through rate increases as a result.
Content is what initially draws people to your website. People visit your website because of the text on it, whether it's for a standard blog, a product description, adverts, e-books, etc. Engaging content increases traffic and viewership. This helpful indication increases your website's rating with Google.
It should go without saying that headers are crucial for SEO. HTML offers a total of six different heading kinds. These are h1 through h6.
Literally every HTML element falls under tags/header tags. Whatever type of content that you post, it would automatically be differentiated in headings and sub headings because of the header tags.
Internal linking refers to the connecting of separate content written by you within different webpages of yours. These links simply improve the user experience by offering more details on any particular topic you are writing about. Additionally, search engines can find additional pages on your website.
CONCLUSION
We've discussed the most significant on-page SEO variables:
Ensure that your website is operational and that your technical SEO is up-to-date.
Produce content that is user-centered and keyword-focused.
Improve your site's readability and performance to assist users and search engines in navigating your site.
Since all of these elements are all part of your website, you may work on them to improve your on-page SEO! By considering these factors and implementing wisely, take the assistance of professional digital marketing agency such as Stellar Digital the best digital marketing company in Delhi NCR and Gurgaon offering quality SEO services. Send us an email at [email protected] to get in touch with us.