What is Google Penalties and how to recover a website?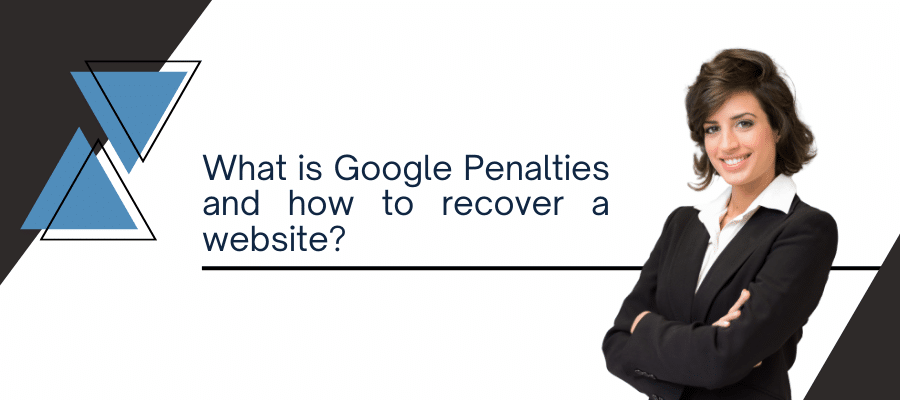 How to recover the Google algorithm penalties with the help of SEO?
One of the worst feelings a webmaster can go through is noticing a sharp decline in organic search traffic or ranking and not knowing why it occurred, especially when they are new to managing a web domain.
Many attempts to use any means necessary to raise a webpage's ranking. The Google Webmaster Guidelines should be more frequently considered by the strategies used to improve rankings. Google has created sophisticated algorithmic filters to screen websites during indexation and remove those that do not comply with its guidelines because it is aware of attempts to manipulate its search engine.
Sometimes webmasters don't intend to break the rules when their websites need to be better designed, have poor backlinks, or publish poor content. These sites will also be penalized by Google.
The logical assumption is that your website has been penalized if there has been an unexpected and significant decline in the ranking of web pages in the SERPs. The Google algorithms that tell web crawlers (also known as bots) how to examine websites during indexation are well known to many SEOs.
If one or more Google penalties, you will eventually be forced to take action, whether you're a webmaster, business owner, or SEO. What Google penalties are, how to spot them, and how to fix them with SEO strategies are all covered in this article.
SEO professionals need to know about the Google Algorithm Penalties
The SERP performance of low-quality websites that use manipulative strategies, such as excessive link schemes (which may include unnatural reciprocal links) or keyword stuffing to increase traffic/rankings artificially, are penalized. In contrast, the SERP performance of high-quality websites has been rewarded for the past 20 years.
Former Google Head of Webspam Matt Cutts. He frequently publishes online videos that explain algorithm updates and show viewers how to make improvements to their websites to avoid penalties.
These algorithm updates have gone by several names, including the Hummingbird, Panda, Pigeon, and Penguin updates. The main purpose of an update is to serve as an improved indexation filter that screens all websites to enhance search results for users, allowing a new site to only appear and advance in the SERPs if it complies with their standards.
Consider Google's sanctions comparable to the sanctions, warnings, and suspensions in the world of sports. These sanctions are frequently used to regulate the game (search engine rankings), caution players (business owners, webmasters, and marketers), and provide suggestions for improvement.
Google sanctions are typically transient and infrequently permanent (although they can last long). They aren't intended to maliciously punish people for breaking the rules or deter them from creating websites in the future, even though they can seriously harm a website's performance.
These penalties remind publishers and webmasters to abide by the Google Webmaster Guidelines to maintain a high-quality user experience for those who use Google's search engine to find helpful information. Google places great importance on the quality and integrity of search results.
Google Penalties & Their Root Causes
Google may penalize your website for two reasons: you used unethical tactics to boost your site's rankings or gave visitors a bad experience.
There are two types of manipulative techniques: on-site and off-site. Methods used within your site's technical setup are "on-site." Off-site techniques involve backlinks, which Google primarily considers when determining the trustworthiness and authority of a website.
An algorithmic penalty can also be a manual penalty. A manual penalty occurs when a Google employee has reviewed your website and found that it violated at least one of the company's rules. When a filter or safeguard built into Google's algorithm is tripped by your website, it results in an algorithmic penalty.
There are two types of algorithmic sanctions: Panda penalties and Penguin penalties. Panda penalties are related to the usability and content value of your website. Every month, they appear without warning. Over-optimization results in penguin penalties. They only launch at specific times of the year and typically come with a Google announcement.
You can receive a penalty for your entire website or just certain pages. It's possible for every page on your site to be penalized as a result if too many of your pages violate Google's guidelines, even the pages that don't.
It might completely remove your website from Google's index. For multiple keywords, the most typical scenario is that it will fall between 10 and 100 positions in the search results. It's extremely unlikely that your site has received a penalty if it drops just a few positions in the search results. The likelihood is higher for either:
Some websites beneath yours have gained more trust and authority due to backlink growth.
Google has devalued some of the backlinks responsible for your previous rankings.
Google has updated their algorithm to give various on-site and off-site factors slightly different weightings.
Work completed on your website months or even years ago may be subject to a penalty. As a result of something you did last year, your site ranked highly from that point on until now.
Google may penalize your website for just one of the following problems, but it's more likely to be a combination.
The main factor that can cause a Google penalty is
There are numerous reasons why Google may penalize your website or page. However, the fundamental explanation for almost everything is that you're probably attempting to manipulate the search index or must adhere to the formal quality standards for webmasters established by Google.
Google will highlight any unnatural or low-quality elements on your website. It consists of spammy/low-quality content, unnatural backlinks, and subpar/deceptive optimization.
Nowadays, many websites are penalized for using aggressive and deceptive link-building strategies and for quickly accumulating an excessive number of unnatural bad links. Link schemes don't affect visitors, but they indicate to Google that someone is attempting to manipulate rankings.
Numerous sanctions unrelated to link building exist. Anything that truthfully complies with Google's Webmaster Guidelines may be subject to punishment. Penalties may apply to, say, irrelevant or poorly designed websites.
There is probably a Google penalty associated with any factor that would detract from a website visitor's experience, whether it be slow page loads, spam or sparse content, cloaking/sneaky redirects, or keyword stuffing.
And many websites must be aware that they have been penalized and take no action to change their circumstance (while their competition gains an advantage).
How to determine if Google has penalized you
It would help if you first determined whether a manual or algorithmic penalty has been applied to you. Keep in mind that you need to be notified of algorithmic penalties. They are only given to you for manual penalties.
Your site needs to be penalized from a string of algorithmic penalties even though you have yet to receive manual penalties (especially if you haven't recently monitored your site with a penalty checker or analytical tool).
Algorithms continuously check websites across the internet, like the Penguin update. Your website might have recently passed a new index filter without your knowledge but failed some checkpoints.
Manual penalties always communicate through Google Search Console and are directed at particular websites. Google reviewers, for instance, can keep tabs on particular websites in particular niches and receive complaints from users who report your site as spam.
Manual and algorithmic sanctions may be total (affecting the entire website) or selective (affecting one or more pages).
Always keep an eye on the amount of organic traffic and backlinks coming to your website. However, there are several ways to determine whether or not you have received a penalty. For instance, you must sign into Google Search Console if you receive a manual action report (formerly Webmaster Tools).
If you are facing the Google penalty, you need to hire the best SEO Services in Delhi to recover your website from the Google algorithm penalty.
Mahira Digital Marketing Agency is also the best SEO Company in Delhi, so consult with their SEO experts.