What Is A Commercial Lease?

The decision to sign a commercial office or warehouse lease agreement should not be taken lightly, given its significant impact on your business.
A bad business decision has the potential to destroy a company's core foundation. It is essential to have a thorough understanding of the nature, variety, and uses of lease agreements before signing any commercial lease. Although signing a commercial lease agreement is a momentous occasion, you should not rush into it given the significant effects that it may have on your company.
Business owners frequently have several concerns about the nature of a commercial lease agreement. What exactly is a commercial lease? What are the types of commercial leases? What is the most suitable commercial lease for my company? Are there any costs that the landlord covers during the lease? What would tenants pay for when they sign a new lease? How to find the best business lease location? Where are the best commercial spaces for rent in my area? How do I determine the best commercial lease for my company?
These are all key questions, with different answers for each business. JW Management will comprehensively discuss topics about signing a commercial lease in this blog. Read on to discover more about commercial lease!
How Does Commercial Lease Work?
A commercial lease is a lease that allows entrepreneurs to operate on a commercial property. Commercial leases generally last from five to ten years, establishing a strong partnership between both the lessor and the lessee. Since leasing commercial property requires less capital, most business owners prefer to rent rather than purchasing a property.
Leasing a property ends up creating a contract between the lessor and the lessee known as a commercial lease agreement. The lease agreement specifies the terms of the contract that the entrepreneur must adhere to as agreed upon by the lessor and lessee. The commercial lease agreement is a little more complicated simply because it is up for negotiation and varies from lease to lease.
What Are the Differences Between Residential and Commercial Property?
As an entrepreneur, if you are planning to lease a commercial property, it is a must to know the difference between a residential and commercial lease. Even though residential and commercial leases are both real estate properties with some common characteristics, they differ significantly in many ways. Here are some critical distinctions between residential and commercial leases.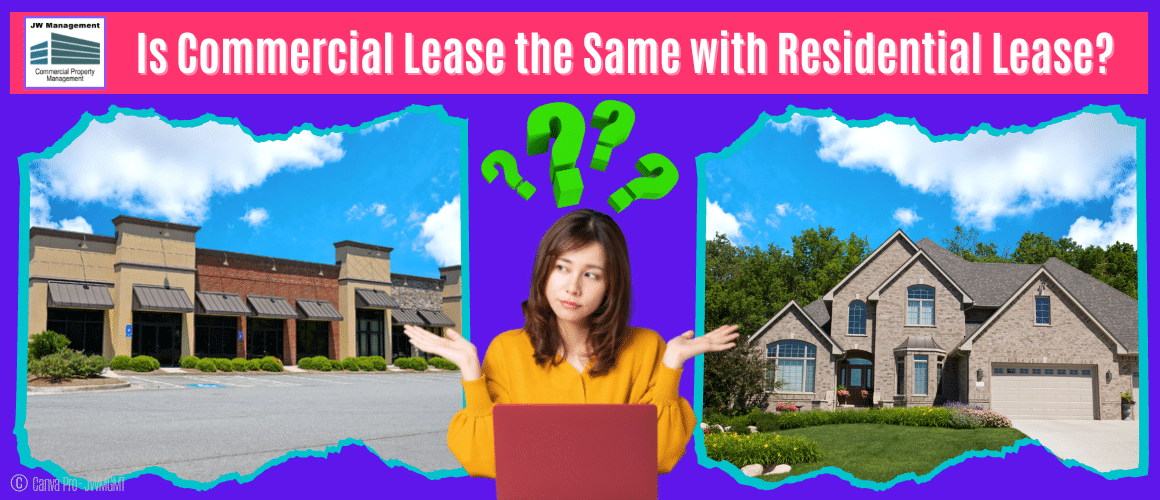 1. Property Usage
Residential leases are spaces that are intended to provide tenants with individual rights for their housing arrangements. Commercial leases are spaces in which products or services are designed and built, distributed, and sold. Commercial properties or areas in this contract include shops, offices, diners, storage facilities, and parking areas.
2. Lease Duration
Residential leases are less detailed and less binding than commercial leases. Commercial leases typically range from five to ten years in length. Before the lease agreement expires, the entrepreneurs will have the opportunity to renew it. Before leasing a property, the landowner continues to invest resources in preparing the property for the new occupant. As a result, the lessees' dedication to rent a commercial property for a longer period of time benefits both the landlord and the tenant. In the case of residential leases, the agreements are for one year, with monthly or annual renewals.
3. Legal Protection
Legal considerations of property in commercial and residential leases differ by location. In a residential lease, the landlords are held accountable for the legal protections, considerations, and structural maintenance. Moreover, residential tenants are protected by rental increments. However, the terms are clearly indicated in the lease agreement's details when signing a commercial lease. Understanding the various types of leases in the commercial real estate industry is advisable.
4. Rent Control Laws
Residential leases are protected from an increase in rental fees, as stated in legal protection. On the other hand, some commercial leases allow for passthrough increases in monthly rent. When renting a commercial space, both the lessor and the lessee are therefore bound by the limitations stated and consented to by both parties. It is always necessary to understand the various types of leases in the real estate industry.
Commercial
Lease Types
The location of a commercial property is one of the most important aspects of a profitable business and its overall success. As a result, understanding the various leasing agreements before actually signing one would be critical.
Leasing a commercial property may appear simple, but it is not. Understanding the best type of commercial lease for your company will stop you from signing the wrong one. Knowing the costs tenants should pay to lease a commercial property is essential. Do tenants have to pay for utilities and maintenance? Who is in charge of paying the property taxes and insurance? The answers to these questions differ according to the type of commercial lease you will sign. Here are the six different types of commercial leases.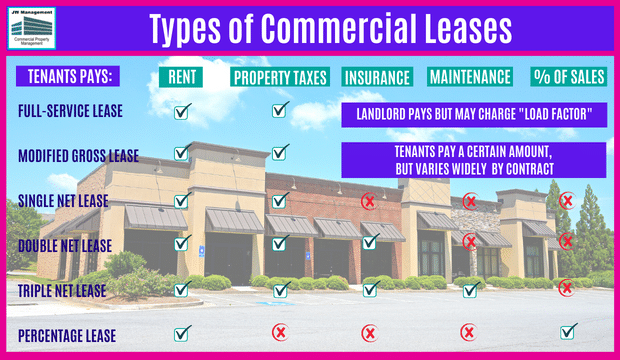 1. Full-Service Lease
A full-service lease is also known as a full-service gross lease or simply a gross lease in commercial real estate. The lessee only gets to pay the actual rent under this lease agreement. The lessor pays all operating costs such as maintenance fees, insurance, utilities, and taxes.
Full-service lease= Base rent payment+ Managing Expenses
These types of lease are preferable since it reduces the burden on the business owner, allowing them to focus more on their operations and other necessary activities. In a full-service lease, a lessor may increase the rent per square foot of the leased property. Under certain circumstances, a full-service lease involves an "expense stop." The expense stop is an allowable expense paid for by the land owner to help protect the lease payment during extreme economic hardship. Later if any cost increases, the tenants will be obliged to take responsibility for such expenses. It is the perfect lease agreement for the scurvy budget holders to meet their satisfaction.
2. Modified Gross Lease
A modified gross lease, also known as a modified net lease, is the second most common type of commercial lease. This lease falls between a gross lease and a triple net lease agreement. When it comes to operating costs, the modified gross lease allows the lessor and lessee to negotiate a wide range of options.
A modified gross lease requires the lessee to pay the base rent and a fraction of the operating costs agreed upon with the lessor. Property taxes and insurance, structural repairs, utilities, and shared space upkeep are all widely negotiated costs between a lessor and a lessee. Modified gross leases are commonly found in commercial towers and business parks.
3. Single Net Lease
A single net lease, also known as an N lease, is the most basic commercial lease type. Tenants in this lease pay the base rent and the real estate taxes attributed to the space. Compared to a gross lease, the base rent of a single net lease is lower. Furthermore, the landlord covers the remainder of the operating costs, such as building maintenance and utilities.
4. Double Net Lease (NN)
A double net lease (NN Lease) and a single net lease (N Lease) are nearly identical. The only distinction between both leases is that the tenant in a double net lease is responsible for property insurance in addition to the base rent and taxes. In this type of lease, the landlord pays for operating costs such as utilities, building maintenance, and repairs. In a multi-tenant commercial property, the double net lease is prevalent.
5. Triple Net Lease (NNN)
A triple net lease, also known as a NNN lease, is the exact opposite of a full-service or gross lease. The tenants are responsible for the commercial building's operating costs. A tenant pays the base rent, a prorated share of real – estate insurance and taxes, building maintenance, and repairs under a triple net lease. In exchange, tenants are free to redesign the property however they see fit. In an NNN lease, the base rent is lower than a gross lease because the tenants cover the operating costs.
6. Percentage Lease
The percentage lease and gross lease structures are very similar. Percentage leases are popular in retail and restaurant setups. A percentage lease requires tenants to pay the landlord a percentage of their gross profits in addition to the base rent. In a commercial lease agreement, the landlord and tenant agree on the percentage of revenue that the tenant pays.
Percentage Lease= Base rent payment+ % of Gross Sales + Managing charges
Locating the Best Commercial Space for Your Business
The most important and daunting decision a business owner tends to make is finding the perfect commercial office space for their company. Many factors need to be considered before signing a lease agreement. As a result, it is critical to ensure that you are getting the best deal for your company and its employees.
It is also critical that you sign a lease with a professional property management team that recognizes your company's wants, needs, and requirements. A commercial lease is a lengthy agreement. A lease with a business-friendly commercial real estate company, such as JW Property Management, will provide you with a stress-free leasing experience.
Since 1978, JW Management has always been in the business. JW Management has multi-tenant and single-tenant properties in the North Arlington Entertainment District, Westgate Plaza, and The Hospital District at 1625 West Mockingbird. JW Management is in the industry for decades and is renowned for having a dependable team that provides exceptional support to its tenants. It is not only the building in which you will be located that is important; it is also about the strong relationship with the property management team. Take the time to thoroughly research the commercial real estate firm with which you intend to do business.
Top 5 Steps to Locating Your Next Office Space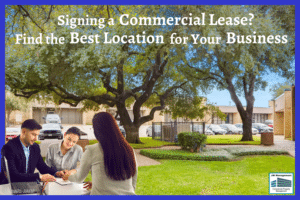 Looking to find an office space seems to be more time-consuming and frustrating than finding an apartment. Navigating the complexities of commercial real estate is a challenging task. Poor decisions can have disastrous consequences for your company.
You are fully prepared to dive into the ocean of tenant-landlord relationships when you fully understand commercial real estate leasing and are aware of your business needs and financial affordability. JW Management has outlined the top 5 steps to finding the next office space that will satisfy your current and future business needs in order to assist you all through the leasing process.
1. Understanding the Costs of Leasing a New Commercial Office Space
The rent is one of the most fundamental and important aspects of leasing a commercial space. The cost of leasing varies from one location to another. Business owners must recognize the leasing costs associated with the office space in order to identify if the expenses is within the company's budget. According to reports, signing a lease without fully understanding the overall cost can turn an affordable location into an expensive one. Protect your company from unforeseen charges.
2. Align Your Office Space Needs With Your Business Plan
Establish a solid business plan first if you don't have one. To gain clarity about your needs and desires, you must create a business plan that is documented, critically analyzed, and ready for execution. Once you have a comprehensive master plan, use it to determine your office space and commercial lease requirements.
Finally, your new workplace is a tool that will assist you in accomplishing the business goals outlined in your comprehensive, tactical, and long-term master plan. Dallas – Fort Worth Office Buildings are among the viable solutions that will provide your business plans with the biggest platform for success.
3. Prioritize the Location of Your New Commercial Office Space
A business owner's first and most important task is to prioritize the office location since employees dislike long commutes to work. According to Clutch's research, nearly half of employees surveyed consider working near their homes to be the most significant factor in a work location.
According to studies, shorter commutes result in satisfied and motivated office workers. There are several Arlington Texas Office Spaces with the best locations corresponding to the described location factor. Offices that are easily commutable attract and maintain workers from a wider geographic area. Employees also appreciate being close to restaurants and coffee shops. Another consideration is parking space, as the majority of the workforce (70%) drives alone to work.
4. Gather Your Employees' Ideas for the New Workplace
Organize your all-star team and ask them what matters most to them in the workplace. Before signing a commercial lease agreement, you must consider your employees' viewpoints. Soliciting your employees' opinions makes employees feel valued and taken into account. Employees tend to be more committed to their jobs in this manner, leading to improved performance.
A well-designed workspace creates a less stressful and more efficient workplace. It is critical that employers consider their employees' physical working environment. Employees must feel at ease and relaxed in their physical work environments in order to achieve one's great job. Here are a few lists that a business owner should think about before signing a commercial lease:
Wellness Rooms

Ergonomic Seating

Company Fitness Benefits

Healthier Lunch Options

Sit-Stand Desks
5. Select an Office Space With a Variety of Rooms
A sense of empowerment in the workplace is essential, so look for an office space with various rooms that is comfortable and spacious.
For your workforce to complete a task, you must find an office space with multiple rooms.
According to studies, numerous American businesses provide a variety of office spaces.
1. Private area- 74%
2. Enlarged Meeting areas- 56%
3. Miniature room areas- 53%
4. Moderation room- 51%
5. Peaceful areas- 41%
Always select an office design that meets the needs of your employees and promotes an efficient workflow at your company. If you have a large budget, you could hire an interior designer to improve the look of your office.
Signing a commercial lease agreement should not be done in a hurry. Before diving into any such contract, companies should spend some time studying its essentials. JW Management has spared no effort to help you understand the nature and application of commercial leases.
Leasing Process: JW Management Tools
Go to the following links if you intend to study more about commercial leasing terms and conditions for office space, industrial, warehouse, flex, or other types of commercial spaces.
1. Commercial Leasing Terms & Conditions

2. Tenant Construction Buildout
3. Leasing an Office, Flex, Industrial, or Warehouse Space
4. Designing & Permitting Your Office, or Warehouse Space