What are the top Mobile App Ideas for Sports Industry?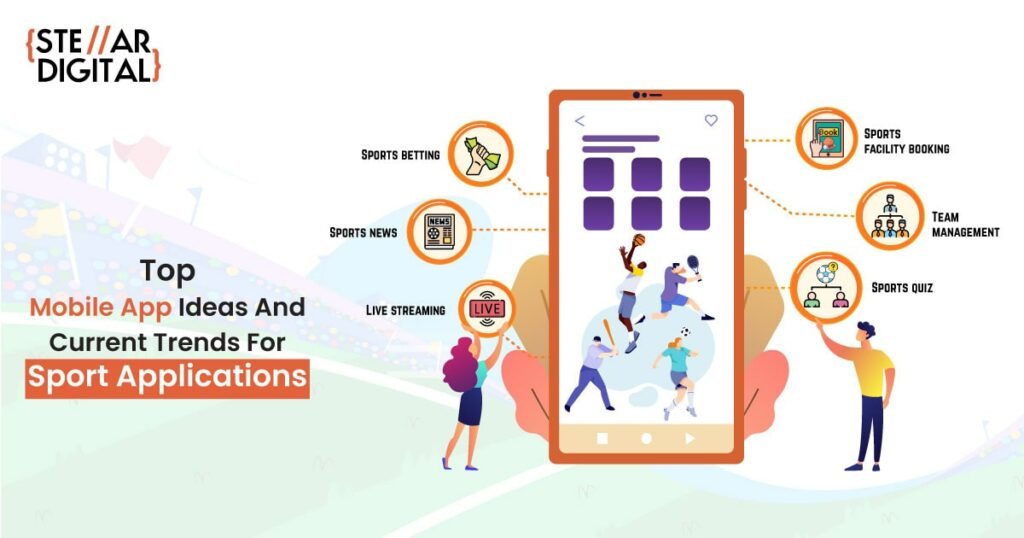 Best trending sports app ideas:
Sports betting apps-
When people spend money on sporting events, their enthusiasm for the activities is heightened. Sports gambling is well-known and is even permitted in some nations. There are many different types of betting, including conventional betting with a single central bookmaker and betting markets like Zensports. Applications for sports betting today employ a number of business strategies, some of which use internal money and others which make use of the bitcoin exchange.
Examples include bet365, Betway, and Betmgm.
Sports news apps-
These applications offer a wide variety of sports-related content, as suggested by their names, including team statistics, results, sports news, championships, and interviews with athletes, coaches, and other significant personalities in the sports industry. The most recent news, live game streaming, real-time scores, podcasts, and video recordings are all included in these apps. The sports news app can provide information on the status of scheduled matches and can cover a range of sports, including football, tennis, cricket, and others. The user can keep up with the most recent sporting happenings thanks to it.
Examples include Cricbuzz, Thescore, Yahoo Sports, and more.
Live streaming app-
Sports news apps often include live streaming, but there are other apps specifically designed for live broadcasting. Live streaming apps allow users to follow their preferred teams, leagues, and sports and watch games, practises, and vlogs in real time. These programmes have a large audience that is engrossed in their screens, which indicates that they have a strong potential for monetization.
To make these apps more engaging for their users, they typically have a live chat option. The live chat function enables interaction between fans and athletes. Live streaming apps frequently feature high-quality live streaming, straightforward UX/UI filters and channel search, and Chromecast connection.
Example: ESPN, LiveScore, Hotstar, SonyLiv and so on.
Fantasy mobile apps:
Fantasy apps are quite well-liked by their devotees all around the world. Users assemble a virtual team of players, and these teams compete using player statistics from actual games.
The dream app's procedure is as follows: select a match. Users can select a match after logging in and validating the OTP. Fantasy apps are ideal because they let players virtually participate in the game to create their teams, giving them the impression that they are making a difference to the game they enjoy. Because of this, fantasy sports software is quite well-liked by fans.
Example: Dream11, My11circle, Ballebaazi, etc.
Sports quiz app:
Due to the range of quiz games they offer, these applications are well-liked among sports lovers. These games are open to any page group. The sports quiz app offers fantastic gameplay, amazing animations for different quiz events, and verbal commentary.
Examples: Sports Fan Quiz, Bally Sports, Quizit, etc.
Conclusion:
Today, most businesses are opting for mobile and web app platforms. Hence, developing a sports app for sports lovers would be a wise decision. You can hire a trusted mobile app development agency to build, launch and scale your app.
So always ensure that the app development agency you hire must have the necessary experience, skills and knowledge in the sports industry to develop a sports app that can provide an excellent user experience.
If you are planning to build a sports app and looking for a professional agency that can help out with your project. Look no further than Stellar Digital, we have a team of expert developers, designers and marketers that will provide you best in class solutions. Simply visit stellardigital.in and explore more about our mobile app development services.