What are the best Email Automations examples for your eCommerce Stores?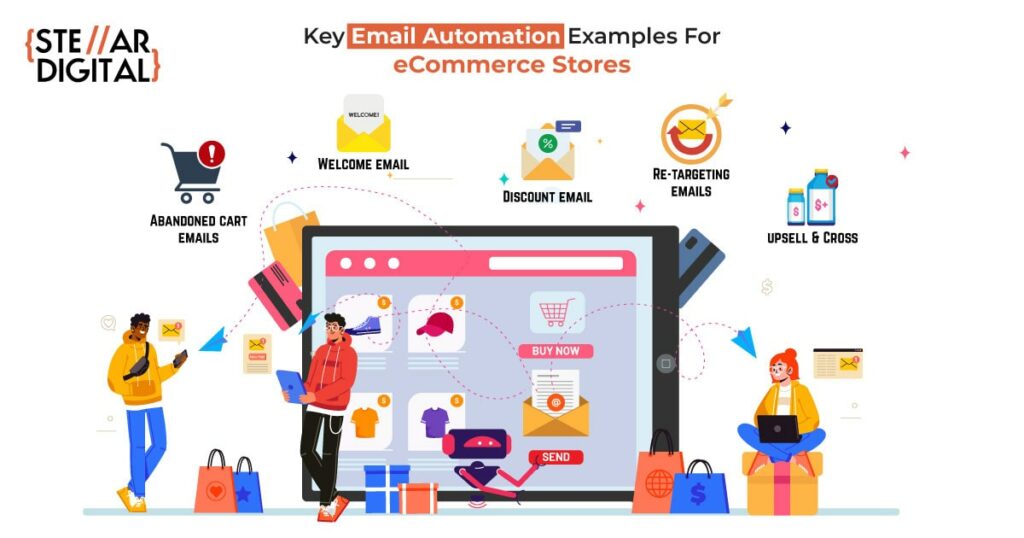 Best email automation examples for your eCommerce stores-
Welcome email:
The welcome email has become the norm across many businesses, especially in e-Commerce email marketing. Every customer anticipates a formal greeting from the business following registration.
With a welcome email, you may let the customer know what to anticipate from your business and what they should do next after signing up.
Automating this procedure is crucial because eCommerce businesses are open 24/7. Customers expect discounts for new customers in emails, so sending them one could be the push they need to make a purchase.
Abandoned cart emails:
No matter how interested in your products they are or how likely they are to make a purchase, online shoppers are quickly distracted and will abandon their basket in the middle of the checkout process. In fact, the average cart abandonment rate for the eCommerce industry is 67.45%, which is very upsetting for site owners.
Abandoned cart emails come into play in this situation, reminding your customers of the products they've left out and pleading with them to come back and finish their buying. By developing an engaging abandoned cart email series, you may recover 10% to 15% of all abandoned orders and leave a lasting impression on your customers.
Personalized product recommendations:
If you have an email list of past clients, you may use email automation to personalise their shopping experience by suggesting products. This type of e-commerce email should be initiated by a customer's previous internet exploration or purchase.
Discount email automation:
Targeting email automation at the precise moment a consumer is about to make a purchase is an intriguing thing you can do.
based on past sales data, by providing a discount shortly before they approach the cart. Before customers make a deal, you can ensure that the price is removed as a potential problem.
Discount emails can also be used to reach customers who have bought a product frequently but haven't looked at it in a while. Email would be utilised in this scenario to reactivate an inactive customer account.
Utilize upsells and cross-sells:
Your shopping cart and checkout pages may also show comparable goods. Using a technology like Recom.ai, upsell and cross-sell widgets can be shown on every store page, including a product, collection, shopping cart, checkout, or even a "thank you" page.
Based on factors like the most recent things seen, best sellers, new arrivals, frequently bought together, and most expensive items, similar products can be displayed.
The tools also include a scout feature that offers in-the-moment product recommendations. Customers can like or dislike suggested products, and Scout instantly modifies recommendations to suit their preferences.
Post-purchase follow-up:
Using email marketing automation to follow up with customers after they've made a purchase is a terrific method to express appreciation for their business and guarantee their pleasure. You can use it to ascertain whether customers are happy with their purchases, associated services (customer support, delivery choices, shipping), or pricing, which encourages repeat business and boosts sales.
Additionally, it's a fantastic opportunity for customers to recommend your business to their friends, especially if they're still excited about getting their hands on your goods.
You can show customers that you value their feedback and would love to know what they think about your products by asking them to leave a review with a post-purchase follow-up email. This review is useful information for other future consumers, as well as for you as an eCommerce retailer.
Re-targeting emails:
You might be able to reawaken clients whose accounts have lain dormant with the aid of re-engagement emails. By using email automation to reactivate customers by offering recommendations, new items, and developments since their account was last active, you can prevent churning and create new interest.
Conclusion:
Email marketing automation may greatly assist you as an eCommerce store owner in staying engaged with your customers while also considerably increasing conversions and revenues. As a result, if you want to engage in email marketing automation, get professional help from the best digital marketing company. We have a talented team of digital marketers at Stellar Digital who can assist you with your campaign. Learn more about our email marketing services at stellardigital.in