WHAT ANDROID ACCESSIBILITY FEATURES ARE THERE?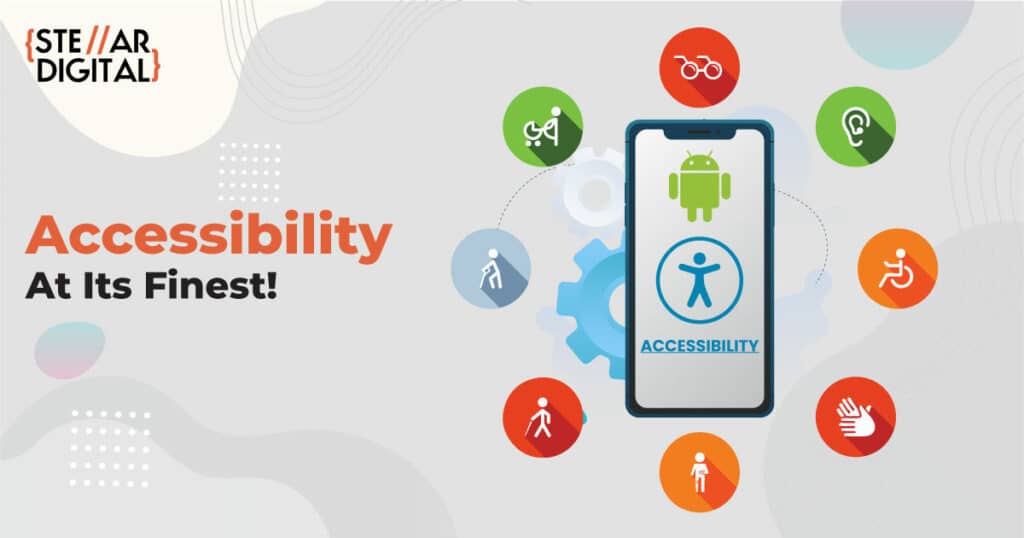 Sundar Pichai has very accurately quoted:
"Android was intended to be very customizable and we welcome innovations."
Indeed.
The precision with which Android's accessibility features work cannot be underestimated. The significance is enormous, and the value grows day by day. Accessibility is a really great thing in this day and age of mobile technology.
But where does "accessibility" fit into the equation, and what does it emphasize?
Some of Android's most intriguing accessibility features are designed to help people who actually need them while also being helpful outside of their primary duties in a way that benefits everyone. They can help with accessibility, but they can also help with more ordinary productivity improvements. It may also be of interest to you to know that the following accessibility features are available:
TalkBack/TalkBack Braille Keyboard:
TalkBack is a screen reader that allows you to use your smartphone without looking at it. It can be used to describe the images and words that appear on a gadget. To enable TalkBack, go to Settings > Accessibility > TalkBack.
Magnification/Display & Font Size:
Magnification is a feature that allows you to magnify a part of your screen for a short period of time. To do so, go to Settings > Accessibility > Magnification. Make the Magnification shortcut active. By tapping anywhere on the screen and pinching with two fingers, you may adjust the zoom.
Caption/Live Caption:
Launch the Settings app on your Android device, click Accessibility, and then Caption settings to activate Captions. From here, tap Show captions. People who have hearing problems or who wish to watch a video at a low or no volume will appreciate the captions option.
Hearing aid:
Launch the Settings app and go to Connected devices, then Pair new device to connect your hearing aids to your Android mobile. Choose a hearing aid from the list of options.
Sound Amplification:
Using Bluetooth or connected headphones, the Sound Amplifier app filters and amplifies sounds in your environment. To use Sound Amplifier, go to Google Play and download it, then pair your headphones with your device.
Voice Access:
Android users can utilize the Voice Access function to control their phones without having to use their hands. To begin, you'll need Android 5.0 or later, as well as the Google app. You can download a Voice Access app from Google Play. Then navigate to Voice Access, Accessibility, and Settings. Use Voice Access is the option to choose. After that, say "Hey Google, Voice Access," open the notification shade and touch to start, or press the Voice Access app on the Home screen to activate the feature. To use your phone hands-free, start using instructions like "Open Gmail."
Switch access:
Switch access allows users to utilize an external controller instead of the touchscreen. If the touchscreen has stopped working or if the gadget requires more accessibility, this may be necessary. An external switch, such as a keyboard, that delivers a keystroke signal to your Android device, or the Android device's built-in buttons, such as the volume buttons, are examples of switches.
Lookout:
Lookout uses the camera and sensors on your Android device to recognize objects and text and sends that information to persons with low vision. If your Android device is version 6.0 or higher, download Lookout from Google Play and install it by following the prompts. 
CONCLUSION
Technology has always aimed to make people's life easier. It grows better and more convenient for those who truly require it as more features and settings are added. Even when it comes to simplifying our routine and saving time, accessibility features know what to do and where to do it best.
With Stellar Digital's mobile app development services, you may take use of the best of numerous accessibility features. We develop apps that will make your life easier and more enjoyable in the long run.