Web Apps Vs Progressive Web Apps: Which One to Choose for web development?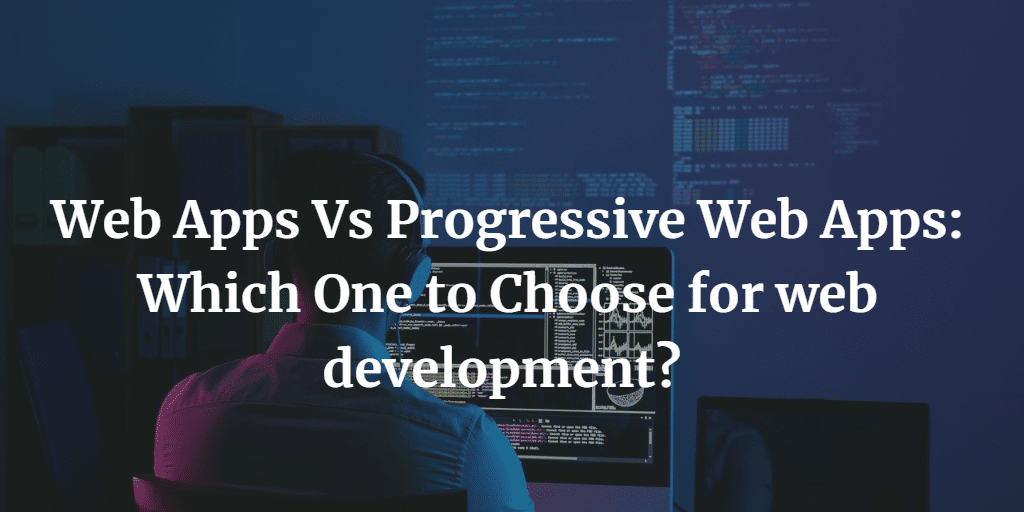 It has become really difficult to count the number of Mobile users since these numbers keep on increasing every minute or second. According to Statista, the number might just cross 2.87 billion like a slingshot. So not developing a mobile app for your business or not making the most of such technology simply means you are too dumb to understand its significance. 
However, the following post is not about how important it is to conduct a mobile app development project or why one must do so, it's all about what web apps and progressive apps are and how they are different from each other. So brace yourself up! The ride is just about to begin! First of all, let's delve into the basics! 
Introducing Web Apps
There are times when you browse a website and all of sudden get a pop-up of downloading the mobile app. To be precise, you didn't download the mobile app, you started using its web application. Now you must be wondering what exactly a web application is. Well, in simple words any application which is accessed through a web browser is a web app. 
Most of the time web apps look and behave quite like mobile apps, as a result, non-techies often get confused regarding whether they are using a web app or a mobile app. Even though you are using your smartphone, web apps can be accessed in a browser. Webmail, online calculators, and e-commerce shops are some of the best examples of web applications. 
Further below I would like to mention certain benefits of using web apps.
Benefits of Web Applications 
Web apps aren't built for any specific platform (they are universal)

Developing such applications doesn't require much time, energy and money

Easy to build, install and maintain

A compatible browser is required

No need for local hosting services

Web apps always tend to remain adhered to standard operating system protocols

Reduced software piracy

Users get the latest, updated version as the application automatically gets updated 
Now you must be wondering how a web application is different from a website. Well for starters, a website is a wide collection of static-looking web pages which are interlinked seamlessly. Whereas a web application is more like a software program featuring intimidating and interactive content to enhance customer engagement. Apart from this, it totally depends on you whether you want your website to be integrated with any third-party applications or not. However, when it comes to web applications, integration with third-party applications is a must. In addition, a website offers the least amount of user interaction whereas a web page offers amazing user interaction.  
Online shopping carts, email, word processors, file scanning, spreadsheets, and photo and video editing are some of the common examples of web apps. 
Moving on, it's time to focus on progressive web apps. 
Introducing Progressive Web Apps
What are progressive web apps (PWAs)? Well, they are applications developed using basic yet crucial technologies such as HTML, CSS and Javascript. In fact, it may quite interest you to know that PWAs do offer a significant amount of feel and functionality of an actual native app. Moreover, they feature push notifications and even have this insane ability to work offline. Since its inception in 2005, PWAs seem to have gained an immense amount of attention because it makes the development process easy as well as enhancing user experience like never before. 
Here you get the best of both worlds, mobile and web! I mean imagine having a website that is built using all the web technologies but offers the exact look and feel of a mobile app. No wonder tech Giants such as Microsoft and Google are a crucial part of the PWA movement. So if you are really willing to develop an app that's fast, reliable and highly engaging. Look no further than PWA apps. 
Further, I would like to mention how Progressive Web apps are beneficial in the long run. 
Benefits of Progressive Web Apps
#1 From the End-user Perspective 
In the present scenario, digital users are increasing at a fanatic pace! Poor network connection, slow page loading speed, and tricky user experience can be a big turn-off for them and compel them to switch to their competitors. No wonder more and more businesses are striving extremely hard to meet the expectations of their end users. 
One of the best advantages offered by progressive web apps from the user perspective is that they do offer the ability to work offline and access can be derived from the browser. All you have to do is add it to your home screen and that's all, you need nothing more! It may also interest you to know that these applications are pretty light than native ones. Slow loading time, great performance, works well even when there is no internet connection, offers app-like features such as home screen, offline mode and push notifications, etc. updates pretty quickly. 
#2 From the Business Perspective
The next segment is all about how progressive web apps are beneficial for businesses all across the globe. Well, one of the obvious ones to consider is using it as a communication tool to interact well with clients and minimize the involvement of third parties. Moreover, this definitely reduces the risk of data leakage or cyber fraud. As mentioned earlier, progressive web apps are extremely easy to update in comparison to other alternatives. 
Apart from all this, PWA tends to have amazing UX resulting in enhanced and increased visitor engagement and return on investment. Another benefit of developing progressive web apps is that you don't have to put much effort in convincing clients to install the app right from the browser. Also, this certainly means that you are no longer supposed to be dependent on platforms such as Apple and Google Play stores. Another interesting benefit offered by these progressive web applications is that you don't have to pay any middleman for distribution. So other than higher user engagement and conversion rates, PWAs offer short-time loading, reduced CAC, seamless interception via using different social media channels, independent of app update procedures, increase in search results, get rid of any middleman and so forth! 
Starbucks, Uber, Pinterest, Forbes, and Twitter lite are some of the well-known companies found using PWAs to enhance their global presence in no time. 
So now it's time we compare web applications and progressive web applications in detail. 
Web Applications vs Progressive Web Applications – Where Lies the Difference? 
| | | |
| --- | --- | --- |
| Factors | Web Apps | Progressive Web Apps |
| Installation | Installed through the app store | PWAs run on the mobile device's browser |
| Costs | Web Apps can be a bit costly | PWAs can be a bit cost-effective |
| SEO | Web apps can be quite tricky for SEO optimization | PWA's can be easily indexed by Google |
| Performance | Web apps are pretty great in performance | PWAs are not supported by all the web browsers, so performance might get hindered |
| Verdict | If you want more comfort and satisfaction then choose native apps | If you want a more personalized experience, exceptional UX, choose PWA |
Apart from these, there are several other factors that must be taken into consideration
#1 Cross-platform 
There was a time when developers were asked to develop apps for either Android or iOS so that they can offer a native-like experience to the end users. Well, today with the rise in the concept of cross-platform compatibility both businesses as well as developers have become assured of shaping their applications for two devices instead of one. On that note, progressive web apps are pretty responsive in nature. They tend to get displayed automatically. 
At one point you can even think of native apps because it offers a user-friendly experience but PWAs on the other hand are pretty time and cost savings.   
#2 SEO 
In the present scenario, simply developing a web app or a mobile application is just not enough, you need to get it ranked on the search engine in order to attract more and more visitors. So SEO and easy discoverability is extremely important here. Unfortunately, web apps cannot be indexed and so their content cannot be listed on SERP. So you have only one option left, get known via using the app store.  
Now, what exactly leads to app discoverability? Well several aspects such as appropriate keyword research, writing great descriptions, earning positive reviews, well-optimized titles, great reviews and ratings and whatnot! PWAs tend to work just like any other website so they do have fair chances of getting listed on the search engines. Just make sure to avoid duplicate content, and proper hashtags and nothing can stop your PWA from being ranked on Google's first page in no time. 
#3 Security
With security breaches happening every now and then, securing your website and all the included data has become of prime importance. In fact, PWAs are way more secure than web apps since they run with HTTPS. Technically speaking there is no scope for any exchange or hacking taking place between the server and the client. In comparison to this, web apps ask for taking more and more security measures. Here the use of passwords, multi-factor authentication, and biometrics increases.    
Final Thoughts!
And now we have reached the conclusion! So which one is better progressive web apps or native apps? Well both of them are of a kind, the key to choosing the right development project thoroughly depends on your situation. For example, A PWA app works wonders if you are planning to grab the attention of hundreds and thousands of people in a very short span of time. Yes, this is definitely possible using your existing distribution channels, and nothing can stop you from getting into Google search results.
On the other hand, you must consider a native app when you are developing apps  in regard to the finance, health, or banking industries. Apart from security, native apps tend to offer an insane amount of credibility for your business. Also, these apps work at their best when explored with features such as geofencing, sensor detection, and more. 
I hope you enjoyed reading the post! Feel free to share among your peers and help us in spreading the word.