THE HISTORY OF WALLPAPER
The use of wallpaper, which is still popular today, was first popularised in the 16th century and was mostly used to decorate furniture and smaller areas.
The popularity of wallpapering really took off at the start of the 20th century. From the grandest aristocratic palaces to the humblest merchant homes.
Always in style: floral 
Simple florals and landscapes, two of the most well-liked and enduring wallpaper patterns, are reminiscent of what was most popular in the 20th century. Buy our wallpaper here. Wallpaper
The types of flowery wallpaper are incredibly diverse. Inspiration comes from a variety of places, including horticultural trends and catwalk fashion.
 We aim to bring elements of the vast outdoors inside, including flowers. According to colour psychology, leafy beauty inspires and energises. It reduces stress and promotes relaxation. It makes sense why it's a great and well-liked option for interiors!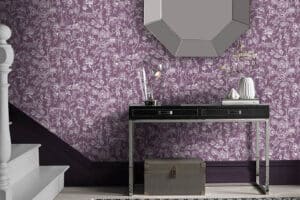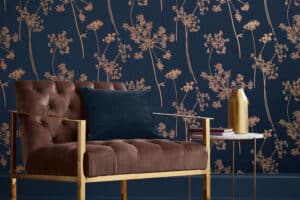 ALWAYS TRENDING… Geometric 
Geometric design is another tried-and-true, always in-style design trend.
You can't go wrong whether you choose a straightforward linear, circular, or anything that creates a feature with some pattern fill!
 By decorating them in various ways, geometry can also be quite adaptable. Sashiko, which can be designed with an oriental setting, is a fantastic example. In contrast, a clean, minimalist design with a brighter colour scheme gives off a chic, modern vibe.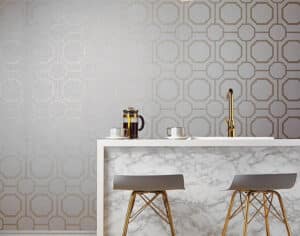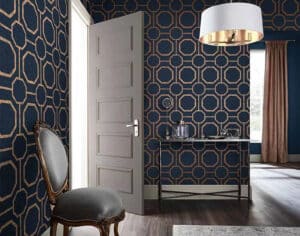 A PERMANENT TREND
A tendency that is constantly expanding and where size matters…
This is the ultimate goal of the maximalist and the one looking to make a point. Like traditionally printed wallpaper, a mural has no constraints on the number of times it can be repeated. You can make a piece of art for your walls that fits perfectly by using our selection of designs and our made-to-measure feature! Shop our selection of entirely custom wallpapers from Tassels. All wallpapers are for sale.