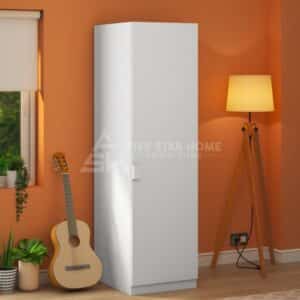 The wardrobes you choose will greatly affect the look and feel of your bedroom. For instance, there are many different styles and designs to choose from, such as built-in, free-standing, and custom-fitted. There are also various types of doors, including sliding, paneled, and mirrored. You should always consider your needs, lifestyle, and preferences before selecting a door for your bedroom.
Free-standing
Free-standing wardrobes are a versatile way to add storage to your bedroom. You can choose from a wide range of styles, colours, and sizes. They are also very portable. This makes them ideal for moving house or using in a shared living space.
These wardrobes are often built from chipboard or medium density fibreboard. However, some manufacturers use solid wood. Solid wood is a more durable and eco-friendly material.
When it comes to buying a new wardrobe, you need to measure your space and think about how much hanging room you need. If you have an awkward corner, a fitted wardrobe may be the best solution.
Built-in
Built-in wardrobes are a great way to maximise your home's storage space. You can also improve the appearance of your living area. If you're considering putting your house up for sale, a built-in wardrobe can increase its market value.
They are a great addition to any bedroom and can be customized to match your interior design. These can come in a variety of styles, from modern to classic.
In addition to storing your clothes, built-in wardrobes can be used to store a wide range of other items, such as linen, bedsheets, make up, perfume, and even shoes. Some designs can even be customized to include a dressing table or mirror.
Custom-fitted
Custom-fitted wardrobes are an excellent way to save space and add value to your home. They can also create an orderly and organised environment.
Fitted wardrobes are available in a wide range of designs and styles, so there is likely to be something to suit your needs. Some designs include drawers which are perfect for storing small items. The best materials will ensure that they hold up to wear and tear.
There are also bespoke built-in wardrobes, which are completely customised to your specifications. These can have a single or double rail, or be entirely open at the end. They can even feature drawers on the bottom and shelves on the front.
Mirrored
Mirrored wardrobes add a touch of elegance and style to any room. They are also practical and space saving. Whether you need extra storage or just want to brighten up your home, there are many styles to choose from.
One of the main benefits of mirrored wardrobes is the way they reflect light. This makes the room appear brighter and larger. There are a number of styles to choose from, including sliding doors, hinged ones, and full length mirrors. Having a mirror on the door of your wardrobe will also make it easier to check your appearance before leaving the house.
Mirrored wardrobes can be added to almost any type of wardrobe. They are particularly useful in bedrooms because they offer a view of a full length mirror. You can see what you look like and what you need to do.
Sliding door
Sliding door wardrobes can be a great way to get more storage space. The doors can open up at various angles and can be installed in any space. They are also perfect for hallways and under stairs. You can find these wardrobes in many different colours, designs and materials.
Choosing the right sliding door wardrobe for your home is not hard. With the help of a professional, you can choose the right design for your space and style. Aside from that, you can also opt for hinged doors that can provide you with additional storage space. Moreover, the doors can be made to fit a variety of shapes and sizes.
Paneled doors
Paneled doors in wardrobes can be a cinch to build, and they add a plethora of fun to a home. They can be painted to suit your budget and your decor, and the best part is you can assemble them yourself. You'll be amazed at the results. Unlike many DIY projects, the end product will be a quality fit and finish.
To ensure your paneled doors in wardrobes are built to last, go for durable, high-quality materials. You can go all out with solid wood or opt for the budget friendly MDF. If you are a stickler for style, you can opt for a paneled cabinet with sleek, brushed metal handles.