Top WordPress Web Development Trends for 2023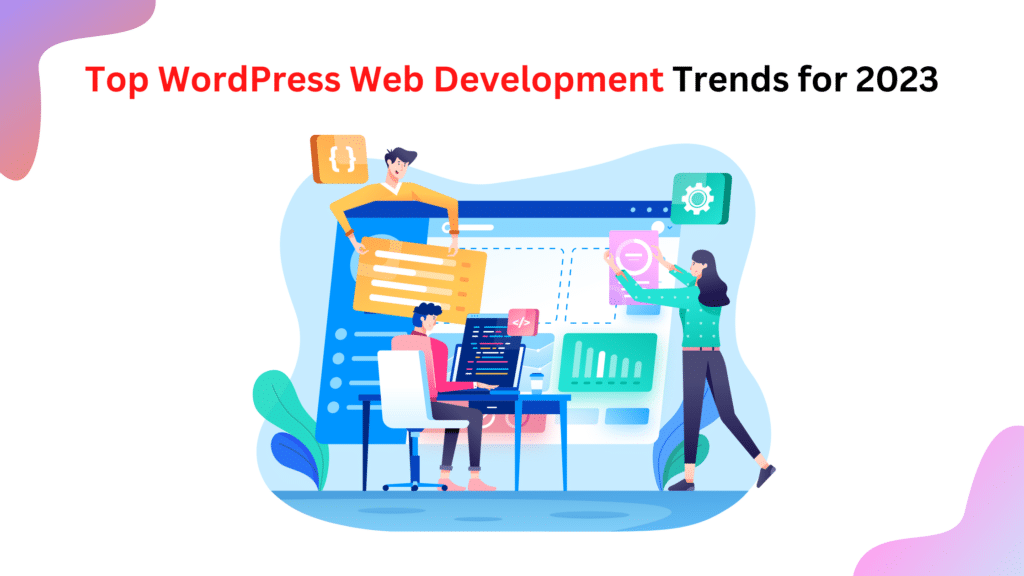 WordPress is a prominent CMS used worldwide. No matter which type of website your business requires using WordPress, you can quickly develop any of them. WordPress consists of 43.3% of all websites present on the web. 
This platform keeps evolving and adding features according to the latest development trends. Its vast popularity is the variety of themes and plugins it offers. You can get a customized website with the help of a WordPress development company. 
This blog will cover the top six WordPress web development trends that will rule in 2023.
Top WordPress Development Trends of 2023
WordPress VIP
WordPress is no longer limited to small or medium size businesses. With the help of a WordPress development company, you can leverage WordPress VIP in the following ways:
WordPress has features that businesses and well-known brands can use. With the help of WordPress VIP's user-friendly analytics provided by Parse.ly, you can examine the effectiveness of your content and make informed decisions as a result.

With the help of WordPress VIP's user-friendly analytics provided by Parse.ly, you can examine the effectiveness of your content and make informed decisions as a result.

You can grow and monitor the performance of your built-in enterprise search service and content delivery network (CDN), as well as your 24/7 monitoring and hourly backups.

As the only enterprise WordPress supplier with SSAE SOC compliance and FedRAMP authorization, it strongly emphasizes worldwide security.
2. Page Builder
With the help of page builders, you can get a customized website tailored to your unique business requirements. The website can be easily edited and created without prior technical knowledge. 
It isn't easy to customize the predefined team of WordPress. However, using page builders, you can change the look of your web page layout. Elementor, WPBakery, Genesis, and WPML are the most popular page builders of WordPress. Factors such as compatibility, responsiveness, and builder's type must be checked.
3. Headless
WordPress serves as the website's content management system, and any other technology is used to create the front end and expose the material to visitors. WordPress uses a decoupled architecture, allowing you to manage your website's assets from the dashboard and customize its look using plugins and themes.
Any WordPress installation can become Headless by sharing the content with the REST API. Using a headless CMS to future-proof your WordPress content is arguably the most acceptable thing you can do.
Since you are not crammed with plugins and themes, headless allows more freedom in content migration (if necessary). It is the most excellent choice for companies that use the same backend to distribute content to Android and iOS devices. With a WordPress development company, you can use this rising trend of 2023.
4. WordPress 6.1 with ReactJS
WordPress, a well-liked Content Management System (CMS), enables you to create straightforward and complex websites. By the end of 2022, WordPress 6.1 will be available on the market because it consistently releases version updates.
WordPress development businesses use ReactJS because it allows for more flexibility when creating WordPress websites. Because it employs virtual DOM, updating is completed considerably more quickly than with browser DOM updates.
5. WooCommerce
You must have heard about WooCommerce earlier, also. It is a WordPress plugin using which an existing WordPress website can be converted into an eCommerce website. Plus, you can also develop an eCommerce website from scratch using WooCommerce.
There is a high chance that WooCommerce will rise as a WordPress web development trend in 2023. Statista research shows that it is one of the most used eCommerce platforms, with 36.68% of websites. With the assistance of the WooCommerce development company, you can have a flexible eCommerce website with a personalized shopping experience and enhanced product pages.
6. Integration with Other Technologies
Constant updates are taking place in the technological environment to enhance the user experience. The use of functionalities such as Augmented Reality/ Virtual Reality, Chatbots, Voice assistance, etc., will rise soon. 
The incorporation of voice assistance allows users to shoot commands to find the required solution. You can answer customers' queries instantly through chatbots. With WordPress, you can utilize all these technologies, which is another WordPress web development trend for 2023.
Wrapping It Up!!
There they are, then. Some might be recognizable to you, while others might be completely foreign. Keep these WordPress web development trends in mind while creating a new website or updating an old one.
Make use of them to strengthen your internet presence and promote consumer satisfaction. To include these trends and create a website suitable for the market, you can also work with a WordPress web development business.