TOP 8 EYELASHES SUPPLIES THAT YOU CAN HAVE!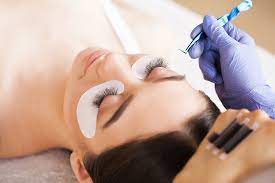 Eyelashes supplies are one of the main essentials which have their special place in every makeup lover's makeup routine. More importantly, for a lash technician, lash supplies play a major role for sure. For lash technicians, they require a large amount of equipment, and whether you're mobile, based in a salon, or work from home, you must have everything you need to lather your clients. From taking bookings to drying your clients' eyes before they leave, there is a lot that goes into the process. To provide the best services and create amazing sets as a lash technician, you must have a plethora of lash extension products and supplies in your arsenal. While there are some supplementary products, there are some definite products to have in hand. Are you clueless about this whole new stuff? No worries cause we have most eyelash supplies covered here just for you.
Here are the most important lash supplies that one must have.
High-quality eyelashes supplies
The most crucial item you require in order to begin lashing is, of course, a good pair of lashes. Selecting your supplier for lash supplies is crucial because you must select the best eyelashes possible to ensure customer loyalty. The key components of an effective lashing job are high-quality lashes. You don't want to be picky when buying lashes, trust us on this. No matter how good a service you offer, if you take the easy way out, you won't satisfy your clients just with your outcomes. The patterns, extents, and sizes of the lashes also vary. It is entirely up to both you and your client to choose which one is the best fit for the job.
     2. Tweezers
Every credible lash artist recognises the value of a dependable pair of lash tweezers. While there are many other tools involved in the process, if the tweezers fail, the entire look is in jeopardy. When selecting the best lash tweezers, there are innumerable factors to consider: length, mass, head, form, hue, and so on. We could go on and on about the plethora of choices available, but it all comes down to you in the end. A particular eyelash tweezers may be ideal for one lash artist but extremely inconvenient for another. You must undoubtedly follow the flow. It will take some time, but eventually you will find tweezers that feel so incredibly comfortable in your grip that you will forget you're carrying anything. Our final piece of advice is to not be afraid of making mistakes; professional lash artists are not created overnight; it takes a great deal of trial and error to get there.
3. Eyelash Glue or Adhesive
Lash glue is another essential in eyelashes supplies for lashing and this product is there to hold everything together; it is the perfect finish for the lashes that will ensure they look beautiful for the next few weeks. Without adhesive glue, it was impossible to apply extensions to natural lashes. Because everyone is different and has different preferences, you should keep more than one sort of adhesive on hand. Drying rate, colouring, fume level, moisture, temperature, and use timespan are all critical considerations. Choose the appropriate eyelash extension glue for your skill level. That's the best place to begin. If you wish to enhance your technique, practise with speedier eyelash glue to test your speed.
4. Tape
They both serve the purpose of defining the difference between the top and bottom lashes. You risk glueing your client's eyelashes closed if you don't tape the bottom lashes. That would be humiliating. If you don't use tape or pads to adhere your clients' bottom lashes, their bottom and top lashes may intertwine and their eyes may become glued shut, which isn't good for business! For your client's closed eye, use lash tape or pads to keep the bottom lashes from becoming glued to the glue. You can use clinical tapes that are gentle enough and apt to the close proximity to the delicate and soft eye area. Bottom lashes should be safe first with eye pads or eye masks, then any remaining lashes should be safe with tape to the eye pads. If you choose to use tape instead of eye pads, use medical-grade tape.
5. Eyelash primer
Maintaining lashes is important for client retention; Lash Primer removes all debris and oils from the lashes before applying new ones. In essence, priming the lashes prior to treatment balances the ionic strength level of the natural lashes, improving the bond between the extensions and the latter and, ultimately, lengthening retention. We may not always be able to control the adhesive's bond or the duration of the extensions but what we can do is work to ensure or reduce the amount of oil and debris left on our customers before applying lash extensions.
6. Lashes Remover
We can use this product to remove a portion or the entire set of eyelash extensions. The primary goal of a professional eyelash glue Cream Lash Remover is to remove eyelash extensions without damaging your natural lashes. In lashing services, the lash remover is not always employed. We can find numerous examples of poor application. You may encounter a client who received a poor lash application, particularly if done by another lash technician and will need to remove them to avoid further damage. The lash adhesive caused allergic reactions in some people while some clients may have severe adverse reactions and must simply remove their eyelashes. Therefore, having a lashes remover in your lash supplies comes in handy.
7. Mascara wands
To separate lashes, use spoolies, also referred to as mascara wands. All use spoolies prior to, during, and following the application. Additionally necessary for your post-application procedure are these mascara wands. The eyelashes frequently accumulate oil, dirt, and makeup, which makes them stick together or at odd angles. In this situation to remove impurities without touching your eyelashes, they serve as a great help. To make your eyelashes last longer, gently brush them. The lash extensions will come off if you take or pull on them. We must ensure to curl the lashes in the proper direction to give a proper effect.
8. Lashing Mist
You and your customers' experience with this product will be completely different. To significantly reduce the drying time for the adhesive, you can utilise this product, after putting on lash extensions. Another fantastic benefit that lash artists get to enjoy is the mister's calming effects on itchy eyes. If during the procedure your client's eyes start to itch or twitch, the mist will come to the rescue. We suggest using a nano lash mister because it is very convenient to use and sprays a monitored micro-mist of filtered water that instantly calms eyes. Nano misters are typically tiny and portable. It might not seem like much, but it can reduce the 24- to 48-hour duration of your lash adhesive to just 4 to 10 hours.