Top 10 Upcoming Mobile App Development Trends For 2023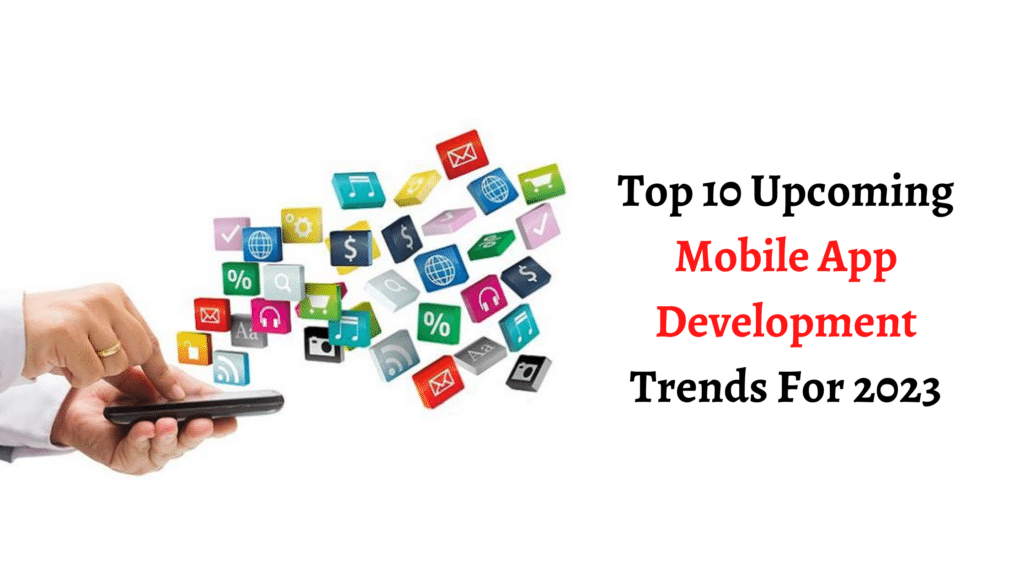 The mobile app development market is estimated to generate over $400 billion, with the highest figures reported in the APAC region. This number is set to exceed $600 billion in the coming years.
Put simply, it is one of the fastest-growing markets with excellent returns. That means it is also highly competitive – you will need to keep up with the latest trends to stay ahead of the mobile app development game in the coming year. 
In this blog, we will explore ten of the biggest trends in mobile app development for 2023.
Top 10 Mobile App Development Trends For 2023
Consider the following mobile app development trends and how you can implement them in your application:
1. Artificial Intelligence And Machine Learning
Artificial Intelligence and Machine Learning have been among the top technological trends throughout 2022. Several tech giants, such as Google and Amazon, are applying them to improve user authentication features like biometric identification. They do so by increasing detection accuracy and decreasing the error margin. 
The two techs continue to evolve and are vital in improving multiple cutting-edge features, such as voice recognition and Natural Language Processing (NLP). Additionally, AI and Machine Learning have reduced operating costs for large conglomerates. The ultimate goal is to improve user experience by enabling the app to make better, more informed decisions with the help of AI and ML.
2. IoT and Cloud Technology
More and more cloud and IoT-based apps are being launched in the market, thanks to the data storage and security benefits these technologies provide. They enable app users to control their home appliances and better manage day-to-day activities like calling and shopping. IoT and cloud can greatly reduce operational expenses while boosting productivity if a top mobile app development company implements them correctly.
3. AR And VR
AR and VR consistently evolve, enabling users to improve their lifestyles and enjoy unique experiences. For instance, they can try on and shop for clothes and accessories without stepping outside their homes.
These technologies will likely benefit multiple industries, including travel, entertainment, and gaming.
4. Voice UI And chatbots
You must already be aware of chatbots, i.e., the helpful AI and ML-based icons that may prompt you to chat with them for solutions. Microsoft's Cortana is an excellent example of a present-day chatbot.
Chatbot functionality is set to increase, involving features like face and voice recognition, sentimental analysis, etc. Mobile apps will become more conversational and voice-first UI as this technology improves availability and cost-effectiveness.
5. 5G Services
5G is being incorporated into many more devices and is already boosting app development. It offers several advantages, including far greater speed and lower latency than its predecessor.
6. Edge Computing
The superior speed and performance also give developers the freedom to add the features they want to their apps. They don't have to worry about the consequent lag in app performance.
7. Beacon Technology
Beacons are small, highly accurate devices that recognize mobile devices near them. They communicate with a server through signals, prompting the server to send an alert to those mobile devices.
Beacon technology is helpful in many industries, such as hospitality and healthcare. You can even determine customer behaviors and shopping trends when you hire mobile app developers to utilize this tech.
8. Foldable and Wearable Tech
The wearable and foldable device market is flourishing today. This growth isn't likely to stop soon, thanks to the evolving applications behind these devices. Developers are constantly innovating and developing new features for these devices and apps, from monitoring health metrics to providing instant notifications.
9. Blockchain Technology
Blockchain is slowly but surely turning into one of the most in-demand technologies this year, and this trend will likely continue next year. It already benefits multiple sectors, including banking, medical, and healthcare. Apps using decentralized databases offer unmatched security, one of the main reasons behind their growing popularity. 
10 . Mobile Commerce
Businesses are successfully growing through mobile commerce apps, primarily because of the convenience they provide to consumers. Mobile commerce currently accounts for roughly one-fourth of overall eCommerce sales. Therefore, you can expect mobile commerce app development to increase in 2023.
Conclusion
These are the top ten trends in mobile app development for the coming year. Incorporating one or more of these will give you an edge over your competitors. This remains true whether you are considering building an app for your business, or already own one.
You can also rely on professionals in case you are unsure. Make sure you choose the top mobile app development company for a quick consultation.