Tips for Taking Your Yoga Practice to the Next Level with Technology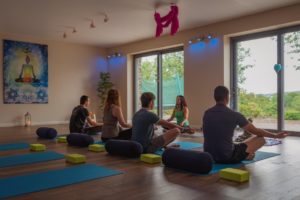 If you've been taking yoga classes for a while, you already know how great it makes you feel. Practicing yoga has both mental and physical benefits; in addition to gaining flexibility and muscle tone, you'll find you're better able to deal with stress. So, when you're ready to take your yoga practice to the next level, look no further than your smartphone. Here are some tips that you definitely need to keep in mind.
Tap Into Technology and Invest in New Gear
You want to make sure you have a smartphone powerful enough to run the apps and stream the video you intend to use. If your phone is outdated, you may want to upgrade to a newer model.
Once you've mastered some basic poses, you might be ready to try some intermediate yoga poses. With all of the yoga apps out there, your smartphone is an endless resource. Apps can give you ideas for new poses, help you track your progress, and even time your yoga sessions.
When you're ready to get serious about your yoga practice, you'll want to set goals, keep your achievements focused squarely on yourself, and set up the ideal yoga space in your home. This area should be large enough for you to comfortably practice. You'll need your yoga mat, props, wireless earbuds or a portable speaker, and perhaps some mood lighting or room spray. Invest in some fitness wear for your practice—a pair of yoga pants and sports bra can help you feel comfortable and confident.
Set SMART Goals
Setting goals is the best way to be accountable. So, make sure you're setting SMART goals for yoga: Specific, Measurable, Achievable, Realistic, and Timely. A SMART goal could be that in one month's time, you'll be able to hold a specific pose for X number of minutes. Goals can also be broken down into smaller achievements. Maybe for the next week, you'll do three difficult poses every day. You can watch a YouTube video or consult a yoga app for new pose ideas.
Don't Compare Yourself to Others
You may be in a yoga class with several others who share your passion, but your practice is your own. When setting goals, keep your own progress in mind and don't pay any attention to who's on the mat next to yours. Ask your instructor to provide feedback; they are watching you do the poses and may have some ideas on how you can improve. Consider taking a one-on-one lesson for personalized attention. One way to push yourself is to do poses that work your least flexible body part. These poses may be your least favorite, but you'll see the most benefit.
Practice for a Few Minutes Every Day
Life happens, and you probably won't be able to do a full yoga session every day, and that's okay. With yoga, you actually get some benefit from doing just a few minutes at a time. During the workday, you can squeeze in a few yoga poses by setting an alarm on your smartphone. Your body — and mind — will appreciate the break.
Failure Is a Chance to Reset and Recharge
Not hitting every goal you make happens. Use this time to reflect. Was the goal realistic? Were there barriers out of your control? Can you achieve this goal if you modified it slightly? If you feel you're struggling with your practice, use your phone to record yourself holding various poses. Creating a time-lapse video makes reviewing your video easier. Videos are the best way to critique yourself, and you can easily share them with your instructor.
Learn More About the Author:
Emma Grace Brown
Emmagracebrown.com
Image via Unsplash
Please note that there is no guarantee a particular stress relief tool will work for you. Thus you must take complete responsibility for using them and for your own physical and emotional wellbeing. Further, Professor Pete Alexander is not a licensed health professional. Please consult qualified health practitioners regarding your use of any stress relief technique. Medical advice must only be obtained from a physician or qualified health practitioner.