Tiger Trails Resort Booking | Contact Number +91-7557322322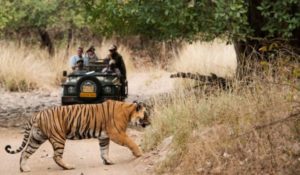 Tiger Trails Resort is a jungle lodge situated at Tala village which is very near from Bandhavgarh National park. There are many hotels in Bandhavgarh but for recommendations, you can choose Tiger Trails Resorts that is convenient for the national park visit. Resort provides you Nature walks, bird-watching, trekking and other outdoor activities are a big draw for wildlife enthusiasts.
Tiger Trails Resort is well-equipped with 20 charming cottages with gently sloping tiled roofs equipped with modern amenities. Resort has very nice garden/forest setting. Rooms are spacious, with a small sitting area, storage spaces and an attached bathroom.
We as Tour Operators, provide Booking Service to Tiger Trails Resort. If anyone is intrested in Tiger Trails Resort Booking to enjoy the "Bandhavgarh National Park" Tour then you can contact us at +91 75573222322 or E-mail us at [email protected] and visit our website from the given link!!