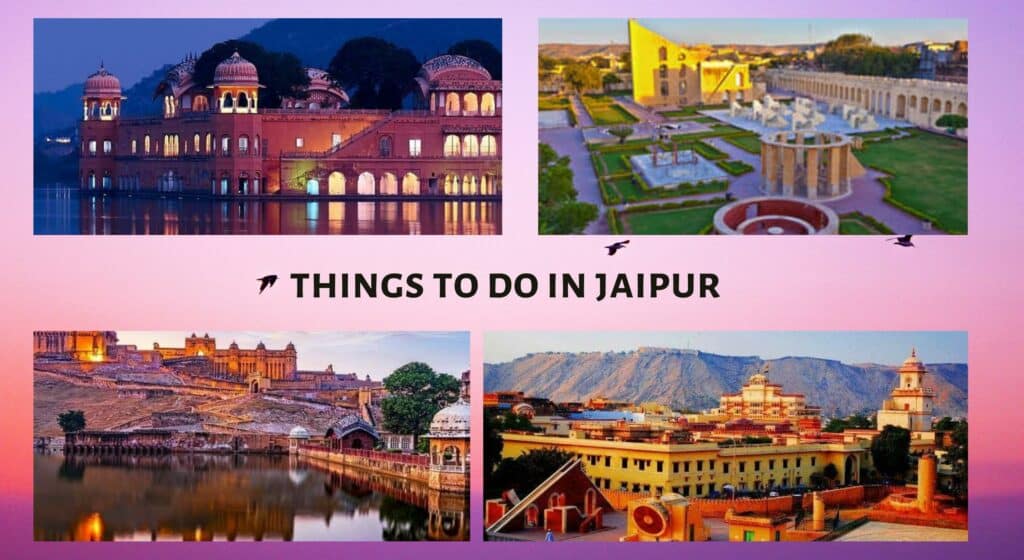 Jaipur, the Pink City. Jaipur is the capital of the imperial state of Rajasthan. Along with Delhi and Agra, Jaipur forms the Golden Triangle and is praised as one of the most famous tourist excursions in the country. Jaipur is the supreme destination to spend a luxurious dose of royal grandeur and architecture.
Top things to do in Jaipur:
| | |
| --- | --- |
| Visit Amer fort |  Visit City palace |
| Nahargarh fort cycling expedition | Eat Rajasthani Cuisine at Chokhi Dhani |
| Hawa mahal | Jhalana safari |
| Shopping tour at Jaipur | Visit Jal Mahal |
| Jantar Mantar | Elephant Farm |
| Hot Air Balloon Ride | Birla Mandir Temple |
| Zip Lining | Watch a Puppet show |
Read more about – Countries Open For Travel From India
1. Visit  Amer Fort:
Amer fort is located in Amer, Rajasthan. Amer fort is popular for its artistic style. To make the experience more stunning, take an elephant ride up the cobblestoned path that leads to the fort gate. Don't miss the light and sound show held every evening that enlightens the history of the fort in a splendid manner.
Entry Fee: ₹25 for Adults(Indians),  ₹10 for students(Indians), and ₹200 for foreigners.
Visiting hours: 9:00 am to 5:00 pm.
Light and sound timings: 7:30 pm(English), 8:00 pm(Hindi).
Night show tickets: ₹250+GST.
Elephant ride: ₹1000 for two people.
2. VISIT CITY PALACE:
The City Palace is located in the central northeast part of Jaipur City. It is a unique and special network of several courtyards, structures, pavilions, grasslands and temples. The entire royal family of Jaipur resides in the dazzling Jaipur City Palace. The palace is a treasure to explore. The Maharaja Sawai Man Singh II  Museum is also housed there. You can see the supreme garments worn by the erstwhile kings of Jaipur.
Visiting hours: 9:30 am to 5:00 pm.
Entry Fee: ₹75 for Adults, ₹40 for children(Indians), ₹300( Foreigners).
Read more – Best Place to Travel Alone Female in India
3. NAHARGARH FORT CYCLING EXPEDITION:
Nahargarh fort stands on the verge of the Aravalli Hills and offers a spectacular view of Pink city. The cycling journey takes you to Nahargarh Fort and within the old city of Jaipur. If you are a person of enthusiasm and amusement don't miss the chance of cycling in Nahargarh Fort. Time your fort call so that you can enjoy the marvellous sunset, rinsed in hues of orange. Set your shoes and stir up your audacious spirit as you embark on a trekking or cycling caravan to the majestic fort.
Entry fee: ₹50 for adults(Indians), ₹25 for students(Indians) and ₹200 for foreigners.
Timings: 10:00 am to 5:30 pm every day.
Duration for cycling:
4. Eat Rajasthani Cuisine at Chokhi Dhani:
The idea of Dining at Chokhi Dhani resort is fantastic. The mouth-watering cuisine of Rajasthan is served best at Choki Dhani. A Traditional royal village is known for its best cuisine and cultural performances by folk dancers embellished with beautiful attire. A perfect location to experience a slice of Rajasthan's rural lifestyle and culture, packed with folk dances, puppet shows, arts, music etc. A complete feeling of royal dining.
Location: Sitapur, Jaipur.
Timings: 5:00 pm to 11:00 pm.
Fee: ₹700 for adults and ₹500 for children.
5. HAWA MAHAL:
Hawa Mahal also called the Palace of breeze is located in the city of Jaipur. The unique attraction of the palace is the 953 windows that were built to keep the wind blowing. It resembles a honeycomb hive. It was built for the royal ladies to watch everyday lifestyles and festivals on the street without being seen by the public.
Location: D.A Market, Pink City.
Entry fee: ₹50 for Indians and ₹200 for foreigners.
Timings: 9:00 am to 4:30 pm every day.
6. Jhalana Safari:
The Jhalana safari park is the best place to witness leopards, bird watching and many other wild animals. Jhalana Leo park is the 1st leopard reserve park in India that is located in Jaipur. Jhalana safari is set in the foothills of Aravallis. The best time to visit Jhalana safari park is during the summer season and the winter season. The best time for Bird watching is during winters when you can see the majority of migratory birds.
Morning: 6:00 am to 8:30 am.
Evening: 4:30 pm to 7:00 pm.
Entrance fee: ₹600 per passenger(Indian), ₹1000 per passenger(foreigner). [6 people are allowed in a jeep].
7. Shopping Tour at Jaipur:
Jaipur is famous for its colourful clothes and jewellery. Jaipur is a shoppers' Elysium. You can shop for various items like Rajasthani artwork, fabrics, carpets and many more. Jaipur is a vibrant and colourful city, filled with bazaars which are generous to anyone.
Make sure to visit some of the known places in Jaipur; 'Haldiyon ka rasta','Bapu Bazaar','Kishanpole Bazar','M.I Road' etc. Shopaholics don't miss these places for their beautiful and mesmerising collections. The best place to grab an opportunity with the best deals. The wonderful city is the perfect destination for its vibrant and artistically woven fabrics and carpets.
Jaipur's charming and lustrous jewellery is at its peak, especially for those who love ancient and exquisite jewellery. To add the lovely attires with gorgeous jewellery do visit the mentioned shopping places.
8. Visit Jal Mahal:
Jal Mahal is an archaeological wonder. It is located in the centre of Man Sagar Lake. It was constructed to serve as a hunting lodge during Maharaja Sawai Pratap Singh's duck shooting trips. It is a five-storey building where its four storeys are immersed underwater, and only the top floor is visible due to Man Sagar Lake.
Location: Amer, Jaipur.
Timings: 6:00 am to 6:00 pm.
9. Jantar Mantar:
The Jantar Mantar is a collection of 19 astronomical instruments built by Rajput king Sawai Jai Singh II. This equipment was used to forecast sunrise and sunset, discovering the location of pole stars vis-a-vis other celestial bodies. The vital purpose of the Jantar Mantar was to expand astronomical tables which in turn would help foretell the time and action of the celestial bodies such as the sun, moon and other planets.
Entry fee: ₹50 for Indians and ₹200 for foreigners.
Timings: 9:30 am to 4:30 pm
Location: Kanwar Nagar, Jaipur.
10. Elephantastic Elephant Farm:
Elephantastic is the perfect location to spend time with elephants. It is an elephant farm where you can bathe, feed and paint these giant animals with organic colours. A better chance of performing your art is given here. The marvellous part is you can enjoy an elephant safari ride.
Location: Delhi-Jaipur expressway, Jaipur.
Timings: 9:00 am to 5:00 pm
Entry fee: contact the farm.
11. Hot Air Balloon Ride:
Embracing the marvellous city while flying high in the air is an adventurous part. Just think about enjoying the glorious landscape of Jaipur and a stunning view of the forts and palaces from the top. Experience the view when you visit Jaipur.
Cost: ₹8000 to ₹12000 depending on the package selected.
Location: Near Jal Mahal.
Timings: 6:00 am to 9:00 am and 4:00 pm to 7:00 pm.
12. BIRLA MANDIR:
Birla Mandir is also known as Lakshmi Narayan Mandir is an exclusive piece of architecture demonstrating Jaipur's Landscape. The Mandir is famous for History, Holy sightings, seeking blessings and Religious implications. This temple is built of Marble. The walls are covered with quotes and sayings from preachers and holy men. The Temple has a green and peaceful environment. Isn't it a soothing place? You must try the resplendent look during the evening when illuminated.
Location: Tilak Nagar, Jaipur
Timings:8:00 am to 12:00 pm and 4:00 pm to 8:00 pm.
13. Zip Lining:
Give a break from your busy schedule and put some adventure in your day by taking a zip line tour in Jaipur. Fly through the treetops and Aravalli hills, restrained to an inclined wire sliding at a speedy speed at a height of about 50ft from the ground. This outrageously fun adventure will leave you amazed for sure. Flying fox is the best zip line tour operator in the City if you want to experience the legacy zipline tour.
14. Watch a Puppet Show:
Traditional puppet shows, locally known as Kathputli, are a crucial part of Rajasthan's culture. They usually perform puppet shows during the late evenings. It is an excellent performance which will keep you and your kids engaged and captivated. The show in Amber Fort is considered to be famous, but you can also opt for private shows. The beautiful puppets and their wonderful stories are sure to lead you away to a land of imagination.