The Ultimate LinkedIn Profile (Book)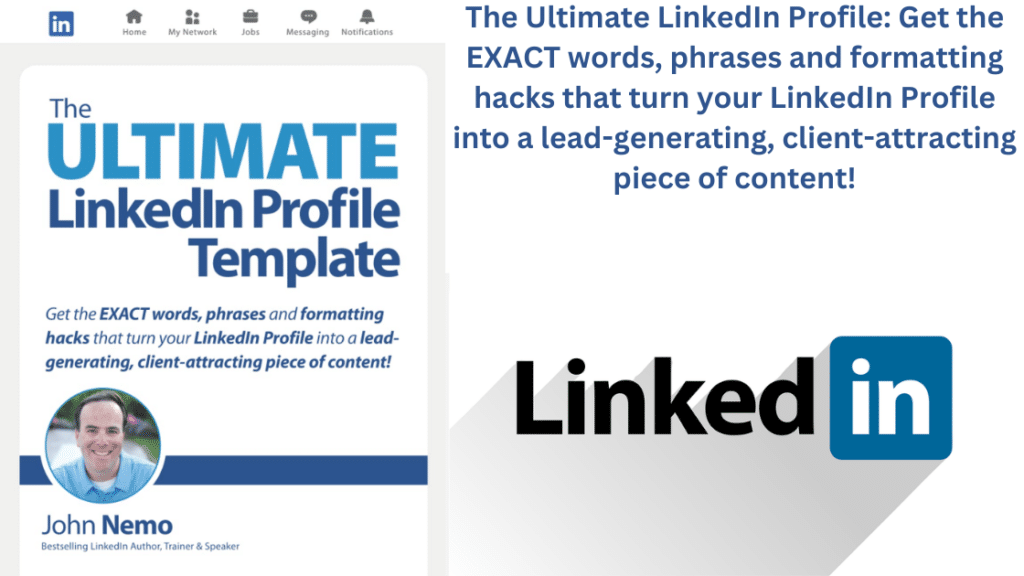 The Ultimate LinkedIn Profile: Get the EXACT words, phrases and formatting hacks that turn your LinkedIn Profile into a lead-generating, client-attracting piece of content! 
Find John Nemo on LinkedIn.
Make sure to network with SPN members that use the LinkedIn networking group to connect too! 
About the Ultimate LinkedIn Profile Book *
(*according to Amazon description)
SPECIAL BONUS: Includes Free Access to LinkedIn Training Videos!
Filled with copy-and-paste, fill-in-the-blank templates and examples, this is the fastest, easiest and most effective way to INSTANTLY turn your LinkedIn profile into a place where curious prospects become paying clients.

What You'll Discover:
The Massive Mistake 99% of LinkedIn Profiles Make (And How To Avoid It!)

3 Keys To Crafting a Compelling LinkedIn Headline

The "Magic Sentence" That Sets The Tone For Your ENTIRE Profile

The Specific "Fill in the Blank" Framework To Create a Client-Attracting Summary & Experience Section

How To Get "Found" on LinkedIn by Your Ideal Prospects

How To Appeal To Multiple Audiences on LinkedIn

Who This Book Is For:
Small Business Owners

Entrepreneurs

Business Coaches

Consultants

Trainers

Sales Executives

Business Development Executives

Anyone else looking to generate more sales, clients and revenue using LinkedIn!
What Others Say
"When it comes to LinkedIn, there are pretty much three people I listen to, but only one has ever dropped new business right in my lap the way John Nemo did. You know me. I don't recommend people lightly. John Nemo is worth your time. Jump on this book!" – Chris Brogan, New York Times Bestselling Author & Speaker
"John Nemo took my LinkedIn profile page and ignited it in a way I hadn't seen done before. After witnessing John's expertise up close and personal, it's easy to see why he's been crushing it on LinkedIn the past few years. Simply put, when it comes to LinkedIn, John Nemo is the real deal. Can't wait to share more of his LinkedIn knowledge bombs with the rest of Fire Nation soon!" – John Lee Dumas, Host, Award-Winning "Entrepreneur on Fire" Podcast, Bestselling Author
"Once John updated and optimized my LinkedIn profile, I immediately (and I mean immediately!) began to see results. From inbound media and interview requests to people asking more about working with Ziglar, it all happened within a few days of John making my updated profile live. I highly encourage you to check out John Nemo and LinkedIn Riches. I know it will make a difference for you just like it has for me!" – Tom Ziglar CEO, Ziglar, Inc.

What Readers Say:
"I've generated over $50,000 in new business as a direct result what I learned inside the LinkedIn Riches Premium Training. When it comes to LinkedIn, John Nemo is a rock star!" – John Hawkins, Executive Coach, Consultant & Speaker

"I can attribute just over $20,000 in revenue the last 4-5 months to my LinkedIn activity using John's insights. I have another $10,000 in outstanding proposals that I feel confident will land in the next few weeks. There is not a week that goes past when I do not have new leads generated from my continuing to follow this program's advice!" – Paul Copcutt, Personal Branding Consultant & Speaker

"I took John's training, implemented what I learned on LinkedIn, and immediately added a $24,000 recurring yearly client!" – Paramita Bhattacharya, Accountant
"Just secured a $30,000 client using what I discovered inside of LinkedIn Riches … thank you John!" – Mark McGraw, Sandler Sales Training

About The Author
The author of 8 books, John Nemo is the Founder & CEO of Nemo Media Group, a "Done For You" LinkedIn Lead Generation Agency based in Minneapolis, Minnesota.
John has personally rewritten LinkedIn profiles for A-List Entrepreneurs, Speakers and Bestselling Authors including Chris Brogan, Mari Smith, John Lee Dumas, Bob Burg, Tom Ziglar, Jairek Robbins, Dan Miller, Ray Edwards and many others.
Here are other books you might like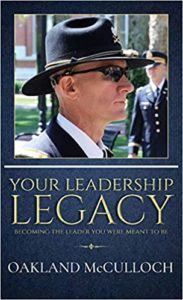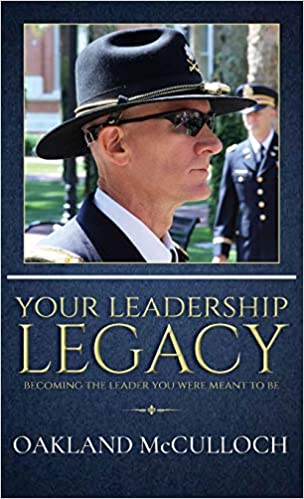 Oakland McCulloch is an inspiring person in a lot of ways to a lot of people. I didn't know anything about Oakland when I bought
Read More »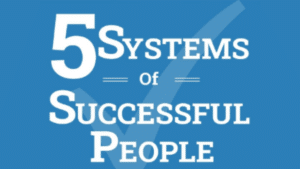 5 SYSTEMS OF SUCCESSFUL PEOPLE: WORKING SMARTER NOT HARDER (Street Smart Entrepreneur). Buy it on Amazon now! I met Scotty Schindler a few years back
Read More »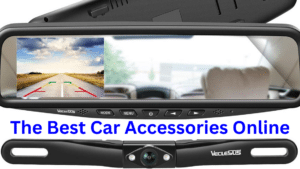 For those of you about to hit the open road, we salute you! We also want to make sure our favorite travelers have the best
Read More »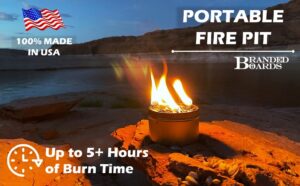 Branded Boards Portable Mini Bonfire Campfire in a can up to 5 Hours of Burn Time Made in USA Reusable for Picnics Parties S'Mores Gifts
Read More »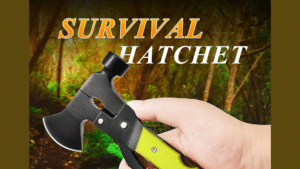 Check out this Camping Multitool Hatchet (Survival Gear) that I found on Amazon. This camping multitoolhatchet does it all and is a great gift idea
Read More »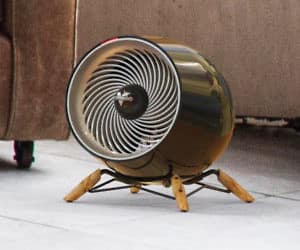 Previous Next The Vornado Glide Vortex Room Heater is awesome due to the way it can heat the whole room while staying cool to the
Read More »
Look at more cool stuff to buy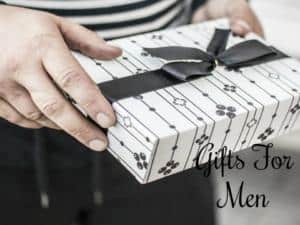 Finding gifts for men can be hard, so this guide is here to help you get gift ideas for men of all ages. You can
Read More »