The Go-Giver Book Review by Ira Bowman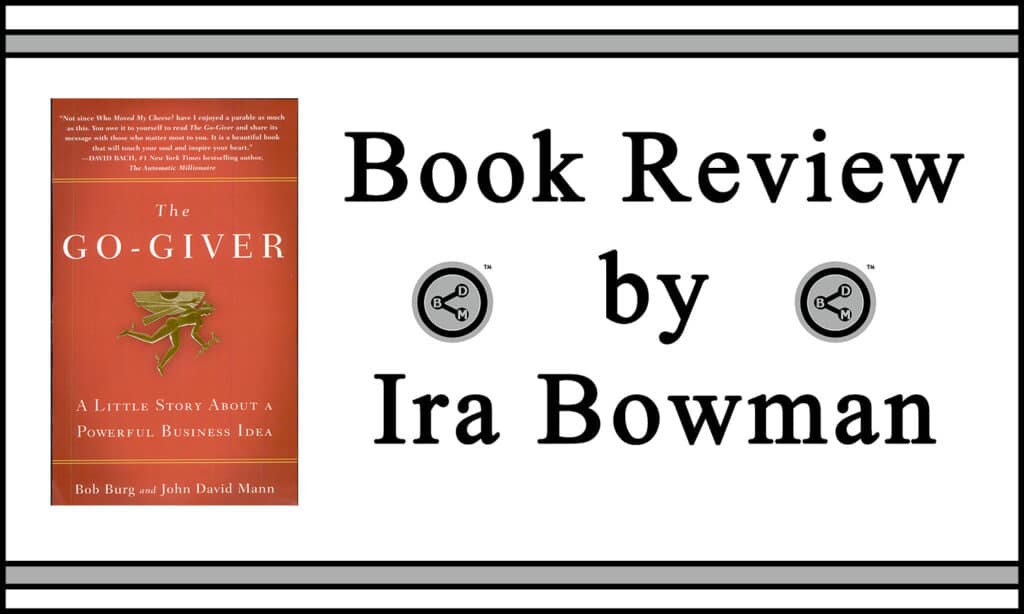 I just finished reading The Go-Giver, by Bob
Burg and John David Mann and it is a must-read! The book was originally
released back in 2007 however it is still relevant as ever today.
Who doesn't want to be successful? Well in this book, our main character
Joe, a young but talented sales professional is struggling to hit his 3rd
quarter quota. Little does Joe know but when he reaches out to a co-worker for
a networking connection, he is about to embark on a life-changing
self-discovery journey. Along the way, Joe meets some amazing people that not
only help him but who Joe also helps in return.
Surprising Plot Twist
When the book starts, Joe is setting out to achieve his sales quota as he
believes his job is on the line after missing the quotas in both the first and
second quarters of the current year.  As
we meet Joe, he's already way behind the eight ball for the third quarter and
needs a lot of help if he's going to meet the goal.  Ironically Joe doesn't end up hitting his
quota and eventually he winds up working in a different field. This surprise
twist is a result of the lessons he learned in the self-discovery process.
The Five Laws of Stratospheric Success
There are 5 Laws of Stratospheric Success that Joe learns in the story, as
taught to him by his new mentor, "The Chairman," Pindar, that once
Joe is taught, he has to not only think about but implement before the end of
each day. This condition is part of the agreement to continue the lessons and
Joe does struggle with the practical application of implementing the laws
several times in the book, but he does figure it out each time through the
conclusion.
1)     The Law of Value
2)     The Law of Compensation
3)     The Law of Influence
4)   The Law of Authenticity
5)     The Law of Receptivity
Wrapping Things Up
This book is a light read with an interesting plot twist and
characters that are easy to root for.  I
found myself living vicariously through Joe, rooting for him to succeed.  Even though he does succeed, that success looks
different than what we think it will be at the beginning of the book, and kudos
to the authors for those plot twists, including the identity of the "Friday Guest,"
the missing of the quota and the new venture that helps to conclude this
story.  I look forward to reading next book
in the series, The Go-Giver Leader, in the near future.