The Coolest Cooler – Perfect Cooler For Beach Or Camping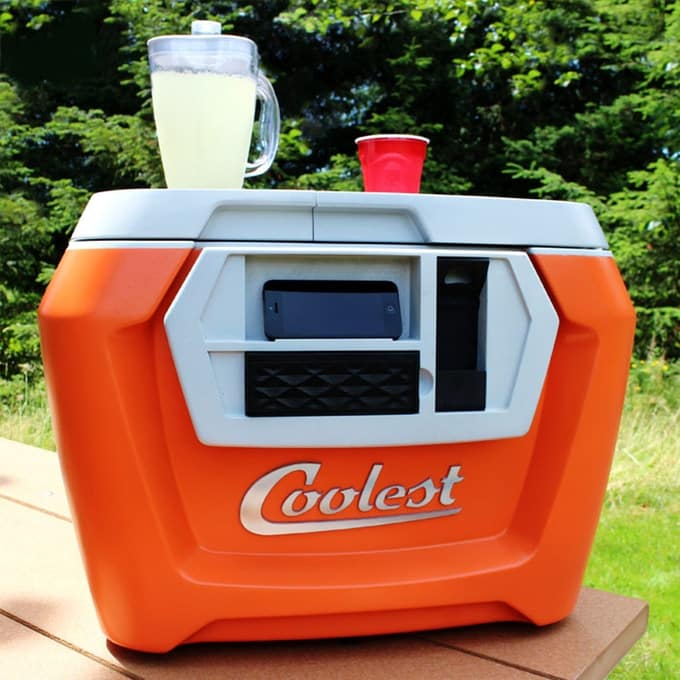 If you don't think this is the Coolest Cooler than I'm not sure we can be friends. You can buy it on Amazon for $399.99.
This thing is really cool and it also holds the record for the most-funded Kickstarter campaign of all time. It was able to rack up an incredible $13,285,226 in backer pledges.
Yea, you can keep stuff cold with this cooler for a long time. It'll protect your perishables and preserve the chill of your beverages. However, it also comes with some really awesome extra features. I do like the bright orange cooler and 60-quart insulating capacity, but the reason why this is the coolest cooler the extra features.
Make sure to also read our Affiliate Marketing Disclosure.
Related products you may want
The Coolest Cooler's extra features:
It has an attachable 18V battery-powered rechargeable blender. It can blend drinks and make smoothies in seconds. The blender can also whip up more than 6 gallons of blended awesomeness with one charge.
The Bluetooth speaker will let you DJ your own tunes from your smartphone or other Bluetooth devices. Did I tell you that the speaker is also waterproof?
You can carry a lot of gear with this cooler thanks to strong beach tires and tie-downs. The tie-downs are like having a roof-rack on your cooler, so you can carry a lot of stuff in one trip.
It has unbreakable LED lights around the lid. These lights will enable you to keep the party going long after the sun goes down.
The cooler has a cutting board that also functions as a divider.  This divider will enable you to keep your ice for the blender separate from the food and beverages on the other side. The split lid also means you don't have to remove beverages from their holders to get more beverages or
The cooler also has built-in storage space for the 6 plastic plates and pairing knife that come with. These plates are also strong enough to act as cutting boards too.
There is a USB port so you can charge your electronics.
You also won't have to keep track of a bottle opener due to the one built-in on the side of the cooler. No one can lose this bottle opener.
Check out these other cool stuff