The Challenge of Young Artists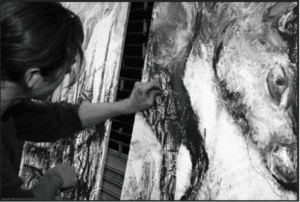 Becoming successful as an artist is an effort which you work for years just to get an entrance ticket to a lottery event. The world of art galleries and elegant receptions typically arrives after long periods of insecurity and brutal inward searching, sometimes never materializing.
Aspiring mavens in the evolving artist league can be as interesting as the art world itself. They live in a world that is crowded, chaotic, and generally ignored. What are some of the struggles of young artists?
Of the struggles articulated and questions asked by this group: what art should be made, what is the scope of the media, and what are the resources and time limitations to make this art? Is the artist honing a craft or experimenting with a new medium? Lastly and most important is how does an artist pay for all their bills at the same time as emerging from the unknown?
There are people and organizations dedicated to nurturing talent. Art dealers, gallerists, funding organizations, grants and foundations set up for the arts and artists, but day jobs are still a fact of life for today's aspiring painters, dancers, authors, musicians, and filmmakers. In 2021, there are emerging ways for artists to become known, provide a way for creativity to emerge, and help fund their passion.
I have a passion for the arts and strive to participate and support the magic energy that this community brings to our lives. In the next few articles, I will try to peel back the onion by addressing some of the above questions with my vision of the future.
"Artist in Action / Dumbo Arts Center: Art Under the Bridge Festival 2009 / https://lnkd.in/gNgEirU / SML" by See-ming Lee (SML) is licensed with CC BY-SA 2.0. To view a copy of this license, visit https://lnkd.in/gwKUptX
Original post may be found here: https://www.linkedin.com/feed/update/urn:li:activity:6826165520895750144/