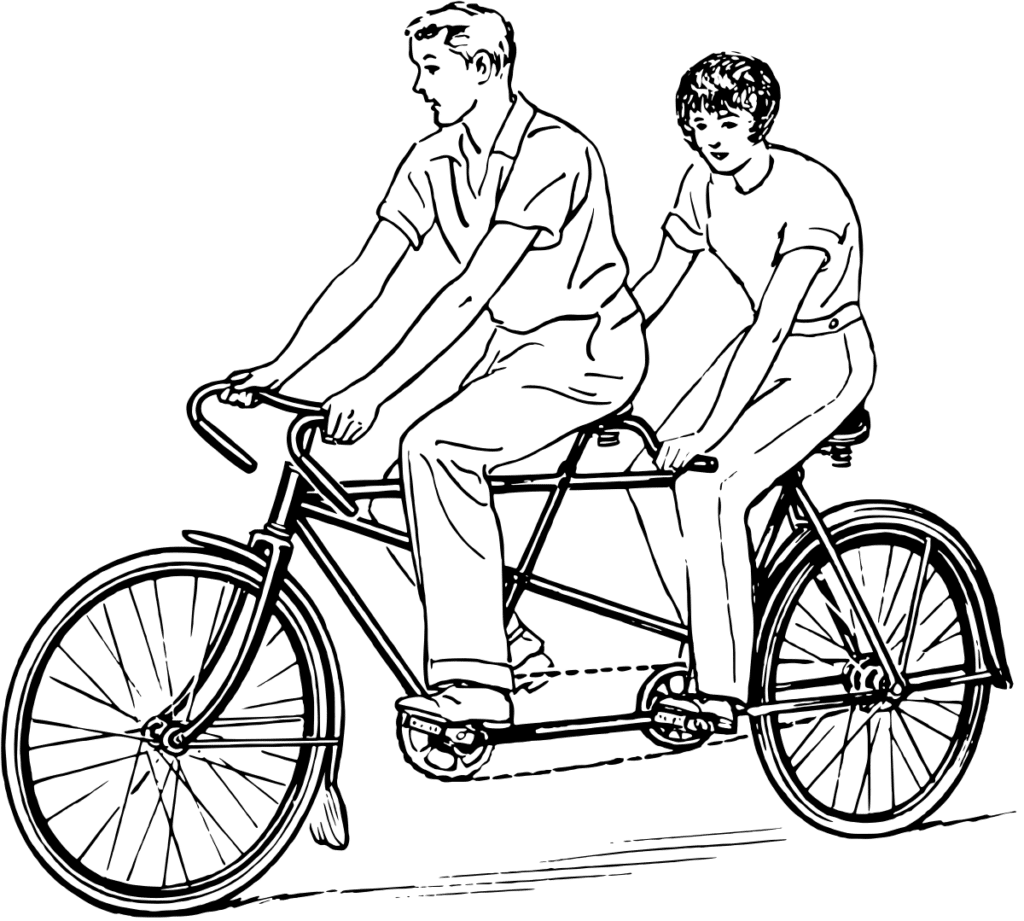 Tandem Bike: Features, Pros and Cons
It doesn't matter if you're slowly riding off-road or just around the house, winding kilometers on the track at high speed or taking part in a grueling competition – it's doubly interesting to do all this in tandem. Faridun Shahriyori from Fancy Apple, which rents bikes in the central park in NYC, shared his experience by telling us about tandems.
Tandem bicycles or twins designed for two people are faster, more stable on descents, look stylish, allow you to ride together regardless of the physical condition of cyclists, and have two fewer wheels compared to two separate bikes (the chance of a wheel being blown out is twice as low).
Origin of tandem bikes
Patents related to tandem bicycles date from the mid 1880s. It was developed by engineers for the military. It was assumed that when using a double bicycle, two people would be able to defend themselves and repulse the enemy. Their weight was about 11 kilograms.
Bicycle tandems were actively used during the First and Second World Wars. Then they created single bicycles for entire military units. Accordingly, such bicycles withstood very heavy loads, because such a number of soldiers had a weight of about 700 kg!
It is also interesting that the double was not only the classic version of the bike. The "penny-farthing" model (with a large front wheel) also turned into a tandem, but it's hard to talk about a comfortable ride on such a bike.
At the beginning of the 20th century, low-quality steel began to be used. The tandems could not withstand the load and broke under the weight of the passengers. It was not until 1963 that tandem bicycles began to be mass-produced in the United States. They became available to ordinary citizens for movement, as well as entertainment.
Now many companies around the world offer their tandem bikes for two or more passengers.
General Features
During the ride, both passengers pedal, but only the one who controls the direction of travel in front is responsible for braking and the gearshift system.
Size and weight
A double tandem bike is usually 240 cm long and weighs approximately 16-20 kg.
Brake system and wheels
The more weight the bike has, the more difficult it is to accelerate it, but it is also not easy to stop it later. Accordingly, the twin must be equipped with good brakes. These models are usually equipped with hydraulic disc brakes or drum brakes. The latter maintain a constant speed and are good for descents. Rim and disc can overheat if you slow down for a long time.
The wheels of the tandem bicycles, in turn, are reinforced with a large number of spokes and good rims, because due to the large weight, it needs strong equipment. Its wheel diameters are 26 and 28 inches. Often tandems are two-wheeled, but sometimes you can find models with two wheels in the back and one in the front – for more balance.
Comfort
Experienced cyclists are most attracted to the opportunity to ride together – no one can fall behind! Each cyclist can pedal according to their physical form or desire – no need to adapt to anyone. This is especially important for couples with different levels of training. 
Another great benefit is the ability to communicate easily as you sit close to each other in tandem. If you are riding in a group on twins, then it will be convenient for the rear cyclists to communicate with each other, check the route, take pictures, use a smartphone, etc.
In addition, it is easy to carry a trailer or a child on a tandem. And when your child grows up, you can install a special adjustable Kidback carriage. This kit allows you to raise the crankset so kids can ride with you and help pedal.
Riding a tandem bikes is very interesting, easy and fast. You can buy a tandem made of aluminum, stainless steel, titanium and even carbon. Since two cyclists pedal on a tandem, and the air resistance is about the same as on a regular bike, on a flat road the twin easily overtakes a single bike, and on a downhill tandem just flies
The rear passenger is called a stocker, he just pedals, can photograph the terrain, and his "steering wheel" is fixedly fixed on the frame and is installed only for support. For him, riding may seem a little uncomfortable, because he does not see the road and any pebble or bump will seem like a surprise.
Advantages and disadvantages
Tandem bike benefits:
Nobody is left behind

Fast and steady downhill behavior

The risk of breaking a wheel is half that of two conventional bicycles

No need to shout to communicate while driving

One of the cyclists can relax for a while and enjoy the view

More speed for the same effort

Great workout for both cyclists

The air resistance is no higher than that of a normal bike, and the power is twice as much

One cyclist can pass food to another cyclist

Load on the upper body

 People with disabilities can take part in riding
The disadvantages, in turn, include the following points:
Sometimes there are difficulties when turning;

the stocker (the one who sits in the back) does not see the relief of the road very well, so he does not always have time to prepare for obstacles;

buying a tandem will cost a lot, but you can enjoy skiing by renting it;

although the bike picks up more speed on the descent, it is not so efficient and somewhat heavy when climbing;
Well, one more small nuance that needs to be mentioned is the mount to the car. Since the tandem is long enough, in order to take it with you on a trip, you will need a special large mount.
Conclusion 
In general, when riding a tandem, the team is very important. Riding together, people trust each other more and distribute tasks.
if you like to ride together in picturesque places, take pictures, and don't mind riding with the breeze, a tandem bike will be perfect for you.