Syna Tiger Resort Starting Price +91-7557322322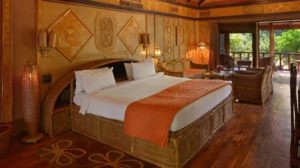 Syna Tiger Resort is a luxurious wildlife resort in Bandhavgarh featuring 20 luxurious wildlife cottages, this hotel in Bandhavgarh national park is the perfect spot to get close to nature and wildlife. Expect rural artworks, statues, and hints of tribal culture. Each cottage features air conditioning, a dressing room, a large veranda with forest views, and a separate seating area. Treat yourself to a luxury suite, with 87sqm of space. The resort is just 200 meters away from the main entrance gate of Bandhavgarh Tiger Reserve and also shares the boundaries with the national park.
The Theme based cottages at Syna Tiger Resort cleverly reflect the cultural history of India and the states of Chhattisgarh, Odisha, Gujarat, Rajasthan, Assam, Tripura, Karnataka, and Kerala. You won't need to worry about a thing from the moment you step into this jungle resort in Bandhavgarh, with daily breakfast, lunch, and dinner included in your stay. Authentic flavors are on the table as you sit down for unique dining experiences, where expert chefs prepare hand-picked ingredients for a mouth-watering selection of vegetarian and meat dishes.
The Room pries vary from room type to the facilities it comes with it. For booking the best room of your preferences you can check out Syna Tiger Resort Starting Price, you can also contact us using our number +91 7557322322 or E-Mail us at [email protected]