Stress Relief Tool – Your Bucket List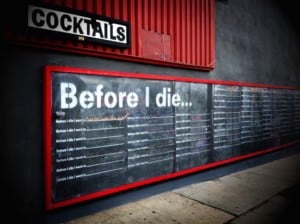 We all have been blessed with one life to live, and once it is gone, we can't get it back. And if you are like me, we won't be on our death beds regretting that we didn't spend one additional hour per day at work.
What if next year was your last? That's exactly what Stephen Levine did in his book A Year To Live. Levine outlines how to live each moment, each hour, each day mindfully – as if one year was all that we had left. It is a much more detailed version of writing your eulogy that I spoke about in a previous blog post.
I haven't done what Levine suggests, but what I have done is kept a bucket list of items I want to accomplish before my time is over. Each time I check off one of these bucket list items, I have a sense of euphoria because I have honored myself. These bucket list items can be small or large – it really doesn't matter. The only thing that matters is that it is important to you.
For example, I wanted to watch a football game at Green Bay's Lambeau Field ever since I was a kid. It wasn't until I was on a business trip in 2014 that I got the opportunity to do just that, and I had an unforgettable experience. I also wanted to write a book to make an impact on people's lives, and once I started getting feedback on the impact the book had, the satisfaction I received was through the roof!
So create your bucket list, and as you check them off, enjoy the excitement and stress relief that comes with accomplishing something meaningful to you.