Stress Relief Tool – Overcoming Online Meeting Burnout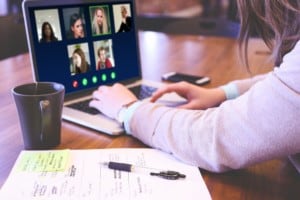 Ever since the pandemic hit full force, many (if not most) of us have been spending a lot of time in online meetings from Zoom, Microsoft, Google and many other platforms. And if you are like me, you've probably had the following thought: "oh no, not another Zoom meeting."
Why do we feel like that? Probably because it's not as natural as an in-person meeting. During an online meeting, you're staring at an electronic screen, focusing on slides that may or may not be dense, you are getting distracted by someone freezing or doing something odd in the video screen grid, and/or you are staring at yourself far more than you ever would on a non-online meeting day. Each of these instances can be tiring, but when combined together it can lead to burnout.
Professor Jeremy Bailenson, founding director of the Stanford Virtual Human Interaction Lab, suggests the following ideas for helping to avoid online meeting burnout:
Reduce the size of the meeting window to minimize face size
Consider using an external keyboard to give you more personal space from the screen
Turn off your video and stand/walk around to keep the blood flowing
Color or draw while the presenter speaks to help keep your focus and also to reduce any unnecessary stress
In addition to the above, I've also found that resisting the urge to multitask during an online meeting (checking email, texts, slack notifications, etc.) also helps reduce stress.
Do you have any additional ideas for avoiding online meeting burnout that you would like to share? Let me know and I'll add them to this article with your permission.
Image by Jagrit Parajuli from Pixabay
Please note that there is no guarantee a particular stress relief tool will work for you. Thus you must take complete responsibility for using them and for your own physical and emotional wellbeing. Further, Professor Pete Alexander is not a licensed health professional. Please consult qualified health practitioners regarding your use of any stress relief technique. Medical advice must only be obtained from a physician or qualified health practitioner.