Step By Step Guide To Start Sorare With No Money And Win Free Cards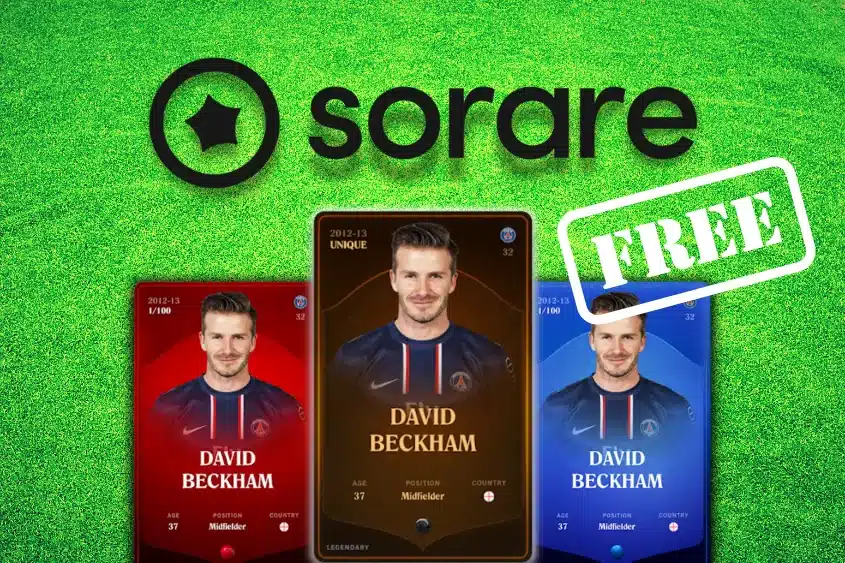 Sorare is a fantasy football game that has surpassed all expectations, making everyone crazy about football. Playing with NFTs gives a memorable and thrilling experience while allowing players to build teams of virtual football players and compete against other teams in weekly matches. It combines elements of collectible card games and real-life sports and has a large and active community of players. Sorare provides entertainment, promotes competition, and has the potential to generate revenue for f through the sale of virtual cards and other in-game items. 
It is unique in its combination of traditional sports and gaming elements!
Here is the guideline if you want to play Sorare free of cost. I have browsed multiple videos on playing Sorare like a pro, but Quinny 3001 turned out to be the most effective in terms of offering helpful guidelines and feasible solutions to enjoy playing Sorare.
Why Do People Want To Play Sorare For Free?
There are several reasons someone might want to play Sorare while investing no money:
To Learn the Game: 
Sorare is a complex game with many strategies and tactics to master. Playing for free can provide a brilliant opportunity to learn the basics, get hold of the rules, and experience a feel for the game before deciding whether to invest any money.
To Test The Game:
What if you have already invested and don't find the game exciting? Your money will be wasted or you will be forced to play. Playing Sorare for free can be an excellent way to try it out if the game enthuses you.
For Competition: 
Some people may be competitive and want to try to win prizes or achieve high rankings in Sorare without spending any money.
For Fun Purpose: 
Some people may simply enjoy playing Sorare as a hobby. Consider it their cost-effective solution to enjoy football and relax without the added pressure of spending money.
To Save Money: 
Some people may not have the financial resources to invest in Sorare or prefer to save their money for other purposes. Free gaming can help you participate in the game without spending any money.
Step-by-Step Guide To Start Sorare With No Money And Win Free Cards
Create An Account On Sorare
This can be done by visiting the Sorare website or going through the referral link of Quinny 3001, just like me, by clicking on the "Sign Up" button in the top right corner of the screen. If you register yourself from the channel, you can get multiple rewards. So I suggest you go with this method for extra lucky gifts.
Verify Your Email Address
After creating an account, you will receive an email from Sorare with a verification link. Click on the link to verify your email address.
Join The Sorare Community
You can join the Sorare community by joining the official Sorare Discord server or following Sorare on social media platforms such as Twitter and Facebook.
Participate In Free Card Giveaways
Sorare regularly holds free card giveaways for new players. Keep an eye on Sorare's social media accounts and Discord server for announcements about these giveaways. Play the game and earn rewards. As you play Sorare and compete in matches and tournaments, you can earn virtual cards as rewards.
Play The Game
You can start playing by creating your team and joining a league. You can also try playing in free-to-enter tournaments for a chance to win prizes.
Pursue Objective
A search bar is located at the top of the game interface (you can understand better by following the tutorial of Quinny 3001). Any player you're looking for may be found using a search, and you can follow him. By using the notification button, you will be informed whenever that player is up for sale. Consequently, you are free to exchange the cards you have earned. Isn't it fantastic to be able to play Soare for free? 
You have the option of narrowing your selection. You will only see the players you have marked as favorites if you change the button to just favorites. The best economic consideration for players who are playing for free is time. There are a few things you can buy.
Practice Good Trading Habits
As you play Sorare and earn rewards, you may accumulate virtual cards that you can trade with other players. To maximize your chances of winning free cards, practicing good trading habits is essential. This includes researching the value of beginner for beginner tips before making trades, being honest about the condition of the cards you are trading, and being patient when negotiating trades.
Sorare Data
To get free access to Sorare data, you can visit the official Sorare website, join the Sorare community, or use third-party resources just like Quinny. Some data and analysis may only be available through paid subscriptions or services.
Keep Learning And Improving
Sorare is a complex game with many strategies and tactics to learn. As you play, be sure to keep learning and improving your skills to increase your chances of winning.
You can find helpful resources and tips on Sorare's official website and in the Sorare community.
How To Get Free Sorare Cards?
To get free Sorare cards, you can try the following methods:
Look for free card giveaways

Trade with other players

Become a part of the Sorare community
Conclusion
Hope the guideline for Sorare is clear, but if you still have questions, I recommend you to visit Quinny's youtube channel. It is all about football and Sorare. I did the same way, so suggestions are here rest depends on you.