Standing in Strength: Inspirational Stories of Inner Power Unleashed – Book Review

I read Standing in Strength: Inspirational Stories of Inner Power Unleashed, and I liked it for many different reasons. Laarni Mulvey and I have known each other for a while, and we have been friends for a while.
The book sat on my table in a pile of other books, before I read it. I got the book because she joined the site, and asked me to chat with her on your podcast. More on all that below. At the time, I had already made promises to several authors about buying their books, so I just read them all in order.
My reading tends to go in spurts. There are times when I take months to finish a book, and there are times when I read several books in a matter of days. This book was one that I read from cover to cover with enthusiasm in one sitting.
Out of that whole pile of books, this may be the only one that I did a book review for. When I bought it on Amazon, I didn't read the preview or the reviews, because I promised to buy the book.
At first, I didn't know what to expect when I busted it open to see it actually has seven different women contributing their personal stories. I've read a lot of books with multiple authors, and I've had a less than stellar record of satisfaction, to say the least.
As a man, I felt like this book taught me quite a bit about how women think and feel in ways that I never really considered. It also made me think quite a bit about the progress that been made in my lifetime, and the progress that I hope to yet before the end of my days.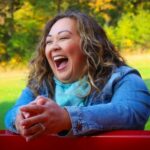 Women telling their stories in a powerful way like these seven women did will help more than people may realize. I'd gladly buy another book with more personal stories like this.
A little history about Laarni & I
Laarni Mulvey and I have been friends for a very long time. She used to bandage me up during my fighting days. It's hard not to like someone that helps you overcome a litany of injuries.
Laarni made an account on this site and let me know she had a book published.
Therefore, that I had to buy the book to support her back. I also wanted to see what she was working so hard on. There has been a mental block to do this book review due our pre-existing friendship. However, I really liked the book, even though I lost my copy (ADHD is fun), and it's not fair to her, if I don't provide my thoughts about the book above.
How to get Mike to buy your book and why you should
I tend to buy a book from most authors that create accounts on the Service Professionals Network for a few different reasons. I've also written a few book reviews for the books that I feel stood out to me.
Authors tend to put a lot of effort into putting out a book, and I like to read. This makes it easy for me to create a win-win relationship with authors even I don't personally review their book here.
Everyone is welcome to freely share their books or their opinions of other peoples' books in a blog or the social media activity feed.
I also like to do buy books from people that join the site, because they are creating a win-win just by being here. 
Let's Talk Javahhh with Mike O'Connor
I also had the opportunity to chat with Laarni on her #podcast, Let's Talk Javahh, recently! Watch the video, and don't forget to subscribe to her YouTube channel, please!
Here are more book reviews on SPN