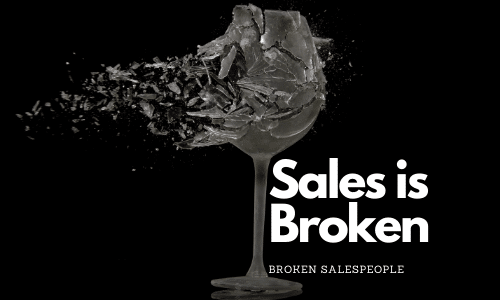 So I know what some of you are saying. Who is this guy to claim that sales is broken at all? 
Well, I can and will obviously give you a bunch of statistics and stories about the nature of its dysfunction, but let's start with this. 
When you think of a "salesman", what comes to mind? 
How many of you think about a car salesman with a bad suit and a worse haircut? Or maybe you think about Danny Davito's Harry Wormwood in Matilda or John Candy's Del Griffith in Planes, Trains, and Automobiles. We watch and cringe as these characters destroy the reputation of our industries and yet stand there unable to really criticize the satire. The fact is the humor comes from the proximity to the truth that too many salespeople are unethical windbags with an easy smile. 
Even our hero sales characters in fiction are toxic. Would you really want to work with Mad Men's Don Draper and his tornado of drama and emotional outbursts? What about going to work everyday inside the world of Wolf of Wall Street or reporting to some Gordon Gecko clone and his unabashed admiration of greed?
One of the more lovable salespeople in recent fiction comes from Steve Carell's Michael Scott character from The Office. He is a very capable salesperson, but is far from someone you would want to work for. While he is able to create emotional connection very well in the show, he is often saying highly insensitive and toxic things within Dunder Mifflin. He is known for his ability to find the most inappropriate thing but still show that he cares for people. 
Whether you see these traits mirrored in your own day-to-day world, the fact is that is the way the common buyers see us. We are seen as self-interested misogynists, greedy corporate stooges or aspiring master manipulators. 
Then we tell our salespeople to "build trust" with customers after we spent decades destroying our professional reputations.
When you look through these fictional salespeople, how do you really feel about sales? Does it fill you with pride? Does it feel like we are part of a noble profession of problem solvers or do you feel like we are simply a necessary evil that society has had to work around? 
Are we the master of our domain or are we simply a part of the circle of life that fights over the carrion? 
You may not think that way about us, but how many of your potential customers do? 
But I promised statistics, so statistics you shall have. I am just going to shotgun these at you all at once to avoid putting any of my own spin on them. 
It takes an average of 209 phone calls to book one appointment. (Baylor University.) 
Only 13% of customers believe a salesperson can understand their needs. (The Brevit Group)

 

55% of salespeople do not have the right skills to be successful (The Brevit Group)

 

The average company spends $2,000 per year training individual salespeople (The Brevit Group)

 

41% of prospectors do not target the right audience. (99 Firms)

 

Only 24% – 37% of sales reps hit quota. (Sales Insight Labs, 99 Firms)

 

40% of sales professionals did not reach their own income goals in 2020. (99 Firms)

 

Sales reps spend 15% of their work day leaving voicemails. (Business2Community)

 

Voicemails have a sub 5% response rate and are falling. (Business2Community)


37% of employees are actively engaged at work, with 15% actively disengaged as of June 2021. (Gallup)

 

Employee turnover for sales positions is 35% versus 13% for other industries. (Xactlycorp.com)
I know these statistics paint a stark look at our industry, but there is hope. We did not need this to be the case. We can rebuild this profession into something better and stronger than it was before. However we cannot do so without the brutal honesty about the condition we find it in. 
We are broken. 
Our profession is broken. 
And it is time we start figuring out why and doing something about it. 
Baylor University: https://www.baylor.edu/business/kellercenter/news.php?action=story&story=126250 
Brevit Group: https://blog.thebrevetgroup.com/21-mind-blowing-sales-stats
99 Firms: https://99firms.com/blog/sales-statistics/#gref
Sales Insights Lab: https://salesinsightslab.com/sales-research/ 
Business2Community: https://www.business2community.com/sales-management/30-shocking-sales-statistics-that-will-change-the-way-you-sell-02080155 
Allup: https://www.gallup.com/workplace/352949/employee-engagement-holds-steady-first-half-2021.aspx#:~:text=Currently%2C%2036%25%20of%20U.S.%20employees,to%2015%25%20through%20June%202021. 
Xactly Corp: https://www.xactlycorp.com/blog/sales-turnover-statistics