Role Of Technology In Construction Security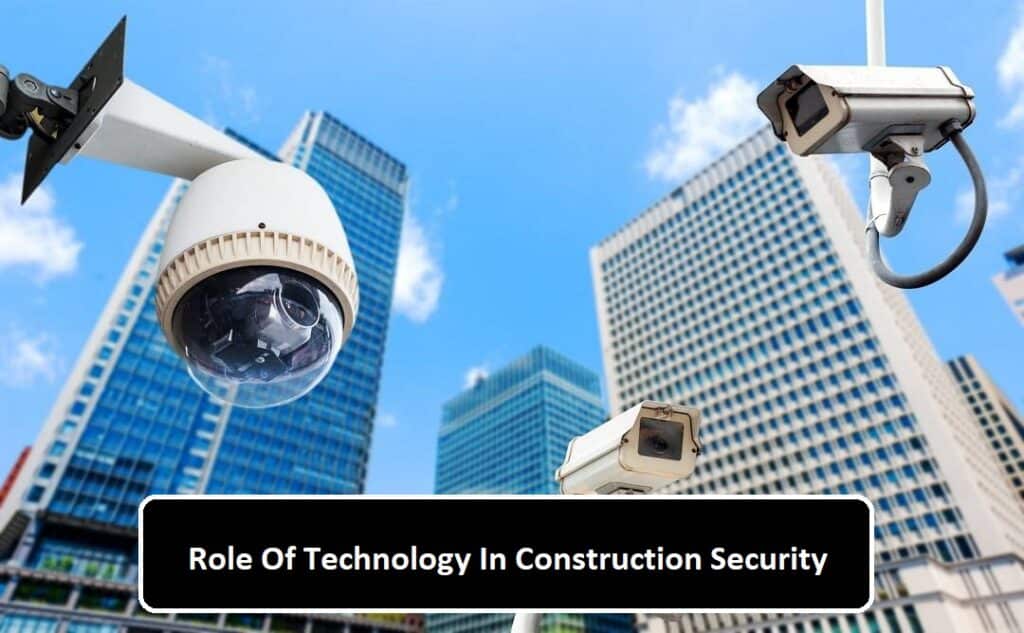 Technology is developing rapidly, and new advances are created every day. The most efficient construction firms continue to search for ways to improve their operations.

They are investing in technologies that can help the company in many areas, such as security, health and security.
It is possible to see rapid changes in the world. What worked on the construction site in the past could not work for it in the future. Therefore it is crucial to evaluate the security technology used regularly.

For instance, certain security measures are old and less effective, while others could be affected by seasonal changes and should be upgraded accordingly.
In this article, we will discuss how the construction site security could be upgraded so that employees and valuables have the best security and safety possible.
Lighting And CCTV
Construction CCTV is among the essential measures to guard against trespassing, vandalism, theft and arson. That is why it is important to make sure your system is up-to-date.

Modern technology provides top images and can be monitored 24/7 from any device on the go, making it much more effective than earlier CCTV systems.
Even with the most up-to-date, high-tech technology, the footage captured could be of poor quality if there isn't high-quality lighting at the site.

Therefore, it's important to examine the lighting in the area to ensure it's effective in illuminating areas of concern, especially during winter, when daylight hours are less.
As construction projects progress, it is possible to adjust the position of your cameras to stay clear of obstructions and blind spots.
Control Of Access
Many construction sites are making use of security systems for access to block trespassers as well as uncertified workers from entering the premises.

Most of them will employ access control systems based on cards that only permit entry to people who have valid, current SmartCards issued by CSCS.
It could be worth installing biometric access controls if you want to modernize your construction site to the next level.

The technology is, in my opinion, superior and secure to card-based systems and manual security checks because it permits access to users by using their fingerprints, making access to the site unauthorized almost impossible.
Wireless Detection
Video detection using wireless technology is among the most advanced security techniques currently employed in the workplace.

Although traditional alarm systems usually notify the site manager when the alarm goes off, they do not permit you to determine the person or event that triggered the alarm.
Wireless detection, however, sends a video to an alarm center that will call for a prior action from the police or trained security guard https://alistsecurity.com/ in the event of a need. This will ensure a quick response and often gives enough time to prevent the crime from happening.
Wireless devices also imply that they don't require an installation on a landline. Instead, they run using batteries and 4G technology.

Wireless systems are weatherproof and provide excellent performance throughout the year, even in complete darkness, because of the inbuilt infra-red light.
Modern Safety Education
The safety of construction sites is a constant issue, with fatal accidents being reported frequently. Thankfully, innovative solutions facilitate the training and supervision of construction workers, thereby helping decrease the number of deaths and accidents.
Although still in its early stage, the virtual world (VR) and Augmented Reality (AR) application technology in the construction industry have been a source of interest in recent years. It has already been utilized in safety-related training and equipment operation scenarios.
For instance, AR and VR can be used to simulate how to work in dangerous situations, like in a high-rise and on uneven ground, to help train workers on the safety precautions without actually having them work in these conditions.
Wearable Technology
Wearables are currently being utilized in the construction industry to keep track of employees and the environment they operate within to make work environments more secure.

Technology is embedded in garments and personal protective gear (PPE) to provide information-driven insight into the health and safety hazards.
Wearables can monitor the employee's heart rate, temperature, and position to stop accidents from happening by releasing early warning signals.
One example of how construction wearables are being used is SolePower's Smart boots which use RFID, GPS, motion sensors and biometrics to track vital worker statistics (for instance, detecting when they're extremely tired) as detect falls and warn wearers about unsafe situations.
Site Sensors
Installing sensors throughout the site for construction security could help to monitor various factors, including the level of noise, temperature, and dust particles. These can help improve safety and health standards by limiting exposure to workers.
If they are placed across the area, The sensors will alert workers that they are in the exposed area. The information gathered by the sensor technology is utilized to analyze levels to attempt to reduce them and ensure compliance with safety and health protocols.