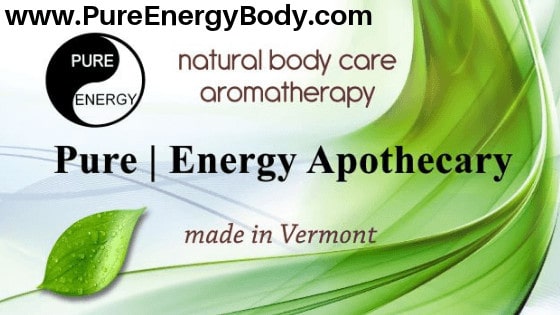 About Pure Energy Apothecary… www.pureenergybody.com
In today's world, it's harder than ever to get natural skincare products. It's also as important as ever to take care of your skin and body as much as possible. Pure Energy Apothecary provides pure essential oil aromatherapy and body care products that are made with love. This company cares more about quality and people than profits, so it's an honor to have them as an SPN marketing partner.
Their natural, plant-based (Non-GMO), body care products are made in Vermont. Their products are never tested on animals. You can order their products with a clear conscience.
The WHY behind Pure Energy Apothecary
HEALTH: The CEO's (Dawn Lancaster) mother survived breast cancer twice, skin cancer multiple times, and lung cancer, At 83 years old, she also suffered from Alzheimer's disease and Parkinson's disease. Dawn believes that her mother's favorite skin-care products were to blame so she wants to make a difference. That is why she began Pure Energy Apothecary. It's hard not to root for a company built on passion and love.
Pure|Energy Apothecary Is Focused On Creating Skincare And Home Fragrances Focused On Good Health And Balance For Everyone.
R E S P O N S I B L E
All the people at Pure Energy Apothecary feel we are responsible for the energy that we create. They also feel that today's consumer is aware of the need for all-natural products and caring for the planet. This feeling of responsibility drives their business decisions. Contact Dawn and her anytime to discuss their product line because they understand the need to be aware of the products we use.
H E A L T H Y  B O D I E S
The Pure Energy team uses plant-based ingredients because they know how important our skin, our largest organ, is to live a healthy life. What we apply to it touches every part of our bodies so they put a lot of thought and care into ingredient selection.
B A L A N C E D  M I N D
In today's hectic world, time is a commodity.  Every moment to pamper yourself should be an escape for your soul.  We don't always have time for the spa or massage but Pure Energy Apothecary allows us to pamper ourselves in our daily lives.  From a quick morning shower, or the simple act of moisturizing your dry hands in the middle of a busy workday, to a weekend bath soak full of salts, scrubs and butters Pure Energy Apothecary products gift our skin with healing moisture and balance our minds with the aromatherapy of our choice.