Portfolio Management PfMP® Certification training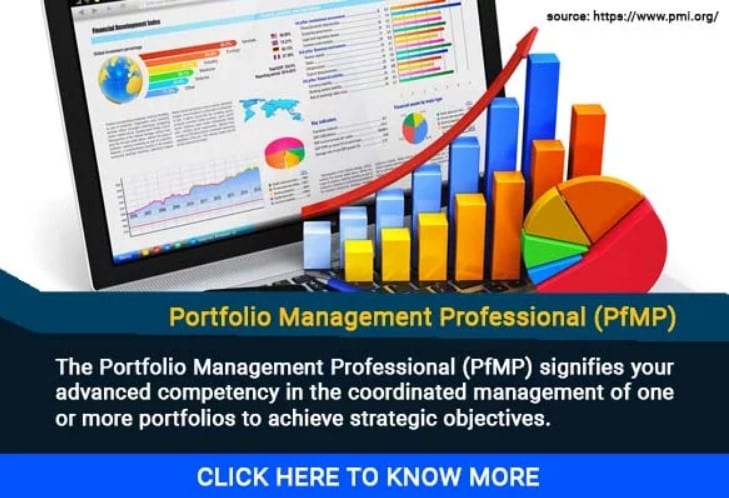 Introduction to Portfolio Management Professional:
Portfolio Management Professional PfMP Certification Training 2022 is a credential that recognizes experience, skill, and performance in the oversight of multiple, related projects that are aligned with the organization's strategy and objectives.
As a certified portfolio manager, you are an executive-level practitioner at the forefront of advancing your organization's strategic goals.
Organizations with mature project portfolio management (PPM) practices complete 35 percent more of their projects and programs successfully. Formal Portfolio management practices help them to select the right initiatives that align with the organization's strategic objectives and associated business drivers. Their project failure rate is also substantially less and they waste less money and resources by taking timely decisions to hold or cancel projects. These observations are from PMI's 2015 thought leadership report, Delivering on Strategy: The Power of Project Portfolio Management.
Formal portfolio management is the most effective way to implement strategic initiatives because it bridges the gap between strategy and implementation. Organizations that are effective in portfolio management had 62 percent of products that meet or exceed expected ROI according to our 2012 Pulse of the Profession research. Portfolio managers align projects, programs, and operations with strategic objectives, investing resources in the right work to deliver the expected value.
The Portfolio Management Professional PfMP certification course 2022 signifies your advanced competency in the coordinated management of one or more portfolios to achieve strategic objectives.
Introduction and Portfolio Management Framework
Session 1:
Pre-requisites

PfMP – A three-stage lifecycle

Exam Resources walkthrough

Experience summary (Essay) writing

About Panel Review

About Examination

PfMP standard – Introduction

Portfolio and Portfolio Management

Relationships among Portfolios, Programs, and Project

Portfolio and Program distinctions

Portfolio Management Process groups

Aligning Process Group

Defining Process Group

Authorizing and Controlling Process Group
Portfolio Strategic Management and Governance Management
Session 2:
Portfolio strategic management
Develop Portfolio Strategic Plan

Develop Portfolio Charter

Develop Portfolio Roadmap

Manage Portfolio Change
Portfolio Governance management:PfMP® exam outline tasks overview
Develop Portfolio Management Plan

Define Portfolio

Optimize Portfolio

Authorize Portfolio

Provide Portfolio Oversight
Complete the application form template, Quiz, and one essay on Portfolio Strategic Management
Portfolio Performance Management and Communication Management
Session 03:
Review of Day 1 Topics
Review of the Essay
Portfolio Performance Management
PfMP® exam outline tasks overview
Develop Portfolio Performance Management Plan

Manage Supply and Demand

Manage Portfolio Value
Portfolio Communication Management
PfMP® exam outline tasks overview
Develop Portfolio Communication Management Plan

Manage Portfolio Information
How This Course Works:
Once you gain access to GreyCampus' platform, the first resource to go through would be the study plan. This will take you through the components of the PMP exam, the course itself, and how to strategize your preparation. Along with the study plan, GreyCampus also provides simulated exams – best taken once you complete the Bootcamp.
The Bootcamp runs for four days. Our certified instructor for Hyderabad will go through all of the curriculum necessary to ace the exam. This would range from core concepts to all advanced PMP modules. Additionally, there will be mentorship sessions scheduled. Get all your doubts cleared as and when they come up during your preparation.
Furthermore, there will be exam-solving sessions where a mock exam is solved in real-time by our instructors. This is to show you how an expert approaches the exam along with specific tips and tricks to boost your score.
Proventures become PMI Approved Training Partner (ATP) and commence the first PMP Prep training from Oct 2020. We are committed to helping you succeed and grow your business, as well as helping our customers find high-quality training. PMI and Logical Operations have partnered to provide you with the one-on-one support you need to get started and grow your business throughout your participation in the Authorized Training Partner Program.