Paper Bag Machines and Their Classification

A paper bag is a carry bag made out of paper, generally produced from chemical pulp. The most relevant example includes the brown paper bags that we get in any retail outlet these days. You can find a wide variety of gift bags or tote-style paper bags. These are made from a variety of papers that differ in their quality, texture, color, and print.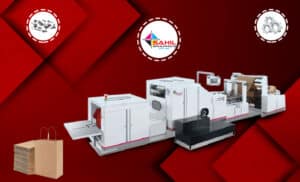 They can also be prepared from recycled paper. You can find these paper bags, which are commonly used in packaging. Due to their eco-friendliness, paper bags are wanted by most companies to pack their products. The range of its use is vast from one industry to another. Be it carrying food or be it medical items, every product these days is packed in brown bags made out of paper. These are available in wide-ranging sizes and shapes. Even Square bottom paper bag making machine are available to come with different designs as per the clients. 
Future of paper bag business 
Many countries have banned single-use plastic bags and thus the demand for paper bags has increased. Some laws need them to have a minimum percentage of post-consumer recycled paper content. The global paper market is estimated to reach $18.1 billion by the year 2026. All the companies want to pack their goods in paper bags, due to their eco-friendliness. Paper bags are biodegradable and recyclable. Hence, a paper bag-making business is a good prospect for business proprietors to make revenue. 
Classification of paper bag-making machine 
As the nature of paper bags is quite versatile, the machines are available in different types. Each type of machine does a specific job of producing a single variety of bags. So, here are some of the different types of paper bag machines that are available in today's market: 
Fully automatic paper bag making machine
Manual paper bag making machine
Square bottom paper bag making machine
Semi-automatic paper bag making machine
Square bottom with holder punching paper bag making machine
Hexagonal bottom paper bag making machine
V Bottom Paper Bag Making Machine
Square bottom with double layer paper rolls making machine
When initiating a business, it is indispensable to keep in mind what kind of paper bags are essential. Choosing the right type of machine can be valuable. The paper bag making machine manufacturers can guide in the best approach to make an affirmed decision about ordering the machine. You can buy the machine from one of the leading manufacturers. 
Our elite paper bag manufacturing machine is a multipurpose machine that can be used for the side pasting, creasing, and base pasting process for paper bag making. With the help of the machines, bags can be made in various sizes for packing confectionery, food, ready-made clothing, groceries, and more. These machines are available with customized specifications and top quality that would help you to stand in front of other suppliers. Find a company that offers the best quality paper bag making machine in India at cost-effective prices. Our customers reckon on us due to our machine's exclusive design, ground-breaking features, high specification, focused delivery needs, and customer services.