Water Removal Services Near You
SPN can help you find the best water removal services near you. Make sure to leave
business reviews
for these water clean up services here. Service companies, make sure to
add your listing
 in the 
local directory
.
Explore local dining, shopping, services, entertainment and more…
How to find the best water restoration companies near you
Having water emergencies in your home or business is never fun. There is a lot of damage and expense that comes with flooding, so being fast with the water clean up is important. It is also very important to be safe while removing water from your home or business. The best way to find the best local water restoration companies is checking business reviews. 
A water clean up company with a lot of reviews has been in business for a while It means they have some experience. A local water restoration company with a lot great business reviews cares about doing good work. 
Water causes serious damage to homes
A lot of people do not realize that standing water is an emergency. Leaks from roof damage, broken pipes, or other plumbing issues cause damages and other issues immediately. Water will also help mold to grow in any organic material with a couple of days. Therefore, it makes a lot of sense to clean up water and dry things immediately. Don't waste time. Find water restoration companies that work 24-7 365 days a year right now. Quickly check their reviews and give them a call.
Water will cause all sorts of damage to your flooring, walls, and furniture. Even a small of water can cause a lot of damage. The more water and time it has to damage your property, the more damage there will be. That is why you should act quickly to find the best local water clean up companies. 
Find a local water removal service in the search engines. Check their business reviews for any red flags. Give the highest rated water restoration companies the first call. Do not wait for a company to schedule an appointment. Get someone out to your property to clean up the water immediately.
If a water restoration company says they can make it out to your property within an hour or so, go with them. If a water clean up company says it will be a few days, call someone else immediately. Water damage is not a home service that you should spend a lot of time shopping around, especially if you have insurance.
How insurance works with water damage
Most water restoration companies do a lot of work with insurance companies. A lot of these companies will need a claim number, the contact info for your adjuster, and your deductible to get started. They will ask you to sign an assignment of benefits or work authorization form that allows them to bill your insurance company. Read the form all the way through before you agree to have a water restoration company begin cleaning up the water.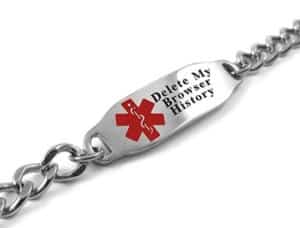 CHECK IT OUT The SPN gift guides have a lot of great gifts, but few save lives like "Delete My Browser History Medical Alert Bracelet."
Read More »