Must-Have Features For Your Health Care Mobile App
In today's age of smartphones, mobile apps are taking over the world and technology has become a massive part of our lives, and the healthcare sector is not behind. Over the past few years, we have witnessed an unprecedented level of growth in the Healthcare industry . The healthcare sector is growing day by day and the continuous evolution in operating capabilities of healthcare mobile apps has brought massive improvement and advancement in the healthcare unit. It is not a surprise that the healthcare sector has made its mark in the mobile app development industry and today's Healthcare mobile apps comprise various features that have sped up both the diagnosis and healing process.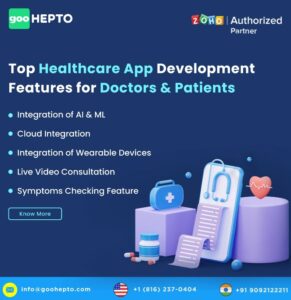 Features of Your Health Care App :
Healthcare apps and devices are integrated with tools like CRM, Big Data, IoT, cloud computing, etc., to dominate the healthcare world in a powerful way. Here are some of the must-have features in professional healthcare mobile apps for both doctors and patients.
Easy Registration and Login :
– First step of interaction with patients and doctors.
– Users are able to register by providing their personal information like name, email ID, contact details, etc.
Profile Access and Modification :
– Users should be allowed to upload their photos and any other information.
– In the case of doctors, all the required information should be available like their specialty, experience, clinic address, and contact details along with their registered practitioner numbers.
– Users are allowed to change and modify their profiles at any time.
Searching and Consulting Doctors :
– The best healthcare app should have a smart search filter to filter the doctors based on their specialization, experience, reviews, consulting fees, education, location, etc.
–  In-app communication should be easy between doctors and patients.
– Patients should have the option to share information regarding their condition, preferred location, and or doctor's name to search for it.
Selecting Doctors :
– Users should be able to choose and select the Doctors according to their search results after the filters.
– Once users are done shortlisting, they should be able to check the doctor's profile and his specialty, visiting hours, consultation fees, and the clinic location. 
– After picking one doctor from the list, patients should have the option to book OPD consultations from the application only.
– If the patient wants to know about the prescribed medication, should be able to search for the medicine within the application.
Appointment Management :
– Doctors should get authorization to accept or deny consultation requests if, they do not wish to see the patient or the timings are not available. 
– After the doctor confirms the request, the customer should get notification/ confirmation mail along with ID.
Care and Pill Reminder :– The consultation fee payment integration should also be available on the healthcare app.
– Regular prescription drug or pill reminders can also be incorporated into the app if and when required.
If you are looking for technical assistance to include any of the above features in your next healthcare app, then contact our healthcare app development team at GooHepto . Our extensive experience and high-end digital acumen help us to deliver game-changing mobile apps that capture the true crux of your business.