Mobile Car Wash App: Benefits To Customers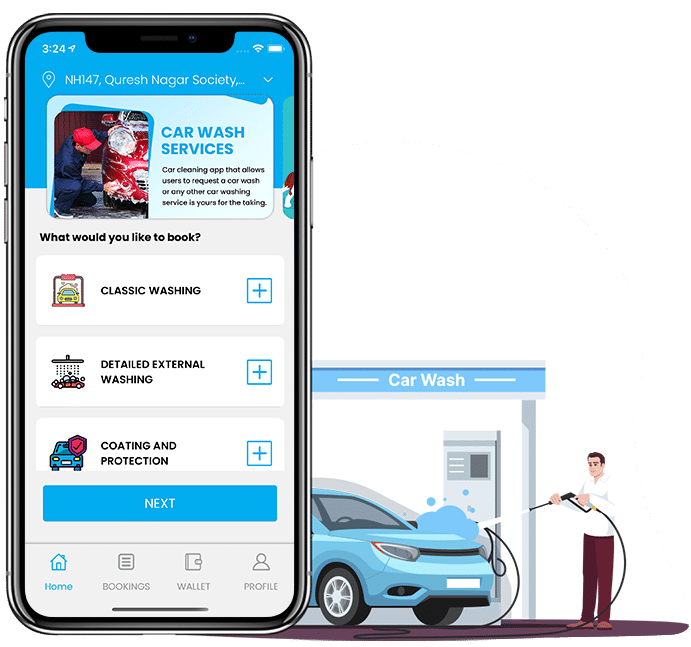 Think about what you can do with an app that offers you an on-demand car wash? Won't you be free from cleaning the entire car by yourself or taking it to a nearby car washer? Of course, it will! There are a number of advantages of developing and launching an on-demand car wash app. Let's take a look at them.
ADVANTAGES OF LAUNCHING A CAR WASH APP FOR YOUR CUSTOMERS
One-click service
Yes! One-click is all your customers need to book a car washing service. Even if a customer wants to get their car washed within the next hour, they can do so by booking a car washing expert via the app!
Professional services
Washing the car on your own means only the externals are getting cleaned up, but what about the tiny parts? How will you clean them and give a deep shower to your car? Well, a mobile car wash app is the solution!

Proper maintenance
Regular car washing and car detailing services are exactly what your four-wheeler needs to stay in shape for years to come. After all the long route traveling, commuting to the office, and making trekking tips on the weekend, your car needs deep cleaning and detailing.
Fixed-price
The best thing about the car washing app is that it includes a fixed price of the services, giving an accurate service estimation to the customer. This eliminates all kinds of unnecessary bargaining and even if 'extra' services are availed, they will be included in the invoice summary!
On this note, let's move further with some of the most technologically advanced features of the mobile car wash app.
CUSTOMER PANEL FEATURES 
This may sound like an ordinary on-demand app. But if you look at the different features, you'll come to know it is nothing less than a super app to book car washing services.
Create your own package
The customer can choose to make their own package by adding services that they need. For example, other than external car washing, the customer can also add to cart services like coating and protection, interior disinfection, oil change, etc. Based on the chosen services, an invoice is generated!
Easy login and sign up
On-demand car wash app provides easy login and registration. It is one of the best features because the advanced tech system allows the user to consider using Gmail and Facebook credentials. This not only saves their time but all the hassles of remembering passwords and usernames.
Find a nearby car washing expert
The app works to find a nearby car washing professional who can reach the service location early and begin the tasks. Moreover, the application presents a long list of all the online professionals so that the customers can choose their preferred one and send them a service request!
Real-time tracking
This feature lets the users track the live location of the service provider after they have accepted the request and are now on their way to the customer's location. This gives them an idea about the estimated time of arrival!
In-app chatting and calling
Another feature that customers prefer to use is the in-app chatting and calling feature. The mobile car wash app feature allows the user to communicate with the provider without having to share their personal phone numbers.
This particular feature is crucial when it comes to the security of users and even providers.
Conclusion:
Are you ready to become the owner of a multi-billion dollar company that offers on-demand car washing and detailing services? If yes, then an on demand car wash app is waiting for you! Get the app today and kick start your own venture in only 1 week!