Mobile App vs Mobile Website: Which One Is The Better Option For You?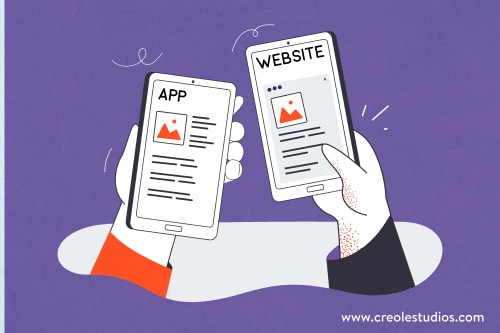 Companies around the world are moving towards embracing mobile strategy. Mobile users not just surpassed desktop users, but app usage is challenging the dominance of desktop usage at an incredible pace. Companies are rethinking and reorganizing their mobile strategies because of this shift.
You should pay heed to which platform to choose for launching your startup or MVP. One has to examine factors before deciding whether to go ahead with the mobile app or mobile website. It leads to the battle of the mobile app vs the mobile website.
Many think that mobile apps are state-of-art, and you may not require a website for your mobile devices. But are you sure you want to start with it? We all know that mobile apps are created after the development of the website, but is it the right path for your startup?
With our immense experience as a web and mobile app development services provider in developing native, hybrid, web, and cross-platform applications for e-commerce and websites, we have prepared a comparison for you to make it easy for you to decide which platform will best suit your venture.
In this blog, we will take a look at the ongoing mobile app vs mobile website battle and discuss differences between mobile app vs mobile website and try to find out which one is the better option for you?
Statistics on Mobile App vs. Mobile Website Usage:
According to App Annie's " State of Mobile 2022 " report, in 2021, 230 billion mobile apps were downloaded. The money spent by consumers on mobile apps reached $170 billion in 2021. The time spent per day on mobile has reached a total of 4 hours and 48 minutes per day.
Despite Mary Meeker's annual address of 2019 showing the slowing of global smartphone growth highlighted, the mobile app development industry is growing at a rapid rate. With the increase in mobile app demand from consumers, Statista predicts mobile app revenue will be around $613 billion by 2025.
Desktop usage isn't going away anytime soon, yet, mobile is slowly surpassing the desktop's dominance over global website traffic. From 2015 to 2021, mobile devices (excluding tablets) have seen a growth of over 23% in global website traffic. In 2015, Google confirmed that mobile had more searches than desktop. According to Tribune, the world is spending an average of 7 hours per day online.
What is a Mobile App?
A mobile app is a software application designed to run on mobile devices like smartphones, tablets, or watches for accessing services similar to PCs. Unlike desktop or laptop applications, mobile apps are not part of the integrated software ecosystem i.e. each mobile app has different functionality and usage. You think of anything, and there are ample chances that there might be an app for the same in the Stores.
Types of Mobile Applications:
Native apps:
Native apps are developed especially for mobile OS (iOS, Android or Windows).
Eg: Skype, Discord, ModTod, Facebook
Web apps:
Web apps are responsive versions of the websites that work on any mobile device irrespective of the OS used and are accessible via browsers.
Eg: Google apps, Microsoft 360, Yahoo, Arte Madrid.
Hybrid apps :
Hybrid apps are the combination of the functions and elements of both the native and web apps. 
Eg: Instagram, Uber, ITA Connect, Twitter
Advantages of Mobile App:
Mobile apps provide a completely different level of experience to the users. They help the companies to provide new branding opportunities to the users by experimenting with various styles and tactics for the brands. If your company's website is not engaging enough, your mobile app can fill this gap and provide users with a new mode of engagement.
Mobile apps help companies to provide a personalized or unique experience to the users based on their usage patterns, locations, interests, etc. Users can customize apps as per their needs after downloading the app. Businesses can identify the user's location to provide unique brand or sales in-store promotions.
Better device capabilities
Mobile apps have complete access to the in-built functions of the device and use them to provide an enhanced user experience. This feature is significant for retail apps for improving the customer experience by offering features and special offers using the user's device capabilities like push notifications, email, vibration or alerts, camera, GPS, instant or automatic updates.
The intuitive and interactive interface of the mobile apps helps the users have a very engaging mobile experience. You can make your app more interactive by giving access to users to interact with components of the app. Users will visit your app frequently if it is beneficial for them, and it will help increase customer retaining rates.
It is one of the most important advantages of mobile apps. When the users install an app from the play store, the app's logo will always be in the visible range of the user even if they do not use the app. It helps in the free advertisement of the brand 24×7 and provides you with a solid base for hyper-targeted marketing and enhanced customer engagement.
Mobile apps can work both online and offline. Their ability to work offline makes them more user-friendly than mobile websites. Although some apps require internet connectivity to perform certain tasks, however they also provide content and functionality in offline mode to the users. Mobile apps use local servers to work offline and store data.
Mobile apps are more popular than mobile websites for their ability to provide comfort to the users while using them. Unlike websites, apps have push notifications, provide a better user experience, are easy to load, have better response time and customer retention rate.
Mobile apps provide an intuitive environment for users through their unique interface to complete tasks without any delay. The mobile apps provide a standard of functionalities, and the users can enjoy these functionalities hassle-free.
Disadvantages of Mobile App:
You should be sure that your app fulfills all the platform requirements if you want seamless functioning. If your app is developed for Android, it may not be compatible with the iOS or Windows platforms. This is one of the biggest disadvantages of mobile apps as you have to create a version of your mobile app for each platform.
When you require a multi-platform app, the cost and time required for support and maintenance of the mobile app increase exponentially. The regular updates, testing, and issue resolutions make the cost of the entire mobile app development increase by many folds.
Developing a mobile is a complicated process and mostly burns a hole in your pocket if you are not aware of your requirements or your budget.
Suppose a user has a 64GB tablet or mobile and the storage is almost full. Now he wants to add a game, but the file size is around 1 GB, and his tablet ran out of storage. His next plan of action will be to delete some apps. There are ample chances of him to delete your app even though it's beneficial yet to free up the space for the game, and just like that your brand is left out.
The websites are easy to optimize. You have to make some changes and then publish it, and you are good to go. But with mobile apps, a whole different story unveils. You have to go through various troublesome procedures for improving your mobile app.
What is a Mobile Website?
A mobile website is a browser-based WWW service that helps users access the web on their mobile devices. It is a responsive site that easily fits the size of your device screen and lets you enjoy the functionalities ( text, contents, and features) of traditional websites on your mobile devices (smartphones or tablets). You can access instant messaging apps and send or receive messages from your friends, colleagues, or family.
Types of Mobile websites:
Responsive web design is an approach to create and maintain a single web page, content management, HTML, and single URL for all the devices. It uses CSS for automatically adjusting the screen size according to the device to provide a better user experience.
Eg: Dropbox, GitHub, Magic Leap
Progressive Web Apps (PWA):
These apps are built using web technologies but with a pure focus on mobile users and mobile devices. These apps are nothing but websites that are enhanced with smart features which allow them to function as a native mobile application. The app actually is supported by the device's browser but the user does not see any browser window and hence it gives a feel of a native app.
If a website is PWA compatible, the user can save it using his browser on his home page. The website shortcut would be saved on the user's home screen and it will then open up as a native app.
Separate URLs are developed when you have to provide functionalities to mobile users that differ from your desktop website. It helps in reducing the server load and loading time of the mobile pages. They normally have the prefix "m." 
Eg: Facebook uses m.facebook.com URL for the users to access Facebook on their mobile phones.
Let's look at the advantages of mobile websites and their disadvantages for understanding the performance of websites on mobile devices.
Advantages of Mobile Website:
Mobile websites have responsive web designs and support multiple devices across different platforms. Mobile websites have higher reach capability and are easy to share than mobile apps.
Businesses and organizations are now moving forward with mobile-optimized websites that rank high in the search engine's result pages. It promotes the brand, increases website traffic, and increases brand visibility.
Users can easily access mobile websites via browsers from different devices. Unlike apps, they don't have to be downloaded and installed by users to view them.
Users can view mobile websites from different mobile devices (mobile, tablet) without requiring a separate version for each device. Mobile website integration with other mobile technologies like NFC and QR codes provides a better user experience.
One of the significant advantages a mobile website has over an app is its dynamic nature and flexibility. If you want to change the content or update your mobile website's design, you have to publish your edits, and your changes will be visible immediately.
It is easy to share mobile websites via links (Facebook, WhatsApp, Twitter). You can easily direct users to the home websites from the blogs or website or a print.
The shelf life of mobile websites has no limit or expiry date, unlike mobile apps. Moreover, mobile apps can stay on one's device for as low as 30 days. If they are phenomenal, they last as long as the user finds them useful.
The cost of a mobile website is not limited only to its initial launch but also includes the support and maintenance after the launch. The support and maintenance of mobile websites are very cost-efficient.
Disadvantages of Mobile Website:
Many websites require your data to be shared for a better user experience. It increases the risk of data getting hacked by hackers and compromises the user's privacy. There are ample chances of identity theft or fraud.
Generally, mobile websites are single-page websites that affect the user experience when you implement the interface of the desktop websites in mobile websites. It is almost impossible to add all the data on a single page as it will slow the website response time.
In offline mode, mobile websites have limited access to the functions and features of the website. This significant disadvantage of mobile websites restricts the users from having a complete experience of the mobile websites.
Good navigation helps the users easily navigate through your website and reach out to their desired parts of the website. If your website is poorly built or lacks good navigation, users might face accessibility and usability issues on your mobile website and may have a bad user experience.
Some of the general navigation issues in the mobile website:
Non-specific labels
Too many options
Non-responsive website navigation
Button-based navigation
Dead ends
Spamming and Fraud
Mobile websites also act as a potential platform for spamming users. Numerous fake e-commerce sites entice users with jaw-dropping offers and discounts. When the users pay for the products, they face the harsh reality of either poor quality or undelivered products. These fake sites collect the user's data and make them vulnerable to hackers and frauds.
Unlike mobile apps, a mobile website is unable to make full use of the capabilities of the device it's operating on. It has to face certain limitations of either Android or iOS platforms. These limitations hinder the smooth functioning of mobile websites.
Difference Between Mobile App and Mobile Website:
Developers use either native apps or cross-platform apps for developing mobile apps.
Whereas developers create mobile websites using technologies as per the client's requirements.
Mobile app integration into a particular platform is based on the targeted user base.
Developers can easily integrate mobile websites with different technological and cross-platform apps using service-oriented architectures.
You must develop a version of your mobile app for each of the platforms (iOS, Android, or Windows) for the users.
Mobile websites are compatible with all types of devices irrespective of OS.
Mobile apps support all applications like games, productivity, management, health, etc.
Moreover, mobile websites support only a limited range of portable standard apps in CRM applications, industries, etc.
Mobile apps have a limited user base. They are accessible only for smartphones and tablets.
Mobile websites have a wide range of audience reach. They are accessible across all the devices like mobiles, tablets, laptops, or desktops.
Mobile apps are easy to install and use anytime and anywhere as mobile devices (smartphones and tablets) are portable.
You don't have to install or download a mobile website, but only a few websites support a mobile browser.
Mobile apps work smoothly even in offline mode. They use a local server to provide all the app functionalities to the users.
Moreover, mobile websites have access to limited functionalities while working offline.
Mobile apps provide a wide range of customization and personalization options.
Users have limited access to the personalization setting in mobile websites.
Mobile apps provide a better user experience, have fast content loading speed, and use push notifications to alert the users.
Most of the time, the mobile website is inconvenient for the users due to different screen sizes and the inability to store all the required data and information on a single page.
Updating and supporting mobile apps is quite difficult, costly, and time-consuming. It also requires approval from the app stores.
Mobile website maintenance is easy, flexible, and requires lesser time for updating it across all the devices. You can easily maintain it as per your host admin and hosting plan.
Which One Is The Better Option For You? Mobile App OR Mobile Website:
With the above comparison (mobile app vs mobile website), we have a general idea that you may require both for better user engagement. There may be times when users want to access your website even though they have the app installed on their devices.
If you are confused about what to choose a mobile app or mobile website for your business, then have a look at the checklist we have prepared for you:
Why should you go for a Mobile app for your business?
You want users to have a lag-free user experience
High performance
Fast loading speed
Complex data reports and calculations
You require a GPS or location-based app
When should you go for a Mobile website?
To reach more users
To develop Minimum Viable Product
Faster updates and maintenance
For accessing all the devices
Nowadays, Mobile apps are gaining popularity over mobile websites. Mobile apps are user-friendly, have offline working capabilities, and help you interact and communicate with your customers. Mobile apps help in the digital transformation of your business by modifying existing business processes or creating new ones, cultures, or customer experiences to keep up with the ever-changing market and mobile app trends.
If you already have a website for your business, but you are confused about whether to transit from website to mobile app, then let us help you with a few points as to when you can make the favorable switch:
If your website is getting high traffic and repeat customers
When you want to track user journey and analytics.
When you want to take benefit of the mobile device hardware capabilities and build advanced features that depend on such hardware capabilities
The majority of your user base demands a mobile app
Conclusion:
We believe whether it's from a strategic or value perspective, a mobile app or mobile website or both can be very good choices for promoting your brand and reaching out to a wide range of audiences. But, In the mobile app vs mobile website battle, when it comes to super-fast loading speed and the unparalleled user experience, the winner is the Mobile app. Many businesses and industries that have the millennial generation as their target audience are moving towards mobile app development.
If you are in a dilemma about what would be best for your business then Let's Talk about sorting out your requirements and deciding whether to opt for web development services or mobile app development services.