Doyle Buehler
is the SPN member of the week due to his being all about helping other people. There are few people that know as much as Doyle does about digital marketing and how to build a brand. Even fewer people are willing to share info as Doyle does, so he really stands out. One of the biggest reasons why so many business owners fail is their lack of marketing knowledge. Doyle strives to help entrepreneurs grow their business by making them aware of digital pitfalls. He also does a great job of helping business owners focus their efforts. If you want to grow your brand, then you need to connect with Doyle. It's also a good idea to check out his book
#BREAKTHROUGH
.  You can also see Mike O'Connor's
book review on #BREAKTHROUGH
too. It's my honor to introduce Doyle to more people as
the SPN member of the week
!
Doyle Buehler- The personal side
Craig Wasilchak:
 What is your true mission here on social media?
Doyle:
Social media helps me show businesses and entrepreneurs how to be better with their digital marketing and strategy so that they can then improve how they do things with their business. Consider it as a show and tell. I've taught a lot over the years in real-life, and so I love to continue this with social media.
Craig Wasilchak:
  In addition to the serious side of your life, Do you have a fun or unique unknown Gift or Talent that you can share with everyone?
Doyle
: I do enjoy photography, as I used to be a professional photographer. I also have around 40,000 photos on my
iPhone
.
Craig Wasilchak:
Tell me about you and your business, therefore we can get to know you better.
Doyle
: I've been in business for over 16 years. My former career was as an aerospace engineer, a commercial photographer, as well as a military pilot. After leaving the aerospace industry and getting into the business after getting my MBA in 2001, I created a couple of startups from
Canada
, where I'm originally from. These businesses became one of the top 40 fastest growing companies in Canada, and the fastest growing in the state, and I had expanded them around the world. Since then, I've created a
strategic digital consultancy
, that assists businesses with defining their 'why' online, and then helping them define and deliver their why across their entire digital ecosystem to grow their business. Make sure to also get your digital leadership assessment at
leadership.digital.

 Doyle's Top Social Media Friends
Craig Wasilchak:
My readers want to know who are the TOP 6 Social Media friends that have helped you grow the most on social media?  List their name and a single sentence or two stating how they helped you.
Doyle Buehler
:
Mike O'Connor
– the master at sharing and helping
Craig Wasilchak
– all-around nice guy and great influencer. Jan Barbosa – always going that extra step to help and share.
Timothy Hughes
– the smartest guy I know in the digital space. Melonie Dodaro – always helpful and point you in the right direction.
Bernie Fussenegger
– always willing to help and get involved with things.
Craig Wasilchak:
What favorite organization or group do you belong to and why is it your favorite?
Doyle Buehler
: I enjoy being part of the SPN as they are extremely supportive of everyone and everything.
Craig Wasilchak:
What is one piece of wisdom that you received, that changed your life forever?
Doyle
: 'Illigitimus non-carborundum" – don't let the bastards get you down. Great advice from my Dad.
 Craig Wasilchak:
How do you find inspiration?
Doyle
: Usually taking a break or doing something different can help. Walking and traveling helps me free my mind.
Craig Wasilchak:
What would you say to the 12-year-old version of yourself knowing what you now know?
Doyle
: Enjoy what you can, work hard, know that not everything that you do will work out, but be resilient and keep working at it. You could be closer to success than you think.
Craig Wasilchak:
Quotes make us stop and think.  What is your favorite quote?
Doyle
: Darkness cannot drive out darkness; only light can do that. Hate cannot drive out hate; only love can do that. Martin Luther King, Jr.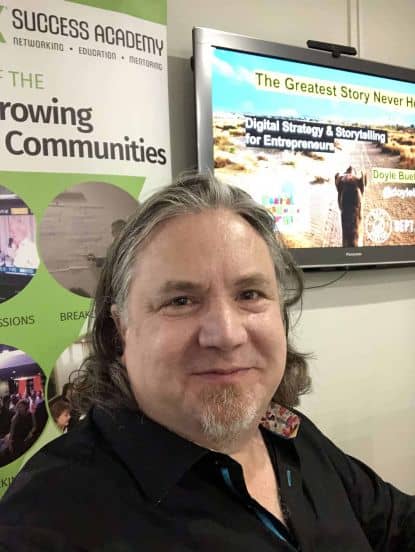 Craig Wasilchak's Caffeinated Questions:
What book or podcast have you read/listened to in the last 90 days and what was your biggest takeaway from it?
I have my own podcast –
breaking.digital
– so get a lot of insights from the people that I interview from around the world. I also have written a couple of books on digital strategy, so I also enjoy reading a lot. The last book that I picked up and plan on reading is "
The Book of Five Rings
"
If you could drink coffee with anyone that has ever lived but is no longer living…
who would it be?
Albert Einstein or Neil Armstrong
what would you talk about?
– find out what motivated them and how they dealt with the times that were not as successful.
why?
Because I think we all have something that we can learn from someone else. It helps refine and further define who we are.
If you could drink coffee with anyone that is alive today…
who would that be? Craig Wasilchak. what would you talk about over coffee? Just life and business in general, what he does, what works for him.
Doyle Buehler- The Business Side
Who is your typical client? Professional services companies that have a digital "start", but need to put more effort into it to better define and grow their business. There is so much potential with the tools that we have. It's so important to understand and leverage them properly.
Doyle Buehler
is the owner of
Dept.Digital
, a worldwide strategic digital marketing consultancy. The company helps business owners confront the issues that hinder their digital marketing growth. He is also an author of a new book on digital strategy: 
#Breakthrough – Unleash Your Remarkable Brand Value, Influence & Authority
. Doyle regularly speaks around the world, giving presentations and workshops on digital strategies, digital storytelling, and how to amplify your business with digital marketing. Contact him for speaking or consulting engagements at
[email protected]
anytime. Don't forget to make sure to also get your digital leadership assessment at
leadership.digital
.