All 50 Marvel Movies Rankings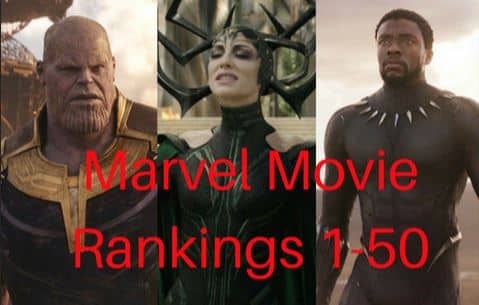 The Service Professionals Network ranks all 50 Marvel Movies from worse to first. See if you agree with all 50 Marvel Movies SPN Rankings. Please feel free to also share your thoughts on the Marvel Movies and their ranks in the comments.
Marvel Movies Rankings
These Marvel Movie Rankings are opinions of some people in the Service Professionals Network, so consider the source. We are big Marvel fans, so we are arguing over the comics and movies. Please feel free to join to share your opinions in the SPN social media groups on  LinkedIn, Facebook and Google+.
46-50 Marvel Movie Rankings
50. "Howard the Duck"
Howard the Duck was a bad Marvel movie in the '80s and it has grown cheesier since. It was also surprising to see him make an appearance in Guardians.
This movie has some really cool special effects, but they also destroy the story behind the Fantastic Four again.  Dr. Doom is a character with a great back story, so who knows what they were thinking here. It's worth watching due to the special effects.
Dolph Lundgren always looks like a raging killer, so that is cool, but it's not really the Punisher. Frank Castle was a family man that had enough, so they need an actor that delivers that. We can't blame anyone that puts this Marvel movie at 50.
47. "Elektra"
Jennifer Garner was pretty hot in 2005, so there was a lot of buzz about this movie. This movie is worth watching due to a few of the fight scenes and the bad guys. Don't get your hopes about the plot.
46. "The Amazing Spider-Man 2"
Andrew Garfield is a good actor, so hopes were high two would be better than the first one. Jamie Fox was horrible as Electro and the special effects were also cheesy. There were some very cool shots of Spider-Man doing some cool stuff though, so it's OK.
41-45 Marvel Movie Rankings
45. "Fantastic Four: Rise of the Silver Surfer"
The Silver Surfer has been awesome since 1966, so fans were dying to see this movie. The Fantastic Four is one of the best-selling comics of all time. The comic characters and stories are great. This movie is a disappointment to fans due to character changes.
Thomas Jane was the best Punisher by far up to that point in time, so it was a step in the right direction. John Travolta is either really good or really bad in these types of roles, so hopes were high. This is one of his worse roles and performances, so this movie had no chance. Being set in Tampa also didn't make sense for the Character at all. There were some great fight scenes, so it's worth watching on a slow night.

43. "Hulk"
There were some good to this movie, so it's definitely worth watching for the effects. Ang Lee did a great job for showing some of Hulk's abilities. The acting was bland, so it wasn't a hit like it could have been. Hulk does smash though.
42. "X-Men Origins: Wolverine"
Wolverine is one of the best-selling and most popular comic book characters of all time, so hopes were high for this movie. Fans were also jumping to see Deadpool on the big screen. Don't get us going on what they did there.
The movie did have some good parts like the story between Wolverine and Sabretooth. The story of Wolverine as a kid was also pretty cool, but this one could use a redo.
Fans were super excited to see this movie due to the popularity of the Fantastic Four comic books. The special effects holds up nicely and the film isn't that bad if you're not a hardcore comic book fan. They change the story up a lot, but it's a fun movie to watch.
36-40 Marvel Movie Rankings
40.  "Ghost Rider: Spirit of Vengeance"
Nicholas Cage was even more over the top in the sequel to Ghost Rider. The character is awesome and the story is also pretty good, but this franchise needs a reboot.
Andrew Garfield does a really good as the amazing Spider-Man They change up Spider-Man's backstory, so the movie has some plot holes and doesn't align with the comics. The story makes no sense, but there are also some really amazing scenes. The movie is very watchable due to the fight and action scenes.
38. "Punisher: War Zone"
This Punisher is by the best version yet, but it also has its problems. Dominic West as Jigsaw and Doug Hutchinson as "Looney Bin" Jim were too over the top with their acting. This movie is worth watching for anyone that likes violence due to rampant death. Ray Stevenson does a great job as Frank Castle and looks the part, so we hope he revives the role.
Ben Affleck really doesn't get enough credit for this film, because he is pretty good at it. The film is also a lot better than box-office numbers will suggest. This film does have some holes due to being a comic movie, but it's enjoyable.

36. "X-Men: The Last Stand"
Halle Berry, Hugh Jackman and also Ian McKellen all came back for this trilogy. This movie has some cheesy parts and the special effects are dated, but this film is also badass. There are some really awesome scenes and the story is great.
31-35 Marvel Movie Rankings
35.
"X-Men"
This movie gets a little extra love due to it being the first movie in the MCU. It does seem like every scene happens in a hallway in this movie and the effects are also b grade. Marvel was just getting back into movies here, so the budget was low. The story is good and there are also some great fight scenes. It's a fun flick even with all it's shortcomings.
Edward Norton is a great actor and he also put his heart and soul into this role. Mark Ruffalo just owns the character though. This movie is fun and has a great ending scene.
Nightcrawler was awesome in this movie and the special effects also hold up very well. The battle between Wolverine and Deathstrike is also really awesome.  You definitely need to see X-Men first due to the way this one picks up on the story.
This movie has some really amazing fight scenes. Spider-Man takes on Sandman, the New Goblin and also Venom. Topher Grace as Venom was a poor choice and James Franco also has had better performances.
Nicholas Cage is pretty good in this despite being a little old for the character. The story is great and the scenes of the Ghost Rider on his Harley are awesome.
26-30 Marvel Movie Rankings
30."Blade: Trinity"
Wesley Snipes returns for the third installment of Blade, so fans know what to expect here. The movie has some B-grade acting, but it is also a lot of fun. Ryan Reynolds plays a character spits out one-liners like Dead Pool, but he isn't as cool.
Guillermo del Toro took over the directing duties for this one and it shows due to fun, gory and comic book feel. This movie is great for anyone that loves vampire movies and dark humor.
Iron Man is always cool, so that makes the movie fun to watch. There were pretty big holes in the plot and bad guys also were lacking. It's very fun to watch due to War Machine and Iron Man blowing things up.
This movie is a good and fun way to spend a few hours, but it also was a bit of a letdown. This movie came out after the first Avengers, so expectations were really high on this one. The story makes more sense if you watch all the MCU movies up to Infinity War. The action is awesome and so is the chemistry with Loki and Thor.
26. "Blade"
Blade is the first black comic book superhero to get his own movie due to being really badass. This is a B-grade movie that also a great story and fun action. The budget to make this film was not huge by today's standards, so it is surprising. This movie holds up well due to being ahead of its time.
21-25 Marvel Movie Rankings
25. "The Wolverine"
Hugh Jackman will always be Wolverine despite also being a great actor in so many other roles. This movie takes Wolverine fans to one of his best storylines. The special effects and plot could be better in some spots, but this is a fun movie.
24. "Spider-Man" 
This Spider-Man kicks off a lot of love for the MCU due to how well it did. William Dafoe as the Goblin as a highlight and Toby Maguire also nails his role as Spider-Man. The action scenes are still really good.
23.
"X-Men: Apocalypse"
This movie was a step back for the franchise due to cramming too much into it. They could have broken this story up into a two-part movie and made it make more sense. The character development is lacking, but the special effects make up for a lot of it. Archangel fans will be sad with how they did that character. The very watchable and entertaining movie though.
Disney and Marvel team up to bring this kid's superhero story to the big screen. We are also glad that they did because it's a fun movie that is great for the whole family.
21. "Iron Man 3"
This Iron Movie is one that causes a lot of debate among Marvel fans. Some people absolutely and would also call it the best Iron Man film. Some people think it's the worse of the Iron Man movies for a variety of reasons. It's definitely worth watching and a lot of fun for action movie fans of all ages.
16-20 Marvel Movie Rankings
20. "X-Men: First Class"
This is a great movie due to the character development of the original X-Men and special effects. The cast in this movie is also top-notch with a lot of actors and actresses giving inspired performances.
This is not the most exciting movie in the MCU due to it's slower pace, but the story is awesome. It's a great intro to a lot of amazing characters and develops Thor's character for later movies. This movie has one of the best stories in the MCU and the end is awesome.
18. "X-Men: Days of Future Past"
This X-Men is one that covers a lot of history and dives into a lot of great storylines. It has a powerful cast, great story, and awesome effects, so it's well worth watching.
17. "Captain America: The First Avenger"
Captain America is an icon and this movie will live on for a long time. This movie also happens to make a great World War II movie. The First Avenger does a great job of telling the backstory to Captain America and the Winter Soldier.
This movie brought Robert Downey Jr. back to the big screen and he made it magical. This movie being the success it was made the MCU work. They got it right with this one and kept the formula going.
11-15 Marvel Movie Rankings
15.  "Spider-Man 2"
Toby Maguire is great in this movie and they also did a perfect job capturing the character. Dr. Octopus was awesome in this movie and the story works timelessly.
14. "Avengers: Age of Ultron"
The second Avengers was a little disappointing due to things it didn't do the way comic fans would appreciate. It also didn't really develop the Infinity War story much at all. The character development is great and so are the fight scenes. James Spader makes for an awesome Ultron, so hopefully, he will reprise the role.
13. "Guardians of the Galaxy"
The Guardians of the Galaxy opens a whole new part of the Marvel Cinematic Universe, so has it all. This movie also has one of the best soundtracks of all time. The whole family will be dancing on the edge of the seat from start to finish.
12. "Ant-Man"
Paul Rudd was a surprise selection to play a superhero due to his comedy background. This movie though was as much as a comedy as it is a superhero movie and Michael Pena is also fantastic!
Tom Holland is a great choice for Spider-Man due to how he makes the character come to life. Michael Keaton as the Vulture is also one of the best villains in comic book movie history. This is a great superhero movie that is fun for the whole family.
6-10 Marvel Movie Rankings
10. "Guardians of the Galaxy vol. 2"
The Guardians deliver another great flick here due to the fast pace and awesome special effects! There is a lot going on in this movie, so you will miss a few things the first time watching it.
Doctor Strange was a lesser-known Marvel character, so a lot of fans didn't know what to expect. The movie was amazing, so every MCU fans know who he is now.
8. "Captain America: The Winter Soldier"
Robert Redford as a bad guy is a great way to get the older generation into this film. Anthony and Joe Russo make their debut as Marvel directors in this film and they did amazing.
7. "Captain America: Civil War"
The action and emotional pull in this movie are hard to beat for any superhero movie due to the cast. This one pulls on the heartstrings more than most action movies and makes you feel for both sides.
6. "Thor: Ragnarok"
This movie shows so many sides to our favorite God of thunder. The movie starts off badass and picks up speed once Hela shows up. All hell breaks loose in this one.
1-5 Marvel Movie Rankings
5.  "The Avengers"
It hard to believe that it has already been over five years since this movie came out. This movie gets a little extra love on this list due it being the first movie with all the main MCU characters to date. The Avengers is an awesome movie, but you also need to know a lot of the backstory going into it.
Deadpool shows that it is possible to have a superhero movie that is rated R and still dominate the box office. This film for better or worse has become a game-changer. Deadpool breaks everything including the 4th wall in one of the best Marvel Movies.
Hugh Jackman plays an older Logan the Wolverine in this stand-alone film by James Mangold. The story and acting in this movie are excellent for any movie especially a comic book one.
This movie doesn't make a ton of sense without watching all the previous MCU movies. However, it's entertaining from start to finish and it leaves people in awe of the bad guy. Many people felt the emotional punches in this movie.
1. "Black Panther"
The Black Panther is a fantastic movie that broke down a lot of barriers in Hollywood and beyond. Disney let the writer and director Ryan Coogler make a bold political statement with this movie. It also made a ton of money too. This movie got a whole new crowd of people to become Marvel movie fans due to the story it tells. Michael B. Jordan plays the bad guy and turns in the best acting ever in any superhero movie.
Feel free to also shop for gift ideas for the special Men, Women, Kids, Clothing Nuts and Geeks in your life through our shopping blogs.
Other blogs you make like on SPN:
How Important Is Air Duct Cleaning?
[/fusion_text][fusion_text]
Other reasons why I'm broke