Looking For A Suitable Remote Job Role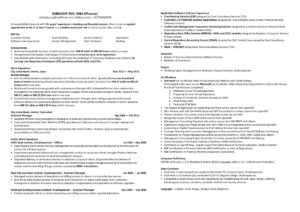 I am #activelylooking for a suitable remote job role in Customer Service | Operations Management | Work From Home | Service Delivery | Other Suitable Domains of the IT or Non-IT industry to restart my career after a break.

I request  
 and his #SPN team to please help me in my job search.
I do not have any notice period and can join immediately.
The details are:
Roles Looking For: Senior team leading/Leadership role
Educational Qualifications: MBA(Finance), Bachelor of Commerce
Work Experience: 12 years 2 months
My detailed curriculum vitae (CV) is enclosed in the attached JPG file for reference and consideration.
Achievements:
• Achieved significant increase in bank's business from INR 67 Lakhs to INR 26 Crores within one year.
• Strengthened the Information Technology (IT) infrastructure to ensure zero-error operations.
• Coordinated with the Information Technology (IT) team for installation of essential hardware and software implementation for new Depository Participant (DP) operations of both NSDL and CDSL.
Preferred Locations: Remote, Work from home.
My contact details are:-
Email: [email protected]
Mobile:- +917044685829
Regards,
Subhadip Roy