List of top virtual Interview Softwares 2022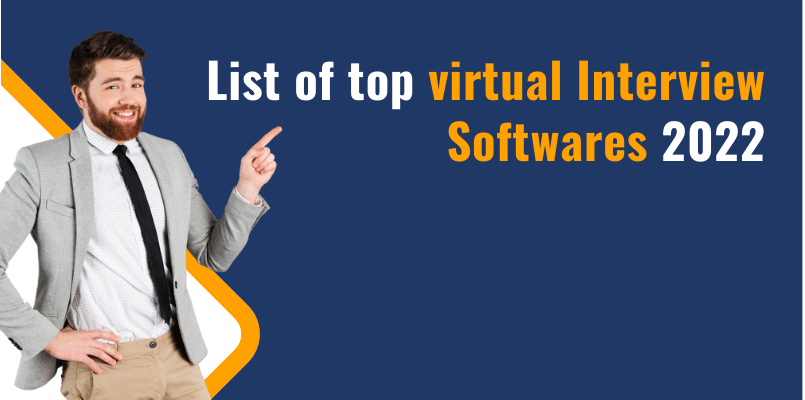 Quality Interviews can be a great turning point in any recruitment process. They are often those moments where the recruitment and recruitment team leads to the skills and experience of candidates face-to-face. But in a modern hiring environment, in-person interviews are not always possible. So video interview one of the best choice for the recruiting process. .
Despite the functionality and convenience of the video interviewing process, not everyone is a fan. We all know the horrors of slow connectivity, video calls that drop out of nowhere, or audio that breaks in and out. Sitting in a vacant room, talking to your computer, can already feel forced and awkward without any technical difficulties.
Simple video software or softwares like Google Hangouts and Skype were not made for recruiting purposes. The best part about using interviewing software is its ability to reduce time consuming and bias in the recruiting. And, using it will allow all recruiting managers and others in the recruiting process to have a chance to see the candidate's response to important questions because of the fact that you can record the video answers and share with the hiring team.
Of course, there are a number of video interviewing softwares  available in the market and they all are a bit different than the next. Here are the five most emerging softwares  we think you should review:
1. XOR: 
XOR is an AI based hiring platform and some of its features are the on-demand video interviewing and live video interview. Xor gives users the facility to set live interviews or have candidates submit their recorded video answers for hirers to watch on their own suitable time. Recruiters and candidates access the Xor video interviewing platform on any device without downloading any exe file or third-party tools.
Along with video interviewing for candidate screening, XOR also has SMS features like video texting. This makes the entire hiring process feel very fast, efficient and smart. 
Pricing: Xor offers pricing details upon request
2. Ducknowl: 
Ducknowl comes with video interviewing software and talent assessments that eliminate assumptions and mitigate the bias from the hiring process. Ducknowl is an entirely data-driven video interviewing platform. Ducknowl is not limited to video interviewing, and they provide many features that will make your hiring process superfast and bias-free. 
Ducknowl only provides all these features like pre-recorded video interview, skill assessment, video texting, audio texting, video job description.
Frankly speaking,  Ducknowl is the complete avenger team ready to protect your hiring process from unconscious bias. 
Pricing: pricing available on request. 
3. Willo –
Best for interviewing global/international candidates
Willo is a video interviewing platform suitable for freelance recruiters to large scale that helps you to identify and connect with global talent.
Willo is a browser-based software solution that can be used on any device anywhere in the world. With Willo Recruiter send job invites individually and post roles on job boards. It is customizable to suit both organisational branding and functionality standards through a number of features and API integrations. 
With all the files being uploaded, Willo prioritises data security for both candidates and recruiters. The platform is hosted in Europe, is fully General Data Protection Regulation(GDPR) compliant, and offers 24/7 European support for every candidate. The platform uses enterprise-grade encryption.
Pricing: Costs from $42/user/month, and recruiters can avail free forever plans with limited features.
4. Modern Hire: 
If great candidate experience is your top concern, then you can take the demo of  Modern Hire. The Modern Hire platform offers on-demand video interviews and live options, with a focus on ensuring a standardised experience and consistency  for all candidates. Modern Hire's built-in branding capabilities are a nice touch, allowing employers to show off more of their unique cultures during the process.
Pricing: pricing available on request. 
5. Zoom Meetings
– Best for usability
We've all heard about Zoom meeting software and because it's so easy to use loaded with some amazing features, it gained worldwide huge popularity at covid-19 pandemic time and has become an industry standard nowadays. Zoom Meetings is by far the most popular one and makes it easy for both the applicant and the hiring managers since it's accessible on just about any device and everyone knows how to use it already. Zoom Meetings take the confusion out of the process and both parties can simply show up to the meeting. 
In a free Zoom plan can host up to 100 participants, but the time limit of your meeting must be less than 30 min. Zoom makes it super easy for users who are not already on the platform to get started in barely a minute when an interview sends them an invite link. There are no time limits for videos on a paid plan, and the solution offers in-app private and group messaging systems.
Pricing: Zoom also has a free forever plan. Zoom Meetings costs from $149.90/year/licence and offers other services such as Zoom Phone, Zoom Video Webinar, Zoom Rooms, and Zoom United each with their own pricing plans. 
Benefits of video interviewing
Video interviewing softwares are not for everyone, but they're also not for every situation. They have their ups and downs, which are good to know before you go ahead and set your heart on one. 
Convenient:

In an increasingly global workforce, many hiring managers will eventually turn to source candidates from outside of their city, if they are not in the same country. Virtual interview software  can help facilitate the interviewing process.

Speeds up recruiting time:

With virtual interviews more accessible, using online video interview technology will inevitably speed up recruiting  time. No more waiting for candidates to have free time to come into the office for the interview. With virtual interviews, they can block out only the necessary time for the interview, rather than having to factor in travel time.

Opens up talent markets:

If you can implement a virtual interview strategy, you may also open up talent markets that were previously inaccessible. Often teams are not able to consider foreign talent as they cannot commit to bringing them over without properly getting to know their skills and experience. Virtual interviews, when well-organised, can help you get to know far-away candidates with little commitment.
Final Thought:
Now it's your turn: What do you think about my video interview software list? What video interviewing platform does your hiring team use? Is there a video interviewing solution you would add to this list if you could? Let me know in the comments.