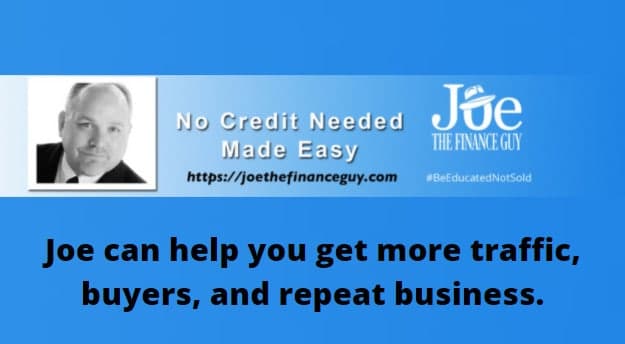 Joseph Stepke is known as Joe The Finance Guy because he shares a lot of great information across social media.
Did you know that 7 out of 10 Americans have less than $1000 in the bank?
Learn how Joe The Finance Guy can help you increase retail sales for jewelry, cell phones, tires and other retail items by visiting his site and connecting with Joseph Stepke on LinkedIn.  Joe is always glad to answer questions and help business owners maximize their sales. 
Make sure to also subscribe to Joe's YouTube channel. He has shared a ton of great information already and you don't want to miss future tips.
Joe Can Add Value In The Following Industries:
Furniture & Mattress

​Wheels & Tires
​Household Appliances: Even Vacuums
​Computers & Mobile Electronics: Computers, laptops, drones, game consoles, cameras
Car Audio: Car stereos, alarms, speakers, tint & accessories
​Eyewear: For use in Optometrist locations
​Household Electronics: TVs, home stereos, electric pianos
​Jewelry: All Jewelry
Auto Parts & Repairs
Landscaping & Outdoor Goods: Patio furniture, statues, grills, canopies
Recreational Goods: Kayaks, tents, bikes
Storage Sheds: Storage sheds
Musical Instruments: Band and orchestra instruments, pianos
Power, Outdoor & Handheld Tools: Drills, saws, push & riding mowers, chainsaws
Cell Phones & Handheld Electronics
In Joe the Finance Guy's own words: