If Someone Calls You a Horse…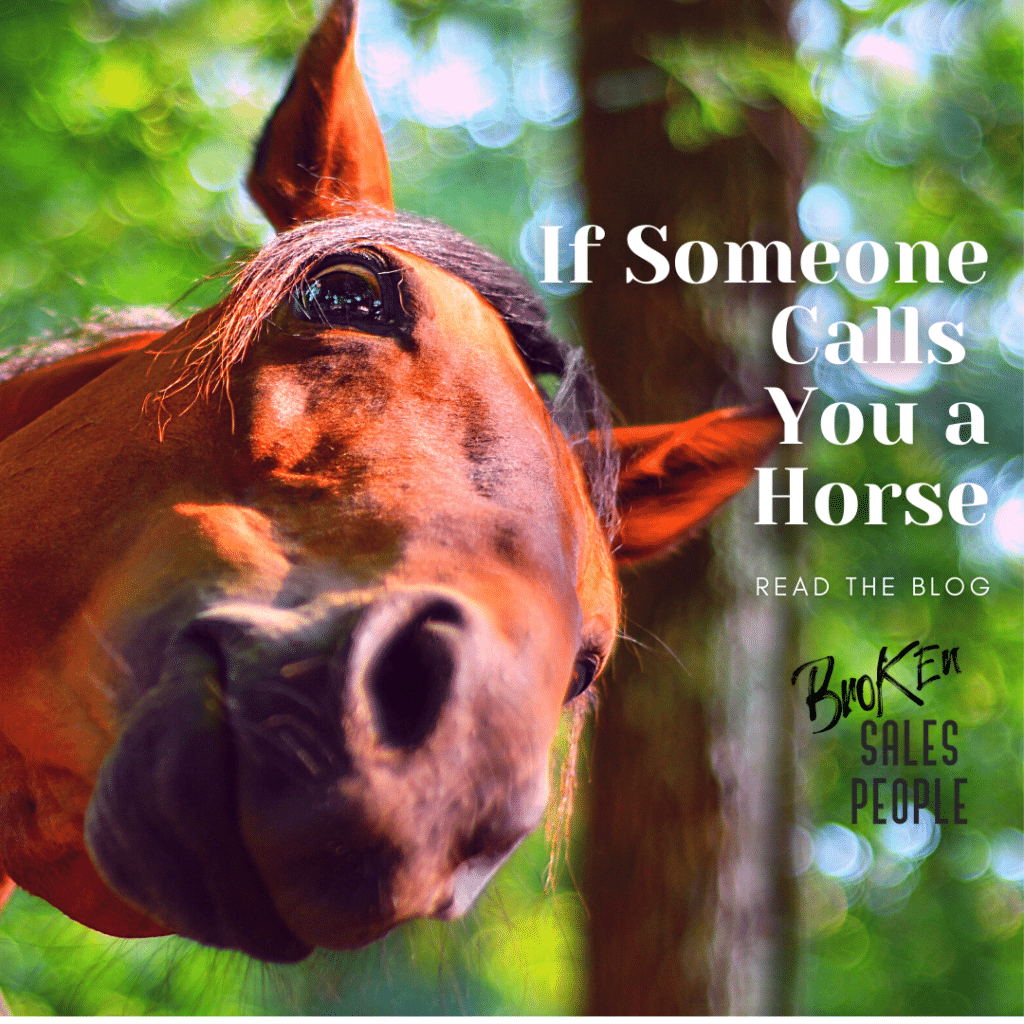 On a recent Facebook group, someone asked whether you should care what other people think about you and your business. The answer was overwhelming in one direction. Whenever I see that in business, I start to feel uneasy. As soon as EVERYONE is in agreement, I tend to think something is wrong.
I know, I am weird. I blame it on growing up Irish Catholic. For some reason, Irish Catholics cannot accept that something is simply "nice" without assuming something will go wrong. It is a full-blown cultural neurosis.
The entire group seemed to jump immediately to "Of course you shouldn't care what they think. What do they know?" . If you have been reading this blog for a while now, you can probably see why I can buck against this.
Let me be clear, my career was messy until I started listening to other people's opinions, particularly those of authors and psychologists. I needed to open up my circle to more people because I was totally convinced I was infallible. Because I was young and pretty good at what I did, I thought there was no way someone could tell me something. That was until my ego came crashing down hard and I started trying to force a square peg in a round hole.
You see it wasn't until I crashed that I knew I should have listened more. There were plenty of people warning me that I was doing the wrong things, I just wasn't willing to listen. I thought that I had all the answers.
Simply put, listening to criticism actually HELPED! I know there are thousands of Instagram posts out there talking about "Don't listen to them." and "have total faith in yourself", but at a certain point it will only help you to take the advice.
I had plenty of customer curse me out for being too high pressure or manipulative. I laughed it off and said "what the hell do they know?" every time. I was wrong. If I took the time to do a little self-reflection after the critiques came up, maybe I would be farther along on my journey than I am today.
I didn't and I am not. That is the cost of the lesson, and I am happy I paid it.
Now I am not saying you need to listen to everyone who says something negative about you and your business, but you have to start looking for trends.
There is a movie I love that most people never heard of called Lucky Number Slevin. In it Ben Kingley has a line that has always stuck with me.
"The first time someone calls you a horse you punch him on the nose, the second time someone calls you a horse you call him a jerk but the third time someone calls you a horse, well then perhaps it's time to go shopping for a saddle."
No, you shouldn't listen to everyone who says bad things about you, but if you start hearing the same things over and over again….
Well, if the saddle fits…
Here are some other articles by Red on SPN you might like: