How Will You Leverage Machine Learning in Your Next Mobile App Project?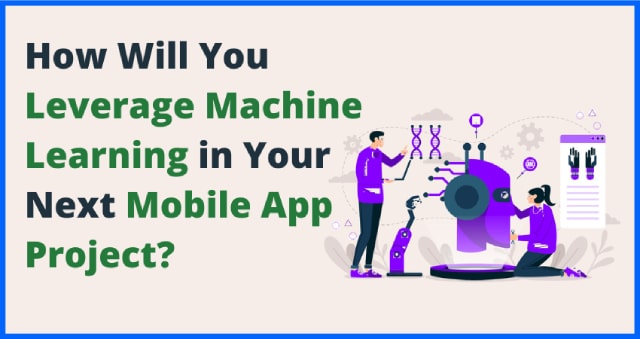 In this digital era, there are numerous futuristic technologies that are present in the current market and can leverage in mobile app development. Technologies like Machine Learning, Artificial Intelligence, Internet of Things are some great technologies of the 21st century. 
The present time is all about machines that can make our work easier. Looking at the stats, we can say that: 
i) Almost 40% of US companies implement Machine Learning to boost their sales and marketing. 
ii) The total number of businesses will double over the next three years because of investing in ML. 
iii) European banks have increased their sales by 10% and lower churn rates by 20% with ML. 
iv) 76% of the companies have exceeded their sales with the help of ML integration in their business. 
Any kind of business in the market expects to make a good profit, and this will only happen when you try to gain new users and retain old customers. 
In this post, you will learn the benefits of machine learning and how it can scale your business growth. 
Impact On Leverage Machine Learning In Your Next Mobile App Project
1) Personalisation
Integrating ML in your business has various algorithms that can analyze data from various sources and provide a helpful recommendation to every user device. You can learn various technologies like:
i) Who are your potential customers?
ii) What do they like?
iii) What can they afford?
iv) What words do they use to talk about different products?
Working on all these aspects will help you to boost your business sales and growth. 
2) Advance Search 
With the help of Machine Learning app ideas, you can optimize your content based on search and user's perspective. ML searches result in a more SEO-friendly and contextual form for its users. The algorithm learns from the different queries and works accordingly to provide the best result to its users based on their queries. 
3) Predicting User Behavior
One of the most significant advantages of machine learning app development is that the algorithm can quickly analyze the behavior of the users by inspecting different kinds of data like age, gender, location, search histories, app usage frequency, etc. 
It is the key to improving the effectiveness of the app and marketing efforts of your business. 
4) More Relevant Ads
The Relevancy Group says that 38% of the businesses have already implemented machine learning technologies to analyze users' demands and serve advertisements accordingly through Data Management Platforms(DMP). 
For example, you can take the brand name Coco-Cola, and how they customize their app according to demography. 
5) Improved Security Level
Besides developing an efficient marketing tool, Machine Learning can help you to streamline and secure app authentication. Multiple features like face recognition or audio recognition can be used as biometric options to secure users' data.
Thus, businesses can use machine learning technology to enhance their app and protect their data.
Conclusion 
In this modern era, technologies like machine learning can be beneficial for your business. You can connect with ml development company and use the latest tech stacks like Azure, IBM Watson, etc. to develop an app based on machine learning.