How to Track Twitter Hashtag Campaigns with Social Media Analytics?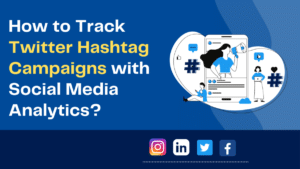 Hashtags initially began as a tool to categorize the massive volumes of the user content posted on Twitter. It became the most effective way for users to track conversations related to brands, events, specific topics, and more. 
Today, hashtags have become an essential part of Twitter marketing. Apart from categorizing content, they also increase the SEO authority of your tweets. Furthermore, they also hold significance in hashtag campaigns. Every brand creates a unique hashtag for each of its hashtag campaigns. It helps them track conversations related to their campaign. It also helps them track the performance of their hashtags by tracking them. 
In this blog, we will discuss how to track Twitter hashtags campaigns with social media analytics tools and measure performance. Let's dive in. 
What is a Twitter hashtag?
A hashtag on Twitter is like any hashtag on other social media platforms. It helps categorize content and makes it easier to find users with similar interests. And, since the content is categorized, it increases the reach, impressions, and engagement of your tweets. 
How to track Twitter hashtag campaigns?
Now that you know what a hashtag is, let's check out how to track them. 
Choose a hashtag tracking tool
Once you have decided on the campaign goals, crafted a strategy, and created a suitable hashtag, it's time to choose a hashtag tracking tool. You could start with the Native Twitter Analytics tool, but when it comes to tracing a hashtag campaign, the provided analytics is very limited. 
So, it's best to use a comprehensive hashtag analytics tool like TrackMyHashtag that enables you to track your hashtag performance and provide a wide range of insights. 
TrackMyHashtag is an advanced AI-based event and hashtag tracking tool.  It can help you track and monitor the engagement metrics for any hashtag. It can also identify and analyze the engagement metrics of influencers profiles to promote your brand.
You can analyze the Twitter profiles of your competitors or any other public Twitter account.
Key Features:
Real-time hashtag engagement metric

s

Identify topical content and target audience

Geographical insights in real-time

Analyze your competitors' hashtag campaigns

Identify key influencers
TrackMyHashtag provides a Free 5-day trial with paid plans starting at $49/month.
Once you start tracking your hashtag campaigns, it's easy to get confused by the massive influx of information. The point is, you can't make sense of something that you are having a hard time understanding. 
So, here are some of the important metrics that you should pay attention to. It will help you dissect the information and transform it into analytical insights. 
You must keep an eye on these important metrics : 
This metric shows how many times any Twitter user could have potentially seen or come across your Twitter campaign hashtag, name, or message, all over the platform. 
This social media metric informs about the number of users that saw an impression of your post in their respective timelines. 
This is probably the most important metric when it comes to hashtag campaigns. It indicates the number of users that interact with your campaign message or hashtag. It can be in the form of likes, replies, retweets, favorites. It could also include the number of new followers you add during the hashtag campaign. 
Tracking engagement is important but is tracking the rate at which users are engaging with you during your hashtag campaign. The engagement rate tracks how actively do your followers engage with your content or in this case your hashtag campaign. It helps you evaluate the efficacy of your Twitter hashtag campaign. 
Also, users that spend time engaging with your hashtag campaign, tweets, videos, updates, and other forms of content are more likely to change into paying customers. Furthermore, there are other subsets to engagement metrics. One of the most important is the positive interactions as it can act as word-of-mouth marketing. 
Honestly, what would you trust, a brand's advert of a genuine review or opinion about the brand from another user that has a history with the brand? 
As the name suggests, it is the total number of times users have mentioned your campaign hashtag in their tweets. 
Influencers are social media users that have a large follower base as they are widely considered experts in their fields. If these influencers engage with your hashtag campaign, especially those that are popular in your industry, it gives you an opportunity to increase engagement. You just have to engage with them, and a bit of humor can help you start a great conversation. 
These are users or followers that engage the most with your brand or in this hashtag campaign. These users play a crucial role in getting conversations started about your brand. Since they are the fans of your brand, showing them a little appreciation would mean a lot to them. 
Also, you don't have to put too much effort, just engage with them, preferably, in a humorous way. It will also encourage other users to engage with your brand. 
This one's quite simple. It measures the number of times users click on the links you post along with your tweets. 
Once you go through the above-mentioned metrics, you can analyze your performance. It can also help you find valuable insights about your audience, content, engagement quality, brand awareness, and more.
When you have gone through the performance metrics and identified actionable insights, make a report of these insights. Also, if you are using a third-party Twitter analytics tool, it can help you extract comprehensive PDF reports containing statistical insights about your hashtag campaign. You can easily share them with your social media team or your peers for further discussion and measuring success. 
Now, once you have all the insights and reports, it's time to look back at your Twitter hashtag campaign strategy. You need to analyze the overall impact, what worked in your favor, and where you lacked. Once you have identified these, you can learn from these experiences and develop a more effective Twitter hashtag campaign for your brand in the future. 
Wrapping Up
Running a Twitter hashtag campaign might seem like a lot of work but it is an effective way to create buzz about your brand. If done right, it can drastically increase brand awareness, engagement, and followers for your Twitter profile. Although, you will need analytical insights to better understand your target audience and craft a personalized marketing strategy that draws attention. 
Get started today.