How to Choose Paint Color for Your House's Interior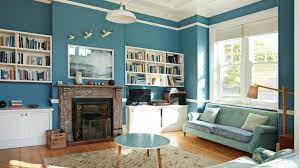 How to Choose Paint Color for Your House's Interior
Preparing to paint your interior, confused between multiple colors? In the end, it comes down to your choice; what feels soothing and pleasing to your eyes. But that doesn't mean you can pick any color on a whim. 
An odd color palette would mar the beauty of your house – no matter how expensive the furniture and decoration objects are. So before you rush, buy some paint, hire painting services Dubai, read this piece.
I'm going to walk you through some interesting tips to make the most out of this investment.
1.Explore Interiors to Gather Inspirations
Often we walk into a friend's or relative's room and the interior simply blows our mind. The color scheme takes the experience to a whole new level. And then you wonder if you could paint your interior with the same colors?
Mind you, it's not just about colors but a combination of objects surrounding the wall and the overall feel of the space. Gather inspiration from such experiences. If possible, click a snap and save those interior images into your phone for future references.
Besides real-life experience, do some online research. Pinterest, Instagram, Facebook, and home decor and design blogs will introduce new ideas to you.
2.Consider the Color Psychology
Do you know colors are associated with certain feelings and emotions? It's important to take color psychology into account before you choose a paint color for your interior.
For example, the blue color is associated with trust, peace, and tranquility; red with strong emotions, such as love, passion, and anger; orange with energy and enthusiasm. And the list goes on.
So it comes down to your choice, what kind of feelings and emotions do you want your interior to invoke? Choose your colors accordingly.
3.What Are Your Favorite Colors?
Well, that's obvious, isn't it? Wouldn't you like to add your favorite colors to your room's interior? While pondering over your color options, you'd be inclined towards your favorite colors.
And there's no harm in considering those until they are making sense together. Once again, you can either devise ideas on your own or hire an interior designer Dubai to create a color scheme for your interior based on your favorite colors.
But make sure those colors make sense, you can't put those colors together that normally don't go well with each other.
4.Consider Your Furniture Color
Aha, how can we miss the furniture color? In interiors that shine and amaze, the wall color and furniture color compliment each other. From your sofa to bed, wardrobes, appliances, bookshelf, tables, and everything in between should be looked at before you decide on a color scheme for your interior.
You can't sell out the whole furniture just to get a piece of furniture in a different color that would look perfect with a color of your choice. So your only option is to pick a scheme that would suit the existing furniture. 
5.Different Color in Each Space?
Yes, it's possible to have a different color in each room. If that sounds OK to you, there's no harm in picking a different color scheme for each area of your house. We recommend warm hues for smaller rooms as this way they feel larger and spacious.
For dark rooms, white and pale neutrals reflect the most light, obscuring the gloomy feel you usually get in such spaces. For larger rooms, darker colors with warm undertones go well as they absorb light and make a room feel smaller.
For the main hall, neutrals give a light and airy feel. Light and mid-tone shades of pink, green, and yellow feel cheery and uplifting. Once again, there's no rule of thumb for each space. If you are not sure how to go about it, reach out to interior design experts to get an expert's opinion on this.
6.Keep the Kitchen White
Now let's move into the kitchen for a while. This is the place where you will cook, do the dishes, and might even dine in if you have a dedicated dining space in the kitchen.
We recommend white, off-white, and deep blue for the kitchen. You can either use all three of these or go with one of them to paint the whole kitchen. The combination of white and blue is pretty common, it's a combo of simplicity and aestheticism.
7.Think Twice Before Choosing a Color for Your Bedroom
When it comes to your bedroom, you have got plenty of choices (more on that in a minute). But keep in mind that you should imagine the color scheme and consider its impact before finalizing a scheme.
Some popular choices are:
Neon Pink

High-Gloss Chartreuse

Gray-Brown

Plum

Red and Lavender

Dutch Blue

Pale Green

Sky Blue

Sage Green
Each mentioned color is unique in its own way. Moreover, it also depends on the theme of your bedroom, the objects around it, and the furniture which color would be the best option.
The best paint color for the bedroom varies based on your own preferences and the surrounding of the room. So don't hesitate to explore more online before you reach an attractive color scheme.