How to Build an Empire with Buyer Persona.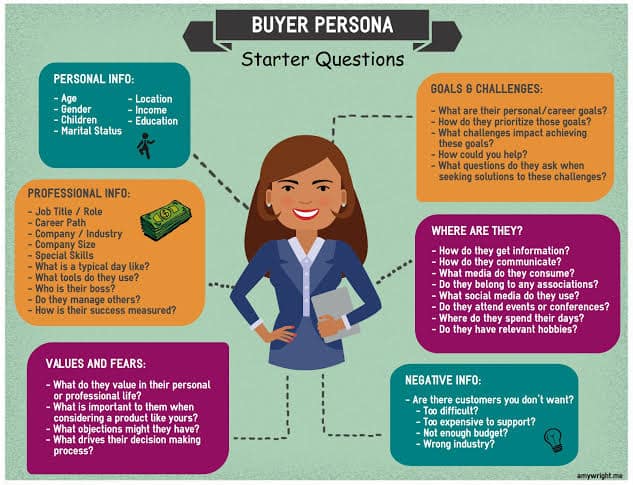 Having worked with many startups I learnt this.
Having a good business idea is not enough. The most difficult part is getting someone to pay you for the product or service that comes from your idea.
This morning I was chatting with a friend I met on LinkedIn. He is a young tech co-founder. I guess that's why we connected since I love the industry, even though he has already launched his product.
I wanted to keep the ball rolling, so I asked him if he had a buyer persona for this business. Guess what, I was shocked. This young executive was not aware of what a buyer persona was. Even though he was passionate about solving a problem, he didn't know whose problem he was trying to solve.
His response to my question was "Do you mean a pitch deck?" and I answered "no." I then smiled, knowing that this young champ is still nave when it comes to starting or running a startup.
A buyer persona is a fictitious character that represents a specific segment of your overall customer base, so as to understand how they make their buying decisions. As with many things in life, the more you put in to build a buyer persona, the more value you derive from it. 
The strongest and most beneficial buyer personas are those based on market research, customer insights, and your own objective observations from day-to-day business.
Once you fully understand who your ideal customer is and what makes them tick, you will be able to tailor your messaging and content to them based on the information you have on them.
Depending on how many products or services you offer, you might have as few as one or two buyer personas or as many as 15 or 20 to represent the different groups of customers you encounter in your marketing and sales process.
It's also important to note that periodically you need to review your buyer persona since your customer base will be changing over time.
The next question you might be tempted to ask me is how I do find out who my ideal customer is. 
There are various tools at your disposal that you can use when researching to know who your target customer for your product or services is:
💡Think with Google
💡Claritas MyBestSegments (free)
💡Google analytics 
💡Customer survey
In building your buyer persona, you must strive to have sufficient information about your prospective customer, so your survey should try to get answers to these questions:
👉Where do you look for product or service recommendations?
👉Which do you prefer to learn more about a product?
🎤Read an article
🎤Watch a video
🎤Speak to a live person.
👉What makes you feel better after a purchase?
🍷Having a quality product
🥂Getting a good deal
👉Do you consider online reviews when making a purchase?
These few sampled questions can help you reposition your marketing effort in a more precise and targeted manner.