How IT Staff Augmentation Is Win-Win Situation For IT Companies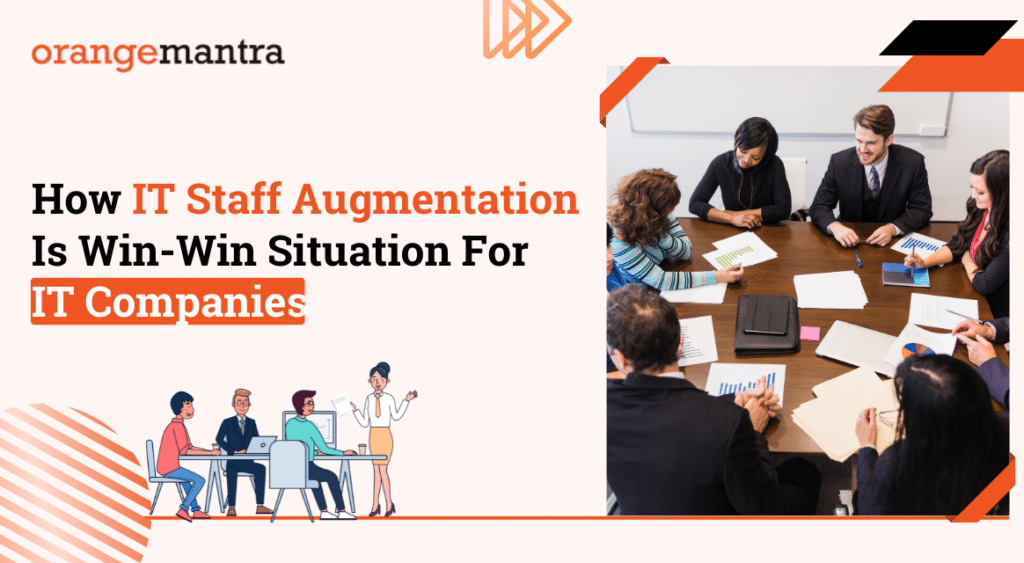 Are you looking for additional staffing support to become part of your existing team? However, you do not want to spend that much to levy heavily on the company's budget. In such a situation,  IT staff augmentation  is an ideal resort to hire staff temporarily and become part of your team.
Staff augmentation is a cost-effective IT outsourcing solution  to fill up talent gaps for a particular set of time. It allows you to hire an expert professional in any particular domain which is required the most in your company. Moreover, IT contract staffing is one of the key outsourcing solutions for enterprises and startups not just to save cost. But also to enhance the rapid software development.
But the reach of IT contract staffing  is not limited to the extent of providing valuable professional resources. It is a win-win situation for IT companies in the following few manners.
Get your new projects off the ground
When you want to start on something new project that could be beneficial for the enterprise, you need to pull up employees from the existing task. At times, it could be disruptive for the employees to keep switching from project to project. As a result, the quality gets hampered and might even impact your client along with your enterprise-level reputation.
So, instead of counting on the already occupied employees, augment the necessary staff for the particular duration of the new project. Doing this will not hamper your project's task and maintain your reputation in front of the client. Moreover, it allows you to work on different projects simultaneously without facing any interruption.
Hire temporary staff for a short-term period
In the ever-diverse IT world, any requirement can arise at any point in time. Just like for the new project requirement, you might the resources from an existing project with the deadline approaching. In such instances too, count on the expertise of augmented members hired from an ideal staff augmentation company  and fulfill the purpose.
Hire resources for a short-term duration and save your day in the following manner.
Replace an existing staff during a temporary absence from work due to any official or personal reason.
Hire external and augmented staff members during high-demand crunch, shorter deadlines, and stretching hours to complete the work.
Get additional assistance on an ongoing project, specifically for testing the software or application before deployment.
Avail of augmented staff with long-term benefits 
There is no doubt in the fact that staff augmentation services provide you with several long-term benefits like the ones mentioned below:
Support your existing technical and creative team.
Enrich your enterprise-level expertise by offering internal and external support.
Create extended development teams to speed up the project.
Add more technical skill sets to the company.
Cost-effective talent-hiring solution
One of the integral reasons to rely on staff augmentation services  is hiring the required set of resources cost-effectively and quickly. Apart from the hiring cost, there are additional savings to be done on your part.
The augmented staff members will bring their own devices while working from your office or remotely as per the requirement. Thus, you need not spend on purchasing equipment for the augmented members.
The staffing agency that you collaborate with will be making payments to the resources. And you need not face that hassle of paying directly to the resources.
Just like full-time employees' health and other such benefits from the company. Short-term resources do not require such benefits from your side.
Expand your IT company's services 
Your enterprise is required to provide much-needed support to clients in this ever-changing IT landscape. Even, if you want to expand your services and business by serving more clients. It is possible with the help of additional staff members within the team to support your new set of clients. 
However, a budget constraint could be a major reason that you cannot spend time, money, and effort to train your staff and work on additional projects. In such a situation, count on IT staff augmentation  to expand your service offerings and assist the clients with ease. Not only this, you get to expand as an organization without finding the need to spend a lot. 
Concluding Thoughts 
IT staff augmentation can solve several staffing issues with ease and cost-effectively. It helps you in several ways to hire resources temporarily, extend teams, enhance client support, and grow as a brand. With this service, hire real-time professional experts  to meet your business requirements at a low cost. Concerning the same, rely on the service offering of OrangeMantra as your leading staff augmentation partner.