Finding Your Retail Office Commercial Real Estate Space

How to Find the Perfect Retail Office Location for your Business
Finding a retail commercial real estate office space in Dallas can be a challenging and rewarding experience. With the right approach, you can find the perfect property that meets your needs and budget.
When looking for a retail commercial real estate office space in Dallas, there are several important factors to consider. The first is location. Dallas is a large city with numerous neighborhoods and business districts. It is important to determine which areas of the city are best suited for your business needs. Consider the surrounding businesses, public transportation, and access to highways and interstates. Additionally, it is important to consider the size and type of space needed for your business. Do you need a large office retail space, high visibility, or ample parking? Are there any specific features or amenities you require? Answering these questions will help you narrow down your options. The cost of the space is another important factor. It is important to research average rental rates for various types of office space in Dallas. You should also consider the cost of utilities, taxes, and other fees. When you have narrowed your options, it is time to start looking at property listings. It is essential to thoroughly read all information before signing a lease or making any commitment. It is wise to drive the areas you have found and directly contact the leasing managers to see if they are an reputable commercial real estate business to lease from. Many commercial buildings are owned by Real Estate Investment Trusts (REITs). Be prepared to become just a number when dealing with a large investment trust. Local landlords tend to really take care of their tenants.
Once you have found the right retail commercial real estate office space in Dallas, you can begin the process of setting up your business. You will need to acquire any necessary permits and licenses, find a reliable moving company, and make sure all of your furniture, equipment, and supplies are in place. Additionally, you will need to make sure that the space is appropriately zoned for your business.
Finding a retail commercial real estate office space in Dallas can be a daunting task, but if you take your time and do your research, you can find the perfect property that fits your budget and meets your needs. Once you have the right space, you can begin to focus on growing your business and making it a success.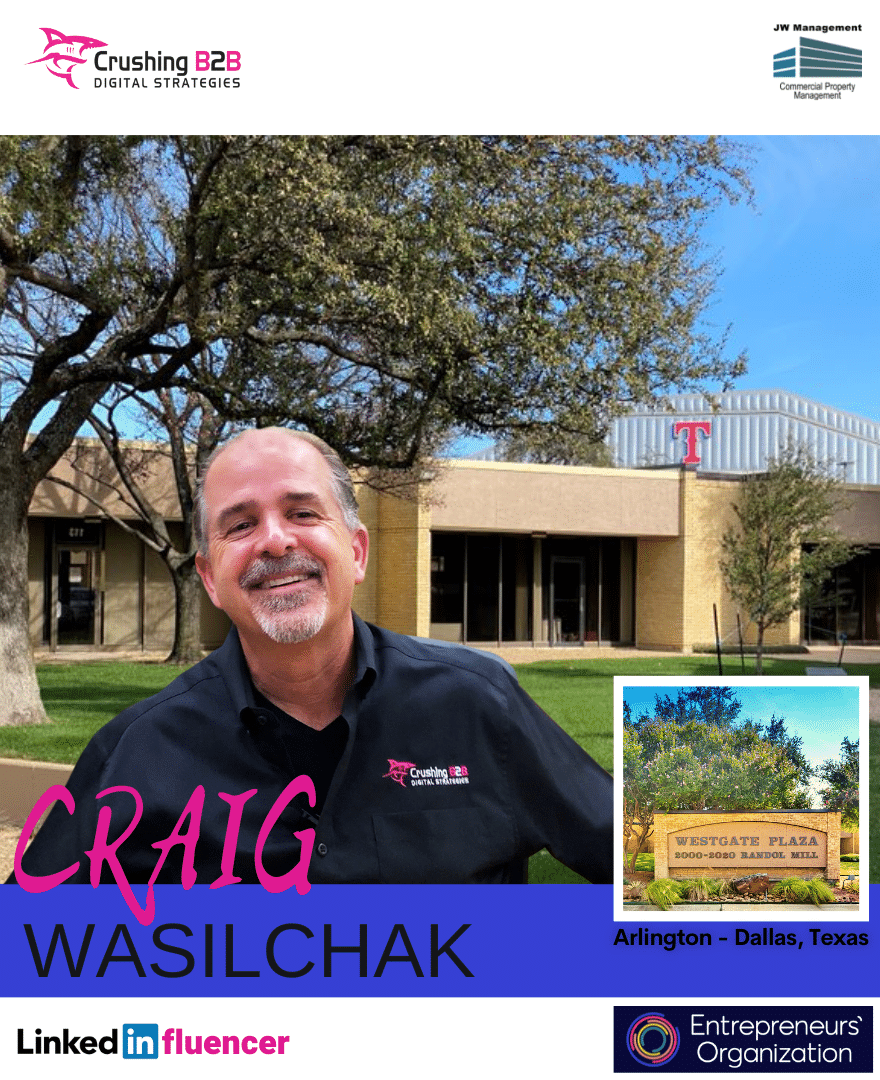 President/CEO Crushing B2B Digital Strategies & JW Management 
Branding & Social Selling Strategist | CEO |SEO Content Creator | EO Member | Commercial Real Estate Investor |  Build a Lifestyle & Passive Income Business  | B2B Mentor
🔷Click Below For:
Links to Websites We Work With
Links to the FREE Crushing B2B Marketing System
—————————————————————————————–
Craig Wasilchak  is a serial entrepreneur who started, grew, and sold many businesses along his journey. Craig leads the investment portfolio of the family-owned commercial real estate company JW Management. His team manages multi-tenant and single-tenant properties and a portfolio of land investments in the North Arlington, Texas Entertainment District (Westgate Plaza) and the Dallas Hospital District, including Rendon and Cleburne.
Craig likes to give back to the entrepreneurial community. He is a member of the Entrepreneurs' Organization, a global high-quality support network with over 16,500+ various business leaders from over 60 countries. As an owner of companies that generates over $1M in annual sales, Craig serves as a volunteer member of the Entrepreneurs' Organization, guiding, supporting, and coaching entrepreneurs on how to scale exponentially and operate a profitable business.
As the founder and CEO of Crushing B2B, Craig consults with businesses on effective SEO, social media marketing branding, and lead generation techniques. He promotes the implementation of branding and marketing strategies in numerous companies, including using LinkedIn and other complementary social media digital platforms. Craig rose to "Top 10 LinkedIn Creator" by sharing his valuable entrepreneurial experiences, which led to increased profits. Craig achieved "LinkedIn Influencer" status due to his extensive research on posting and measuring social media algorithms for "proof of concept." He was also the first to implement the Lean Six Sigma DMAIC Approach to Social Media.
In addition to his outstanding achievements, Craig provides B2B lead generation training and support through planned strategic interaction on LinkedIn and B2B Digital Sales Training and Coaching as the owner of Crushing B2B. Craig's online marketing success motivated him to create the FREE 14-step Crushing B2B Digital Strategy System. Many businesses were able to build solid B2B brands on LinkedIn and other pertinent social media platforms thanks to this digital marketing system.
Craig lives a balanced lifestyle as a serial entrepreneur, focusing on his family, personal growth, and business profitability. His mission is to live life to the fullest while allowing his investments to grow and work for him. He travels with his family 90 days each calendar year. Craig loves to watch the sunrise on the Island of St. John in the US Virgin Islands. Early in the 1980s, Craig and his parents went to the island, and soon after, they bought a house there. He has made many beautiful memories with his family and friends on this island.
Contact Craig directly if you have any queries about owning and managing commercial properties or digital marketing techniques to grow your company.